I am delighted to be able to welcome Donna George Storey to my site today. Donna was one of the very first writers recommended to me when I started in this erotica business- and to have her on my site today, well- as they say in these parts- I'm well chuffed!!   Over to you Donna…
The Erotic Pleasures of Intercultural Understanding
Thank you so much for inviting me to your blog, Kay.  It's a real pleasure to be here to share my bedtime story.
As a child, I was always fascinated by foreign languages and cultures and dreamed of traveling the world.  Asia was especially mysterious and alluring to me.  After I graduated from college in 1983, I decided to go to Kyoto to teach English, with just a year of formal Japanese language study under my belt.  Many years later, my adventures as a foreigner in a hospitable land inspired my novel, Amorous Woman, which has just been re-released as an ebook with the new erotica publisher Iro Books [http://irobooks.com/].  I have to say I'm especially gratified when other Japan hands (known in Japan as gaijin) assure me that I "got it just right."
I did not write erotica when I lived in Japan–that came a decade later, when I had a lot more self-confidence.  But I was reading it in the form of Japanese comic books, or manga, that were readily available in every 24-hour convenience store.  I remember leafing through the offerings at the rack (in later years they were wrapped in plastic tape, to prevent browsers from skimming the juicy parts or perhaps wrinkling the pages) and boldly marching to the register to buy the magazine with the most beautiful pictures.  This was for cultural research, I told myself, and indeed it wasn't a lie.  With a dictionary by my side, I poured over the scandalous stories, learning not only new words, but some of the favorite sexual scenarios, turn-on's and taboos of Japanese society.  A handsome fellow pleasuring his boss's wife while the boss slept off too many beers in the next room, a respectable lady wearing benwa balls in public at her lover's request, a Japanese woman teaching a foreign man how to slowly strip off the elaborate layers of her kimono—these stories were hot, but also revealed longings that no Japanese friend would ever reveal to me over coffee and cake.  With the help of my new textbooks, I was able to read colloquial Japanese much more fluently in no time at all!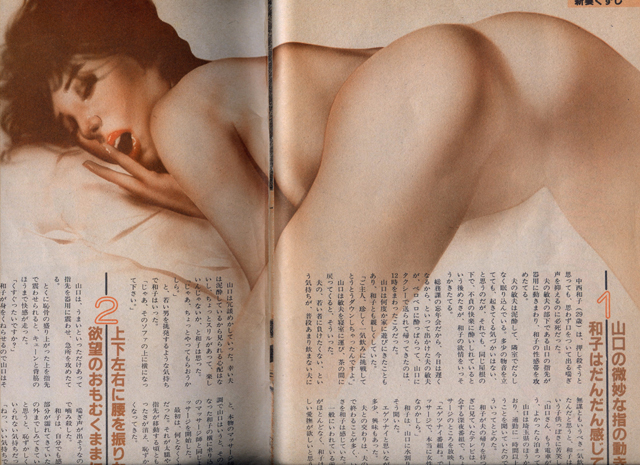 This is a sample illustration from the very first erotic comic I bought.  At that time, the Japanese government did not allow genitals or pubic hair to be shown.  In fact, a team of old ladies was employed to scratch away the pubic hair of the models in imported men's magazines to protect the populace, as presumably these venerable grandmothers themselves would not be in danger of lustful urges.  Japanese manga artists had to compensate for this censorship in the way they depicted nude bodies alone and together.  I actually found that, like poetry, restrictions often spurred the artists to be especially creative in the way they evoked these forbidden areas.
The magazines I bought in the early 1980s were written by men, but a few years later, the hot topic was the new prominence of women illustrators and story writers who wrote specifically for female readers.  These "ladies' comics" became a popular subject of study for Japanese academics in the U.S.—apparently they agreed with me that perusing manga porn was valuable cultural research!  A professor friend of mine even interviewed several authors of ladies' comics and was surprised that they were in fact just ordinary housewives.  When I wrote Amorous Woman, I decided to include a female character who wrote erotic comics, Chieko, the best friend of my protagonist, Lydia.  Of course, since I myself was an erotica writer and ordinary housewife, I had a lot of fun exploring Lydia's shock and curiosity about her seemingly sweet friend who had such a wild secret life as a published pornographer.
Here's an excerpt from the chapter that pays homage to a very special way to gain a deeper understanding of another culture:
Eagerly I pulled out the next comic, the cover adorned with a drawing of a foreign woman, her enormous tits spilling out of a bustier with cups so pointy they could function as a deadly weapon. The stories in this volume were kinkier, with elaborate shibari bondage and writhing women stuffed with double-headed dildoes. I blushed, glad Chieko wasn't here to see my reaction. Since I'd come to Japan, my fantasies had definitely wandered into S&M territory, one of my many adaptations to the culture.
In this story, a curvaceous young receptionist at a construction company shared a few cold beers with her gangster-like boss at day's end, then headed off to the co-ed restroom to relieve herself. When she opened the door of the stall, she discovered to her dismay that the man was lurking by the sink with a wicked grin. What a naughty girl you are, to let a man hear you go pee-pee. Now that you let me listen, I have a right to see what you've got down there, too. Pushing her down on all fours beside the squat-style toilet, he yanked up her mini skirt and examined her pussy and asshole with a penlight, demanding she describe her own private parts to him. She protested—I can't say it, I've never looked at myself down there—but the boss refused to believe her and threatened to fuck her with the penlight if she didn't obey orders. Delirious with arousal and shame, the receptionist stuttered out the words: My pussy is red and slick with my juices, the lips are quivering with excitement and when I push myself open they're all puffy and swollen, oh, please, I can't go on. I'm so embarrassed, I could die. As a reward, the boss soothed her with his tongue and the tale ended happily with the couple screwing doggy-style on the restroom floor.
I rolled my eyes, but I also felt I'd gotten a glimpse into a couple of other Japanese sexual taboos. I'd noticed over the years that my Japanese women friends always flushed immediately when they entered a toilet stall and, in fact, I'd never once heard the sound of urination. Even the easygoing Chieko was careful to preserve this custom. With the cleanliness fetish in this country, fucking on the floor of a public restroom would surely be the height of depravity. More brazen still was the young woman's courage in speaking the unspeakable. She actually described what the Japanese censors wouldn't allow us to see, the visible evidence of her sexual desire, not to mention her tacit admission that she'd studied her own pussy in a mirror when she masturbated.
Now I was definitely turned on.
But what really got my mind racing was the thought that my own friend had imagined and created these stories. In her presence, I hadn't allowed myself to think about what it meant to her to draw these pictures day after day. Now the questions swirled through my mind like the wild serpentine locks of her lesbian lovers. Did an editor assign the stories or did she make them up herself? Did she ever feel dirty catering to men's fantasies for money? Was she excited by her own work? Did she imagine me—us?—in the throes of sexual bliss as she drew the two women together? Did she masturbate at her desk, legs spread wide around the chair, finger wiggling as she gazed at the lewd image that had sprung from her own head?
I jumped up from the sofa, determined not to masturbate again today. It was time for dinner, although I wasn't hungry, not in that way. A salad seemed right for such a hot evening. I pulled a package of cucumbers from the refrigerator and removed one from the plastic wrapping. I washed it under cold water, rubbing its slightly nubby length with my palm.
I thought of the housewife in Chieko's story and her vegetal yearnings. Japanese cucumbers were smaller than the American variety, just the right size for a little self-comfort on a lonely evening.
Already, the saintly intentions were fading…
About Amorous Woman…
Travel to a rustic hot-springs inn where anything goes after midnight, don the gorgeous kimono of a Japanese bride, romp in the dungeon room of a rent-by-the-hour love hotel, act out an orgy straight from manga porn, and slip inside Kyoto's most exclusive restaurants for exquisite dinners of seduction . . .
An American woman's sexual awakening in Japan, testing the limits of love and sensual pleasure.  Described by critics as "rich with sensual detail, humor, and emotional complexity," "hard to put down," and "literary erotica at its best," the novel received rave reviews when it was first published in 2007. Now available again as a digital-only publication, Amorous Woman will change your image of Japan—and erotica—forever.
Donna George Storey's adults-only tales have appeared in over 150 journals and anthologies including Penthouse, Best Women's Erotica, The Mammoth Book of Erotica Presents the Best of Donna George Storey, and Best Erotic Romance.
Amazon UK
http://www.amazon.co.uk/Amorous-Woman-ebook/dp/B0092X2SN8/ref=tmm_kin_title_0?ie=UTF8&qid=1349378656&sr=8-1
Amazon US
http://www.amazon.com/Amorous-Woman-ebook/dp/B0092X2SN8/ref=tmm_kin_title_0
Amorous Woman Book Trailer
http://www.youtube.com/watch?v=BlnXqY-LyEE
website link
http://www.donnageorgestorey.com/
Facebook
http://www.facebook.com/DGSauthor
Thanks for introducing us to the world of Japanese erotica Donna. What a wonderful blog. That was absolutely fascinating!!
Happy reading everyone!
Kay x