I am delighted to announce the arrival of my very first publication of 2013!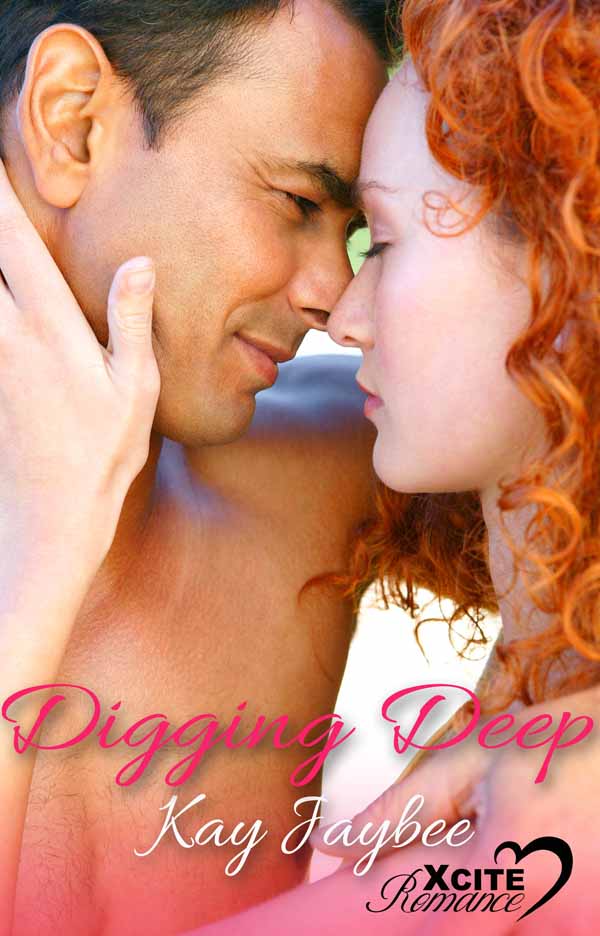 Digging Deep is the second of my Secret Library e-novellas for Xcite- following hot on the heels of my first, A Sticky Situation.
An erotic story, which focuses as much on romance as kinky encounters, Digging Deep was inspired by my own adventures as a student of archaeology.
Blurb-
As site supervisor on an archaeological dig, in the grounds of the Ancient Roman city of Leptis Minus in Tunisia, Dr Beth Andrew's hands are well and truly full. Her first foreign excavation, which she co-runs with the American archaeologist Dr Harrison Harris, gets off to a shaky start due to the jealous interference of Harrison's ex, and an overzealous student… Love and lust really can cloud even the cleverest person's judgement!
****
I was 19 years old when I worked on the Leptis Minus dig in Tunisia. It was, without doubt, one of the most amazing sites I ever had the privilege to work on. I was part of a team who excavated throughout the summer months, burning and freezing beneath the day and night time elements, exploring the fascinating Roman site, as part of our university degrees. I should say however, that although Digging Deep is based around the work of the university's of Wales and Colorado, it was two different academic institutions who really took part!
I can still remember how the sun would scorch me through the layers of my cotton tops, and how the sand got everywhere! I also went off fish for years- we really did have it every meal- and I've never eaten olives since field walking for hours and hours through the never ending olive groves!!
Here's the very first peep of Chapter One to tickle your erotically romantic taste buds…
Chapter One
Irritably adjusting her wide-brimmed hat for the third time in as many minutes, Dr Beth Andrews felt the sting of the African sun sear the back of her neck through the tresses of her long, ginger hair.
She never dreamt she'd miss the stubborn, muddy clay of the British earth she was used to hunting through in her search for archaeological data, but the uncooperatively fine white sand of North Africa was enough to try the patience of a saint.
Throwing down her brush in overheated exasperation, Beth thought fondly of her excavation trowel. Her tool of choice had quickly been rendered obsolete in the face of so much sand, and a job that was, by necessity, slow was reduced to a snail's pace as the metre by metre square of the Ancient Roman bath house site in which she worked backfilled in on itself with every sweep of her light bristled brush.
It had been a dream come true for Beth when she'd been selected to lead the University of Wales's excavation team, digging the sprawling Ancient Roman city of Lepti Major on the outskirts of Sousse in Tunisia. She had longed to experience new exotic sites and see new exotic sights. The chance to uncover stunning mosaics and city roads that hadn't been trodden for 1000 years was an opportunity she'd had no intention of letting pass by.
The fact she'd be sharing responsibility for the site with her archaeological hero, the unimaginatively named Dr Harrison Harris from Colorado, an American academic who'd been the subject of many of Beth's private fantasies since she'd fallen in love with his work, not to mention the photograph of him on the back cover of his books, in her first year as a student, was neither here nor there.
Flicking her eyes covertly over towards Harrison, Beth averted her attention away from the slight increase in her pulse rate by recalling what the site's previous supervisor had said about working in Africa's extreme temperatures. "Scalding by day, and freezing by night". Linda had warned Beth that her freckle-spotted, sensitive flesh would loathe being either fried or frozen just as much as her archaeological brain would relish the challenge of constructing a city from its remains.
Beth hated the fact that Linda had been right. She'd never been rendered so sweaty, not to mention so blotched with extra heat-induced freckles, in her life. There couldn't have been a centimetre of her body that hadn't got a fresh cluster of beige dots on it. After only a week under the sun, it was becoming a struggle to hold on to her generally calm approach to life, and Beth was finding that her temper, which rarely flared in the UK, was on a permanently short fuse.
What got to her most was that none of her colleagues seemed to be suffering at all. They were all happily tanning as they worked, and sleeping off their exhaustion with ease at night.
It hadn't taken Beth more than a few hours of digging in the unshaded bath house on her first day to see that a survival technique was required to prevent the elements disrupting her professional judgement. She tried thinking about work, home, rain, and even walks in the snow as she worked, but only one thing successfully diverted her attention from the exposure of her unusually pale flesh to the elements, and that was to allow her mind to fill with erotic scenarios and fantasies, while her fingers got on with the job in hand.
This specialised amusement had the benefit of taking her mind off the sun that managed to scald her back even through three layers of thin cotton, and had the added bonus of warming her at night. Lying on her thin camping mattress, Beth would recall all she'd pondered during the day, engendering an ardour between her thighs that her fingers deftly maximised, leaving her physically warmer and bodily sated, and thus making it easier for her to fall asleep.
At first, Beth had been determined that Harrison would not feature in her erotic musings. Her resolve had not lasted long, however, and although she did her best to make the men in her sexy survival scenarios anonymous, the American's face crept in with increasing frequency.
Manoeuvring a layer of burning sand from one side of her section to the other, Beth considered her colleague. His reputation as an expert in Roman archaeology was renowned. Beth had never dreamt she'd ever meet him, let alone work with him as an equal. His knowledge and academic intellect had been enough to make her heart flutter for years. Yet what Harrison was like in reality was not at all how she'd assumed he'd be.
She'd envisaged him as being chatty, tall, slim, dark-haired, and weather-tanned. He'd probably wear glasses for reading, and be forever clad in T-shirts and large-pocketed shorts as he leapt around excavations like a gazelle.
In fact, she'd hardly heard Harrison's distinct Colorado accent. He seemed to prefer his own company to that of the group. When he did talk to Beth, he called her "doll," which made her feel like a lump of mass-produced, animated plastic.
Harrison was about 5 foot 7, not the 6 foot plus she'd pictured, and his spiked hair was a sun-kissed blond and not brown. His build was stocky and muscular, his bare arms and legs permanently gritted with granules of sand, and although he moved with a speed which would have been the envy of any gazelle, he managed to proceed around the site somehow without making a sound.
The problem is, Beth thought as she traced the outline of what she suspected might be a Roman drain gully, I built up an image of him based on a book cover's black-and-white out of date headshot, and I was way off.
She'd been right about Harrison wearing knee-length shorts, though. Everyone on the dig wore such shorts, except for the stick thin, heavy-chested blonde on the American team, who might as well have been wearing knickers her shorts were so scanty. Beth sighed as she looked down at her own attire. A protective covering of baggy clothing shrouded her limbs, and her porcelain neck was hidden beneath spirals of her ginger hair, which glowed as if she'd been hit by radiation rather than African sunlight.
Ryan wasn't helping either. The most charismatic of her students had been so enthusiastic on his first morning that he'd headed to the site before everybody else, without waiting for Beth to detail where to dig. Consequently, he'd powered through the ground in an alarmingly gung-ho manner, neglected the recording of each strata-graphic layer and, with his six-pack and biceps shining against 120 degrees of sunshine, had crashed his shovel into the corner of a mosaic that had been safely protected by the landscape for hundreds of years, breaking off half-a-dozen exquisitely coloured tessera tiles, and rendering one of the depicted Medusa's snakes partially headless.
Beth had gone ballistic. To his credit, Ryan had been mortified. He'd begged her not to tell anyone. For the sake of the university's reputation, not to mention her fear that Harrison would take one look at her careless student, assume she was no good at supervision, and send her home, she had agreed it would be their secret. Ever since, however, Ryan had been driving Beth mad with his attempts to make it up to her at every opportunity.
Only that morning he'd lent so close to Beth as he informed her he was going to make up for his blunder that his soft Welsh tones had vibrated against her skin. His manner was so blatantly suggestive that she hadn't been able to prevent the inappropriate smile that had very briefly crossed her lips.
Picking up her dustpan and brush, Beth stroked away the grains of sand that sat between her and her judgement as to whether the lines being revealed were part of the bath house drainage system or not. Expertly tracing the changing colours in the freshly uncovered ground, Beth, confident that her theory was correct, and that the ancient shadows of the gully she could see could be followed across the ground with ease, readopted her technique to deviate her attention from the cruel climate, while her fingers worked the earth.
What exactly is Ryan offering? she wondered. A sneaky snog behind the equipment cupboard? A cooling down of my chest with his tongue? Or is he more ambitious than that?…
****
If you'd like to carry on reading, then Digging Deep is currently available from –
Amazon.com – http://www.amazon.com/Digging-Deep-Xcite-Romance-ebook/dp/B00AY1J0OM/ref=sr_1_1?ie=UTF8&qid=1357654446&sr=8-1&keywords=digging+deep+kay+jaybee
Amazon UK- http://www.amazon.co.uk/Digging-Deep-Xcite-Romance-ebook/dp/B00AY1J0OM/ref=sr_1_1?ie=UTF8&qid=1357654789&sr=8-1
Happy Reading!!
Kay xx