Today I am delighted to be able to bring you an insight into the world of erotica and comedy writer Harry Blue! Over to you Harry!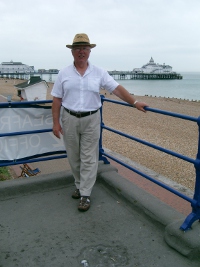 Supposing you won a large amount on the lottery
Would you worry about losing it, would you go on a holiday of a lifetime, or would you take advantage of your good fortune, have a great time, and then try to return to a normal life after the euphoria has died down.
Hot Vegas is all about a couple, Prudence and Jeff, who win big, but not stupendously big, on the lottery. They have been together in a relationship for some years, so don't feel threatened by winning – they know that they will enjoy it together. So far, so conventional. They are still reasonably young, and they both love sex. They know each others' bodies really well, know what turns the other on. So when they have the money to indulge in their fantasies, then it's off to Vegas for their holiday of a lifetime.
The story starts on a Sunday morning, Jeff's looking at the soccer results – Fulham have drawn away again – when Prudence's shriek makes him stop looking at the Premier League table. The ticket's a winner, so as she talks to the lottery h.q., he's removed the duvet, giving her the best oral climax ever. He's not sure what's giving her the deep breathing – his tongue or the news on the phone. And when she comes, there's the perfect noise for her to shriek again.
A few days later, they're off to Vegas, new clothes, new smells, big smiles of anticipation.
Hot Vegas has a good story that goes with the sex, as well as good sex that goes with a story. They complement each other, and it's only natural that they should have a penthouse suite in Caesars Palace Hotel. It's only natural that Prudence should travel combat style. And it's only natural that their first Vegas fucking should be in a huge leather sofa, watching the sun set with nothing to get in the way of their panoramic view.
They eat in the best restaurants, the concierge gets them a box for Jeff's favourite Australian rock band, and Prudence takes his erection in her mouth as the drummer watches in fascination as she swallows every last drop to the insistent rhythm of his beat. The drummer gets a hard on as well. No surprise there, then.
Jeff gets confused by the Mafia for a drug runner, but the FBI are supposed to be watching him, as they are not confused. Unfortunately, the FBI don't show the greatest intelligence, so Jeff is captured and tortured at the Grand Canyon. Prudence is really worried, as no-one seems to know whose side Jeff is on, or who's killing who. It all ends well, with Jeff and Prudence escaping to play in the biggest blackjack tournament that off Strip has ever seen. The pot is huge, so do they win? You'll have to read Hot Vegas to find out.
I loved writing Hot Vegas, and I also loved writing Hot Hits, the next in the 'Hot' series. Where to set it, I wondered? Well, I live by the seaside, I see the local silver band playing, I used to own a small hotel, so it seemed logical to combine the lot in one story with sex, sex, and yet more sex.
What should be the name of the main character? Roger was my inspiration, because that's what he does a lot of the time. He is 21, university student, and a real hunk. Muscles, gym, runs a lot, modest, parents own a small hotel. He's looking after the place while his parents are away when he walks in the room of a cougar of a guest who's twice his age. All she has on is a towel as she comes out the shower. She takes one look at Roger's fabulous body, licks her lips, and says 'it'll be a shame to waste that prick'.
The next book in the series is Hot MILF. I'm still writing that one, with the wife enjoying every minute. She's imagining that it's her.
*****
'Soft Lips' Prudence checks her lottery ticket in bed, and the noise she makes takes Jeff 'Sex Machine's attention away from the soccer results. Fulham have drawn again. They celebrate by making love, and then it's off to Las Vegas first class for the holiday of a lifetime. Luxury all the way. But Jeff is mistaken for an Australian mobster, as they make love in a hotel lift, and a private box in a theatre, and their own intimate pool, and….Pop stars, the Mafia, and the FBI are all involved as we tour the gambling capital of the world, culminating in the biggest black jack gambling tournament to be held off the famous Strip.
Hot Vegas is available from Amazon UK, Amazon US, All Romance eBooks, Barnes & Noble and all other good eBook retailers.
*****
I write under the name Harry Blue, because that's what I write – Blue.
It's all romantic, full blown, one on one sex, with a good story to go with the erotica. A hero, a heroine, danger, suspense, everything's in my books, all starting with the word Hot.
The reality is that I am a happily married man in my mid 60s, one daughter, three grand daughters, living on the south coast, dealing in antiques and a sight-seeing guide when I am not writing erotic novels.
I have been writing for thirty years, mainly comedy, so you can find out a lot more about me on www.harrythewriter.com
A huge thank to Harry for joining me here today! Good luck with Hot Vegas and with your new project- sounds deliciously naughty- yum xx