WELCOME!!!
If you are a regular reader of either my blog or my work, it can't have escaped your notice that there certain themes readily associated with my writing-
Domination – Submission – All elements of self-control – The emotions that go with each of these themes– And…COURIERS!!!!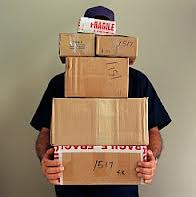 Why couriers? It's simple- Due to the requirements of my 'proper' job, I know so many of them !
'My boys', as they are collectively known, are a constant source of information fantasy wise- whether I want to hear them or not! – And more importantly, they are the nicest, kindest blokes you'd ever wise to meet. (Okay, they are quite hot too- but that's just a perk of the job, right?)
Oh- and stories about couriers are just the most fun to write stories about!
They are very popular with my readers as well! (Check out Cardboard (Sex at Work, Xcite) and A Delivery of Words (Quick Kink One, Xcite) to name but two of my courier focused tales).
I know I've told you this before, so why do I bring this subject up again now? Because it is time to say
HAPPY BIRTHDAY
 to the longest of all my works of courier kink-
Not Her Type: Erotic Adventures With a Delivery Man
is
1 YEAR OLD !!
When the girls at www.oystersandchocolate.com asked me to write a novella for them I was so excited- and I have to confess, despite all the other novels and novella's I've penned before or since, NHT will always have a special place in my heart, simply because it was an absolute joy to write!
A little while ago, I was asked by one of my readers, who I'd pick to "play" John, the bad boy courier in question, should I ever have to chose an actor to adopt the role.
What a great question to consider on its first anniversary, and I thought it might be fun to invite you all along today to see who you would pick to act the role! For me the choice for John is not a difficult one! I have long known who'd get that part if I had my way!
John is a hot guy with a twinkle in his eye. He is flawed, and there is something about him that is hidden and almost reserved- but only almost!! A bit of rough then…
A young Ray Winstone would have been ideal, but in the absence of a time machine to take us back to the delicious Ray's "Will Scarlet" days, there is only one man for the job. It has to be Mr Max Beesley. (For our American cousins- he has starred in a heap of stuff over here in the UK, but is probably best known to you guys as being Robbie Williams best mate). However, we all have our own imaginations, and I'd be VERY interested to know who YOU would give the role to?
Now comes the harder question. Who would play Jenny, the customer with whom John carries out every fantasy he has ever had? They start gently, but boy does the pace grow into what can only be called an extremely FULL-ON heavy kink, with a touch of BDSM and control. I have NO idea who could play that role!
Help me guys- I know this is pure fantasy- but indulge me! Who could play Jenny? Come up with a name that fits the part and I may just send you a little giftie!!
Blurb– When Jenny's regular film courier, John, reveals how she has become the centre of his sexual dream world, Jenny's quiet existence is thrown into an arena of desire that she thought she'd long since abandoned.
One unexpected, head swimming romp later, and Jenny is left wondering if her courier will ever visit her again, and if he does, will he mention the hot sex they had on her living room floor that Tuesday afternoon, or will he pretend that it hadn't happened?
When the following Tuesday arrives and John reappears on Jenny's doorstep, the scene is set for a continuation of intensely kinky weekly meetings. There is only one problem. John really really isn't Jenny's type….
If you've never read NHT, you can catch some snippets at this link, and on my OC Press page. You can also hear me read from a chapter called 'Ripped Off' on YouTube…
http://www.youtube.com/watch?feature=player_embedded&v=i4JNks6dHeU
Come back soon- for we will be celebrating Christmas with John and Jenny on 13th Dec in my Blissmas Special…
In the meantime, join me in wishing my favourite of all the stories I have ever written, a VERY HAPPY BIRTHDAY – I await your suggestions as to who could play John and Jenny with interest… Seriously guys- who'd do you think could is up to the job?
*****
WOW- you guys are WONDERFUL- Here are some of the suggested Candidates for John and Jenny so far!!!
These are all fantastic guys! Keep them coming!
You can buy NHT as a Kindle ebook from Amazon UK, US, and direct from OCPress in all forms of download.
For now, while you are having a little think, let me leave you with a picture of the ULTIMATE delivery man…
Thanks for popping by! See you soon!
Kay xx