I'm off on my travels blog-wise again!
This time I am visiting the sites of five smashing folk, who have kindly thrown their metaphorical doors open to me, to talk about my short BDSM anthology, Tied to the Kitchen Sink.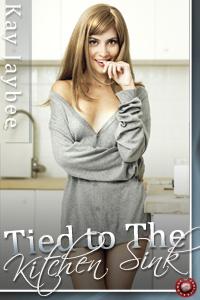 Will can hardly believe his eyes when he receives the ultimate in birthday gifts. Karen, the girl of his fantasies, has been left tied to his kitchen sink's taps, ready to be played with exactly as he chooses. Meanwhile, Becky is having a spank filled first day in her new job, and a BDSM curious male allows himself to be lured into a dominatrix's lair by the tempting lyrics of a truly bad poem. Whether bound in ropes or handcuffs, as they are shackled to the bed, kitchen sink, or within the confines of a fetishist's supply cupboard, the willing victims of Tied to the Kitchen Sink's kinky S&M and BDSM action, find their darkest and sexiest dreams coming true.
Starting today with a visit to the gorgeous Sharazade, I am zipping through the e-ether, until I have the pleasure of being interviewed by Kacey on Friday
1st October: http://sharazade.fannypress.com
2nd October: http://zarastoneley.blogspot.co.uk/
3rd October: http://galestanley.blogspot.com
4th October: http://gemmaparkes.blogspot.com/
5th October: http://kaceyskonnections.blogspot.com/
I would love it, if you could pop by each blog to say hello!! Leave me a good comment, and I'll send you a free copy of the book.
If you would like to buy a couple of Tied to the Kitchen Sink, it is available from  Amazon UK, Amazon US, All Romance eBooks, Barnes & Noble, iBooks and all good e-retailers.
Enjoy xxx