It's Day 4 of my 5 Days Of 1001 Nights blog series!
It's Day 4 of our stroll through the library of 1001 Nights Press, and today I'm delighted to welcome PM White to my site. So why not celebrate Independence Day in style with this all American blog and story extract…before treating yourself to this excellent erotic tale? Over to you PM…
Volksie, Volkswagens a turn on
The purring motor turns my head almost every time. Even in the thick of traffic, as waves of sweaty heat dance from the asphalt, brake lights turn red in front of me, and a disgruntled driver (and who isn't these days) yells in pure rage two cars up from me– the driver ticked at some old man who hasn't noticed that he can make a right turn yet.
The poor old guy isn't checking his text messages or messing with his air conditioning; he's just confused by the noise and the heat, and really has no place on the road. The same can be said for nearly every driver in Arizona, or the entire United States for that matter. We're all angry, speedy and preoccupied on America's fat roads and baking highways. We all want to do anything but drive.
But we love our cars. For so many of us it's the big gas guzzlers we get turned on by – the sort you can camp in, screw in, and bring the dogs in. The phrase "Americans do everything big" is too damn true. Our mouths are big, our attitudes can swell, and our burgers have their own zip codes.
When I hear that vibrating purr on the road I know exactly what I will see. A little domed Volkswagen Bug; like the one I grew up in as a kid in northern California, the sort of economical work horses owned by nearly every hungover hippy in Monterey, Calif. – at least the ones that couldn't find their way back home when the Monterey Pop Festival turned off the lights.
The windows are rolled down in the purring green Beetle. A blonde woman sits in the driver's seat wearing oversized sunglasses, the popular kind that make all women look like sexed-up Musca domestica, and she's got her tanned elbow on the window. Her blonder hair shoots behind her like yellow fire. And I find myself getting a little turned on.
I've always thought of Volkswagen owners to be the sort who ride through life with little to worry about. And it's a turn on. It could be I grew up in the afterglow of the free love era, it could be I grew up around Volkswagens, and I always knew I would someday write about them.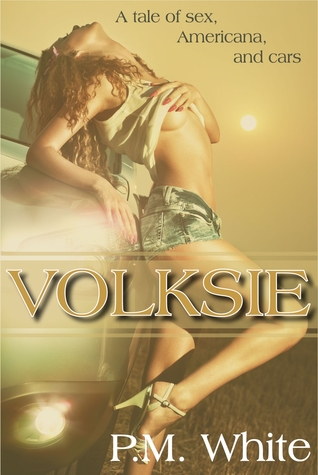 Writing "Volksie" came quite easily. For me the allure is that they aren't big like everything else in the States, they aren't even American-made, but they make up a huge subculture in American motoring circles. We trick them out, we chop them up, we race them and, in my main character (Alston's) case, we find them easy to steal.
And in my case, they're also pretty damn sexy.
I hope you enjoy reading Volksie.
P.M. White
Extract
'Volksie dropped her floral skirt to the asphalt and left it where it lay. She wore no panties beneath it. Alston admired the way the sun played along her long, thin legs as she unbuttoned her blouse. She dropped it the ground next to her skirt and stood fully nude on the deserted airport runway. Without saying a word, she climbed onto the hood. The seductive globes of her milky ass thrust toward the hot sun like a carnal offering. Volksie mounted the bug slowly and carefully. Her breasts swayed like firm, fleshy pendulums. Once on the rounded roof she turned and spread her legs wide, then leaned back on her elbows, waiting to be tied. Her pink nipples looked hard enough to cut glass.
Alston grabbed her ankles and pulled her forward. Her ass squeeked on the metal roof. With her legs spread across the windshield and pointed toward the front fender, he set to work on the bindings. Within minutes he had her ankles tied tightly to the metal fender. He popped out the small side windows next and looped the rope through it, then bound the rope to her wrists. Throughout the process, Volksie lay silently on the roof, her eyes closed and her chest rising and falling with excitement.
Once he felt certain she couldn't slide one way or the other while the car was in motion, he went to the driver's seat. He shut the door and rolled the window down, feeling the hot Arizona breeze waft over his cheek. He pasued a moment before starting the engine in case Volksie decided to change her mind at the last minute. But he didn't hear a peep from her. Her legs lay splayed on either side of the small windshield. A muscle tensed on her right calf. Alston started the engine'
****
HOT!!! Thanks P.M!! Nothing like a shot of American erotica on Independence Day!
You can buy Volksie at it's discounted price from –
Amazon UK- http://www.amazon.co.uk/Volksie-Tale-Americana-Cars-ebook/dp/B00B9XO01M/ref=sr_1_sc_1?s=digital-text&ie=UTF8&qid=1372867060&sr=1-1-spell&keywords=Volksie+pm+white
Amazon.com- http://www.amazon.com/Volksie-Tale-Americana-Cars-ebook/dp/B00B9XO01M/ref=sr_1_1?s=digital-text&ie=UTF8&qid=1372867941&sr=1-1&keywords=Volksie+pm+white
Here's a few details for you, so you can read more of P.M.White's work!
Bio:
P.M. White is a lover of all things literary.  His favorite authors run the gamut from Norman Mailer to Lemony Snicket. White wrote his first erotic short story after a friend, who worked in a New York dungeon, encouraged him to explore his kinky side.
His previous erotic books include the three part Horror Manor trilogy: "Eyeball Man," "Desire Under the Eaves," and "You are a Woman."
His short stories have appeared in numerous anthologies including Sex in San Francisco, My Love of All That is Bizarre: The Erotic Adventures of Sherlock Holmes, Pirate Booty: Erotic Tales of Buccaneers and  Captives, Bound For Love, For The Love That Never Dies: Undead Erotica, and more.
White can be found on Facebook and on Twitter at @authorpmwhite.
As you know, all the books featured on my site this week are available at a bargain e-book price!! Not only Volksie, but until tomorrow night, you can get Jeremy Edwards The Pleasure Dial, Sharazade's A  Skiff of Snow, Gregory Allen's Bottoms in Love, and my Not Her Type, from Amazon for the BARGAIN price of only 99c or 77p!!!!!
AND DON'T FORGET THE…
COMPETITION!! If you read all 5 of my blogs this week, you could win a free e-book!Just count up how many times the word "wonderful" has been used!! (Not including in the blurbs and extracts) and then, after the final blog on Friday, leave me a comment with your email address, telling me the total. The competition will remain open until next Monday, when I shall announce the name of the winner I've picked from a hat!!
Come back tomorrow for the fifth and final visit to the 1001 Nights Press library- until then,
Happy Reading Everyone,
Kay xx