Hi all! I'm just home from my very first visit to the ETO Show at the NEC in Birmingham- I loved it!!
On Sunday afternoon, I was invited by Hazel Cushion, owner and manager of Xcite books, to sign copies of my BDSM novel The Perfect Submissive, and introduce my work to the traders and show visitors, prior to the release of its sequel (The Retreat) in October.
Joined by my famous partner in crime, Kd Grace, we meet fans (I can never get over the fact we have fans!!), chatted to stall holders, and marvelled at the sheer range and variety of dildos, bondage equipment, and fetish accessories available out there in erotica world! As writers, we spend our days trapped in our own fertile imaginations- to actually see that gadgets you think you've invented in your own imagination are out there in real life, is an eye opener to us sheltered types!!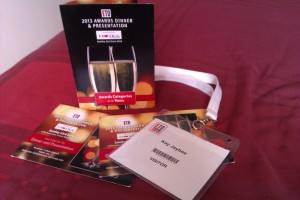 Once the show was over on Sunday, we dragged our weary feet (how were people working trade stands in high heels? Tendons of steel!), back to the Crowne Plaza Hotel, for a few hours of well earned rest before the main event- the ETO Awards.
Dressed in our posh frocks, Kd, myself, and our ever supportive partners, headed to the dinner with Hazel and head gal at Sh Women's Store, Kathryn Hoyle, we supped champagne, chatted to the smashing journalist Emily Dubberley, and mentally prepared ourselves for our very first award ceremony!!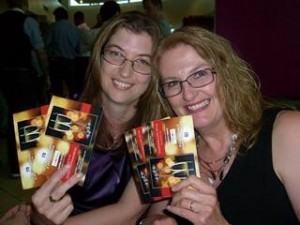 The food was delicious! Check out this pudding!! Only mildly phallic!! (Okay- so the photo is sideways- can I get my website to play fair- no I can't!!)
Then the awards began! Best Female Product, Best Male Product, Best Consumable (that'll be lube then!), and on with lots of very hard working folk getting some rightly coveted awards. The tension around our table began to mount as the evening wore on, until it was time for the Best Erotic Books Brand to be announced…
Well, Xcite Books had already won for three years running, and Hazel was convinced they would never get a fourth award- but they did!!! Or should I say 'we' did!! For Hazel has always maintained, and continues to do so, that her writers won the award, for without writers there is no company. It's that attitude that makes her the best in the business!! You should have heard the cheers!!! Huge congratulation to Hazel, and the entire Xcite team!!
Just when our voices had been re-lubricated, we were cheering again as Kathryn stood up to accept the award for Most Innovative Retailer for Sh! Woman's Store, who, if you follow KD and myself, you'll know have been great supporters of our work, and the cheers and claps around our table started again!
Then it was our turn- Kd and I were nominated for Best Author.
Now, although we have totally loved being nominated, we are not daft. We knew E L James would win- it was a foregone conclusion. How could she not, when the voters were trade members, in a trade that relies on the sales of sex toys. What we were not prepared for, was the audience's reaction to James winning- Let's just say there was a certain amount of booing. Not from our table I must quickly add- we were long since resigned, and totally stunned by the general response!
Yet more surprises were to come for Kd and I- The Facebook and Twitter reaction to James' win as Best Author was overwhelming and embarrassingly negative. So although E L James may have the actual award (well, I guess she will once it's been posted to her)-there was no one there to say well done to her, she didn't get the fun of the evening, nor eat the fabulous food, nor the offer of more work that Kd and I got… So in a backwards kind of way, Kd and I did win- just without taking home something to dust!!
Having said that, James did win the service to Erotica Trade award- and I for one will not argue with that! Sex toy sales going through the roof, hundreds of people finding erotica for the first time- excellent stuff!!
So, with the last few awards to give out, we cheered again for the hotly contested journalist's award- which went to the gorgeous, and totally inebriated Cara Sutra– before the real fun began.
Drinking wine with the team from Lovehoney (Winners of Best Online Retailer), who have done so much for our paperback sales- meeting the face behind the gorgeous Lelo brand (Winners of Best Product Packaging), and cooking up plots and plans for the future, I for one had the best weekend!!!
So- here I am now, it's Tuesday, I am back at my desk, with a whole heap of happy memories, a new novel proposal from Xcite sketching out in my head, an over flowing inbox, and a previously written novel to edit by Monday…so I'd best get on with it!!!
Thanks to everyone at the ETO- it was a truly excellent experience- see you next year!!
Kayxx