I'm sat in my bedroom as I write this blog. My house is freezing, but it's not six pm yet, so I can't (won't!), put the heating on. My duvet is tucked around me, and the jumper I'm snuggled in is so thick it could repel lasers!
The rain outside the window is battling hard to earn the title 'Monsoon', and the acorns off the oak tree at the bottom of the garden are crashing to the ground so hard, that even the muffling of double glazing and the removal of my hearing aids, does not disguise the cracking noise they make as they hit the deck. In other words, it's a typical autumn day in the South West of England!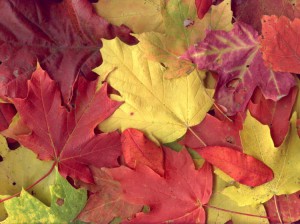 Despite the weather, I love this time of year. Just as Spring is a time to start new things, and to see hope in the opening of flowers and the songs of fledgling birds, Autumn, to me at least, brings a reaffirmation of all we have achieved through the year, and delivers a swift kick up the arse, to make us hurry up and reach all those deadlines we promised ourselves we'd meet before all the leaves have fallen, and the frost of winter has us clutching mugs of steaming hot coffee and being thankful that thermal underwear is well sexy these days!
This autumn my fingers will be dancing ever faster over my keyboard as I work on a new novella for Xcite. (I'm saying nothing- but if you like your erotica a little softer than my usual BDSM, and have a thing about archaeologists, then this may be one for you!)
Then of course, I need to finish my annual Christmas story for www.oystersandchocolae.com (about which there will be exciting news next month…), not to mention celebrate the release of my new novel, Making Him Wait at the end of this month!!
I am very excited about his new novel. Shall we say it fits neatly between Not Her Type and The Perfect Submissive on the Kay Jaybee kink-o-meter!! It's control kink, rather than BDSM, and was extremely good fun to write! There will be a positive landslide of information about Making Him Wait coming this way soon- you have been warned!!
I am also delighted to be able to say that, over the next few weeks, I have some amazing guests lined up to join me- including, amongst others, the brilliant Jeremy Edwards and Donna George Storey!! I can't wait!
As if that wasn't enough, before Father Christmas comes a knocking at the door (we have no chimney, so naturally I have to stay up and let him with all his gifts), I will have news on one very exciting re-release, one more new anthology, and- if you a re very good and ask nicely, I might let you know what I am going to be up to from January next year…
Happy reading…   Kxxx