What a weekend!!!!!!!!!!
You can't have failed to notice, whether you went along or not, that this past weekend was the Eroticon 2013 conference. Two whole days of meeting authors and faces from the world of erotica who I only get to 'know' via Facebook, twitter and blogs, and catching up with many of the incredible friends I've made in the erotica world over the past seven years. For me the weekend started on Friday night, when my partner in crime KD Grace – Maxim Jabawolski called us the terrible twins! I can't think why!- arranged with the ultra talented Delores Deluxe and the Kitten Club for us to hit the Volupte club to see them in action. Superb!!!!!
I tried my very first cocktail- it was in a shot class and it took me two hours to drink it- and I loved it!!
The evenings entertainment was wonderful. The best bit however was that Kd and I went with Lucy Felthouse, Victoria Blisse, Lily Harlem, Lexie Bay and Tabitha Rayne!! How cool is that!! And how could I forget the compere for the eveing- Dave the Bear!!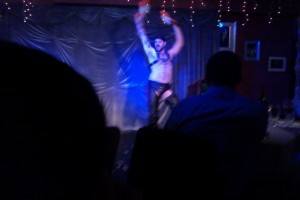 I promise we didn't get too worse for drink, and were all ready and (vaguely) bushy tailed when we hit the conference- but what to see?? The mix of talks, panels and workshops was excellent, and it was a shame I couldn't be in two places at once. In the end I picked a real mixture of sessions, the highlights being Kd's workshop on Finessing Sex, Remittance Girl's talk on eroticism, and Mario's photography workshop.
Best of the bunch for me personally however, has to be Ashley Lister's poetry workshop. It was the incredible fun, and had us laughing out loud as we all constructed limericks and poems with lashings of smut and huge helpings of silly. I adore writing poetry, and although I am far from being a poet, I have always found the process of picking the exact words for a poem a very useful tool for writing- it was wonderful to hear Ashley say the same!
So- what limerick did I write- here you go!!
My friend Grace is so blue,
There's really now't see wont do
For a pitcher of cream
And a dirty magazine
She'll fuck you while playing kazoo
(Obviously any references to KD Grace here are TOTALLY accidental!)
As ever with these events, it is the social element that make it even more fun. I was over the moon to meet Anoymisslily, Liv Honeywell and Ruby Goodnight for the first time, and to catch up with Hazel Cusion, Rachel Krammer Bussel, Janine Ashless, Kristian Lloyd, Harper Elliot, Remittance Girl, Tiffini Angus, Jilly Boyd, and Heather Day. It was also great to catch up with the author formerly known as Jade Whisky! But I was utterly gutted to miss Modesty Ablaze and many other folk who I'd have loved say hi to- looks like we'll have to do it all again next year!!
So a huge thank you to Ruby Kiddell! A wonderful weekend honey. Go take some time off- and then do another one!!
Happy reading everyone xx
xx