I'm delighted to welcome Chloe Thurlow to my site today- to share something of a revelation.
Over to you Chloe…
It was the long hot summer of 2003 and I was sitting in the garden with Mother. She had drunk the best part of a bottle of wine when she leaned across the table and said, 'You have turned into quite a beauty. But then, you already know that, don't you, Chloe.'
It was the year I turned 18. I had dumped my clingy boyfriend, an older man was my first lover and I had been offered a place at Cambridge. I was content, but Mother always knew how to raise a cloud of black dust to coat the mirror.
Mother, a beautiful woman, doesn't like women. She adores men. When I was growing up and Father was away "lying for England," as she put it, she had many 'special' friends who dropped by the house with bouquets of pink roses and an air of intrigue. Our relationship started with cracks – the silvery stretch marks, fine as ectoplasm, for which I was never quite forgiven. I was sent away to boarding school at 13 and, once during an open day visit when the waiter paid me rather too much attention at Ye Olde English Tea Shoppe in Broadstairs, her rare visits became rarer than ambergris.
The cracks finally spread and the vase of our fragile relationship shattered when Xcite Books published The Secret Life of Girls. I had drawn on my own life to create the story, all literature is a form of autobiography, a form of egoism, and cast my lead character, Bella, with a jealous, imperious mother who is about to marry the smarmy lawyer Simon Daviditz after the recent death of her adventurer father, a handsome Italian.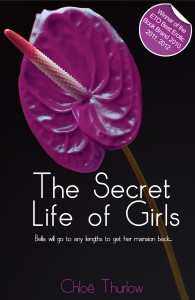 Bella's new stepfather has secretly bought Ickham Manor to pay off her father's debts. Bella had thought the old country house, which she loves, had been left to her, in trust, and this betrayal by her mother drives the plot. Bella wants to get her house back.
Half Italian with velvet brown eyes and as cute as a new kitten, Bella is a natural seductress. She has just discovered sex and finds "older people take it far too seriously. It's just a bit of fun." Bella is also an accomplished pianist (it's useful when characters have skills) and turns her talent to writing pop songs. She records a song entitled I'm A Virgin, No I Really Am, puts it on the soundtrack of the erotic film she makes with twins from her boarding school and finds herself on the road to stardom.
The Secret Life of Girls is a coming of age story, Lolita for the next generation, tongue in cheek, actually tongues find their way into all sorts of places. Bella takes chances and leaps before she looks. She is likeable, I believe, because she is self-driven and enthusiastic – both in her plan to buy back her house and her sexual explorations with the town boy Troy, who wants to be a rock star, her music teacher and the filmmaker seduced into rolling the cameras.
As I was writing the novel, Bella came alive. She took control of my fingertips as they stroked the keyboard and I gasped with wonder at her dazzling exploits. It's not beautiful sunsets or a beautiful man warming your bed sheets that's inspiring. Inspiration comes from your work. You write something, look back and sometimes, just sometimes, you think: where did that come from? That's the part of your work that's original and is always the best.
The Secret Life of Girls is available as an Xcite paperback and can be downloaded from Amazon.
http://www.amazon.com/The-Secret-Life-Girls-ebook/dp/B008GO4E6I/ref=sr_1_4?s=digital-text&ie=UTF8&qid=1371220119&sr=1-4
http://www.amazon.co.uk/Secret-Life-Girls-Romance-ebook/dp/B008GO4E6I/ref=sr_1_1_bnp_1_kin?s=books&ie=UTF8&qid=1371220211&sr=1-1
You might like to watch the 4-minute book trailer made by the incredible Lorraine Masterson – take a peep:
And catch my blog at www.chloethurlow.com
Twitter – @chloethurlow1
www.facebook.com/chloe.thurlow.5
****
Many thanks Chloe, for taking the time to share the story behind The Secret Life of Girls with us today. xx
Happy Reading everyone,
Kay xx