I'm delighted to have my dear friend, and fellow smut penner, Lily Harlem with me today-and boy has she had a busy few months!! Over to you Lily…
Thanks so much for inviting me over today, Kay. I'm enjoying taking a breath and relaxing as I've been rushed off my feet of late with two new releases before Christmas and three out over the last few weeks. Not only that, I've had stories included in various anthologies and have my work cut out in 2013 with a whole host of exciting new projects. Keep reading to find out all my juicy gossip.
Link to Teamwork– http://www.amazon.com/Teamwork-4-Hot-Ice-ebook/dp/B00AFVRAPW/ref=sr_1_1?s=digital-text&ie=UTF8&qid=1354356660&sr=1-1
In December the fourth book in my popular HOT ICE series, TEAMWORK, was published at Ellora's Cave. (This erotic romance novel is fine as a stand-alone read or can be enjoyed as part of the Viper's on-going story.) TEAMWORK is the ménage a trois novel of the five books, featuring two hot hockey players and one very lucky physiotherapist from Wales!
Blurb – What I know about hockey could fit on the back of a stamp. So my latest patient may be one of the NHL's hottest defensemen, but I'm not exactly blown away by his stardom. Add in the fact that he's a surly, growling grump, and I'm more than happy to work my magic on his battered body then hot-foot to my date with his teammate, Todd "Pretty" Carty.
Todd is sex on a stick, a slice of man heaven, and I want a bit of the action, preferably of the bedroom variety. But when Raven emerges from his bad mood and throws his energy into blowing my mind with just one kiss, I find my head spinning and my libido raging.
What I didn't bargain on is these hard-training, hard-playing hockey players working as efficiently off the ice as on when it comes to getting results. But who am I to complain when satisfaction is their ultimate goal?
Reader reviews –
This book was great! Very sexy! The Vipers story continues more hot than ever! I loved every minute of it and read it twice. 5*
I recently discovered this author. This is the 4th book in this series & can't wait for the next. Great series. 5*
LOVED RAVEN! Loved him, loved him, loved him!!!! Did I mention that I loved Raven? Oh, I was so sad to have this one end, but boy did I enjoy every tantalizing bit of it! OH YUM! 5*
Read the first chapter of TEAMWORK HERE – http://drb1stchp.com/2012/12/teamwork-by-lily-harlem/
Buy Links
Ellora's Cave http://www.ellorascave.com/teamwork.html
Amazon US http://www.amazon.com/Teamwork-4-Hot-Ice-ebook/dp/B00AFVRAPW/ref=sr_1_1?s=digital-text&ie=UTF8&qid=1354356660&sr=1-1
Amazon UK http://www.amazon.co.uk/Teamwork-4-Hot-Ice-ebook/dp/B00AFVRAPW/ref=sr_1_1?s=digital-text&ie=UTF8&qid=1357893001&sr=1-1
ARe https://www.allromanceebooks.com/product-teamwork-1010849-144.html
Barnes and Noble http://www.barnesandnoble.com/w/teamwork-lily-harlem/1113901630?ean=9781419939792
Kobo http://www.kobobooks.com/ebook/Teamwork/book-q7DZid_BHUqZtt3l5I2gfQ/page1.html?s=S_ZEJ-KwfUGzaApEwfU26g&r=8
Link to Anything For Him –http://www.mischiefbooks.com/books/anything-him/
Just in time for Christmas stockings, came ANYTHING FOR HIM http://www.mischiefbooks.com/books/anything-him/ an erotic novella published by Mischief at Harper Collins. This co-authored e-book written with Natalie Dae is dark and gritty and explores just how far one woman will go for the man she loves. It's a rollercoaster ride of lust, dirty desires and some seriously hot sex scenes. Probably not for the faint of heart!
Blurb– I prefer to chase the news, not be the news. But when the delectable Liuz, with his uncannily accurate perception of my secret desires weaved his way into my life, it wasn't long before I was in way too deep, submerged and intoxicated with a passion I was afraid was more than I could handle.
Or was it? Because although my heart was overwhelmed with feelings I had no resistance against, and while my deceitful body was consumed by a burning passion, I still had a plan. A plan I prayed would keep me afloat as I was pushed to the very edge of my limits, while the journey got tougher than even my wildest flights of fantasy could have imagined.
I claimed him and I felt that he was rightfully mine. My heart simply couldn't beat without a permanent connection between our hearts, minds and bodies. Losing was not an option, not when my sanity depended on winning him.
Because I would, quite literally, do anything for him.
USA Today review just in –
"Anything for Him is an erotically enticing story about what one woman will do for the man she wants. I read this book in one sitting, devouring this story of desire and obsession." –  USA TODAY http://www.usatoday.com/story/happyeverafter/2012/12/25/kristina-wright-best-erotic-romance-2013-recommendations/1790859/  – Kristina Wright
Read the first chapter HERE – http://www.lilyharlem.blogspot.co.uk/2012/12/anything-for-him-out-now.html
Buy Links on Mischief purchase page http://www.mischiefbooks.com/books/anything-him/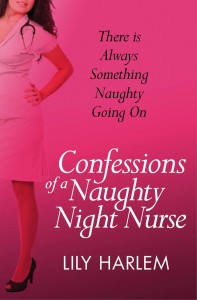 Link to NAUGHTY NURSE http://www.amazon.com/Confessions-Naughty-Night-Nurse-ebook/dp/B00ALKUMDO/ref=pd_rhf_dp_p_t_1_72SX
Just out is another novella from Mischief, CONFESSIONS OF A NAUGHTY NIGHT NURSE. Drawing on real-life experiences from my time as a trauma nurse in London and adding a healthy dose of imagination into the mix, this story follows Staff Nurse Sharon Roane as she spends her nights doing good whilst being bad in the shadowy cupboards, corners and forgotten rooms of a Yorkshire hospital.
Blurb- When scalpels are set down, the ward lights turned off and the patients asleep, there is always time for Mischief …
I guess you could call me a jack-of-all-trades nurse. I find work satisfaction in whichever department the hospital needs me most, as long as it's through the darkest hours. Needless to say I've seen it all over the years, been there and done that, what's left to shock me isn't worth knowing. But it's so often the quieter nighttime where the real high jinx abound.
Yes, the nocturnal life is the one for me. With a weakness for sexy guys wearing white coats and dangling stethoscopes, my fantasies are often realised and I'm adept at finding relief from the hospital grind in shadowy corners and cozy linen cupboards.
Of course my dedication to patient comfort is paramount. What kind of nurse would I be if it wasn't? But when one act of extreme, albeit highly inappropriate, kindness forced me to become the hospital director's snitch, the length I went to in order to keep my job, satisfied my desires and found me the love that had always evaded me. A love that made me push even my not-so-professional boundaries to the extreme.
Amazon US – http://www.amazon.com/Confessions-Naughty-Night-Nurse-ebook/dp/B00ALKUMDO/ref=pd_rhf_dp_p_t_1_72SX
Amazon UK – http://www.amazon.co.uk/Confessions-Naughty-Night-Nurse-ebook/dp/B00ALKUMDO/ref=sr_1_1?s=digital-text&ie=UTF8&qid=1358354478&sr=1-1
More buy links on Lily's  website www.lilyharlem.com  and Mischief – http://www.mischiefbooks.com
Link to DANGEROUS TO KNOW http://www.ellorascave.com/dangerous-to-know.html
February has seen two releases so far, the first is DANGEROUS TO KNOW http://www.ellorascave.com/dangerous-to-know.html This novella isn't my  usual kind of erotic romance story, in fact there's no romance in it at all, that's why it's in the Exotika line at Ellora's Cave. DANGEROUS TO KNOW is seedy and dirty and is about New Yorker Karen realizing a dangerous whore fantasy with a man she really should have stayed well away from.
Blurb-  For too many years I've hidden a sinful, erotic craving in the darkest corner of my soul. Within this deeply buried sliver, shameful fantasies rule and images—seedy, degrading, filthy images—burn through the dark of the night and hold my dreams hostage.
Luckily, the center of my whore obsession is keen to play my slutty game. I know nothing about him, other than his taste, touch and smell, but that's how I want it, because the one thing I'm certain of is this man is dangerous to know. But despite the risks, in the very heart of New York, in open view, I'll tempt him with my wares, show him my skills and prove I'm up for the job.
Available from Ellora's Cave http://www.ellorascave.com/dangerous-to-know.html  and all good ebook retailers.
Link to TARZAN OF THE APES – http://www.total-e-bound.com/product.asp?strParents=&CAT_ID=&P_ID=2011
As part of Total-E-Bound's Clandestine Classic range – http://www.total-e-bound.com/prodtype.asp?CAT_ID=306&sb=bt&so=all&ntt=1 ,I've has teamed up with the original author Edgar Rice Burroughs and added steamy jungle scenes to TARZAN OF THE APES. This is only one of several classics brought to life by various Total-E-Bound authors and inserts the sexiness that readers previously had to use their imagination for. It's important to note that purchase price is only for the added words, not for the original work.
TARZAN OF THE APES by Edgar Rice-Burroughs and Lily Harlem is available from all good retailers in ebook and print (print – 28th Feb).  More information from www.lilyharlem.com or Total-E-Bound – http://www.total-e-bound.com/product.asp?strParents=&CAT_ID=&P_ID=2011
Blurb – A wild man with primitive desires, will anyone be able to tame him?
A handsome English aristocrat raised in the jungle by apes, self-sufficient, thriving on danger and with a head full of unanswered questions. Where is he from? Why is he different? What will satisfy the hunger that eats away at the very core of his being and finally feed his appetite for something other than food and shelter?
A delicate American woman, expected to be the best she can be and marry well, but with a craving for adventure and exploration as well as a hope in her heart to find true love with a man who can sweep her off her feet.
When the two very different souls collide, in deepest, darkest Africa, only one thing can happen, and it's raw and feral. Lust a common language, satisfaction the ultimate goal. But will the gentleman outshine the savage-man? Is virtue to be honoured? And when faced with a civilised decision, can Tarzan do the right thing?
Lots more Tarzan details, pictures, that famous yell and an excerpt HERE – http://clandestineclassics.blogspot.co.uk/2012/12/hot-for-holidays-with-lily-harlem.html
ANTHOLOGIES
SEVEN DEADLY SINS is a print and ebook available from all good retailers and features seven saucy stories about venial vice! I chose the deadly sin of envy and my tale GREEN-EYED MONSTER features in this illustrated anthology.
Details of how this book was born at Eroticon 2012 and a sneaky peek at a naughty picture and buy links are on my website – http://www.lilyharlem.com/7-deadly-sins.html
TAKE YOUR PARTNER http://www.amazon.com/Lovehoney-Erotic-Fiction-Seduction-ebook/dp/B00AEU94L2/ref=sr_1_7?s=books&ie=UTF8&qid=1357892406&sr=1-7
Enjoy romance and eroticism together with this anthology of ten short and very hot stories selected and edited by Lovehoney. http://www.lovehoney.co.uk I have three connected stories nestled within these pages.
2013
The fifth book in the Hot Ice series HIGH-STICKED (my first m/m) will hit the shelves in the spring.
A new paranormal series begins in the summer. The first novel is BITE MARK, and yes, you guessed it, ménage a trois featuring dead sexy vampires!
I also have short story scheduled in TRIUMPHANT http://dorlamoorehouse.com/coming-together-triumphantly/ a charity anthology, all proceeds go to raising money for women's health issues.
And watch this space for more sexy novels from myself and my lovely co-author Natalie Dae…
WOW!! There I was thinking I'd been busy!! What a feast of Lily Harlem stories to choose from!! Fantastic! Huge thanks for sharing all your projects with us Lily!!  Kay xx
****
BIO –
Lily Harlem is a multi-published, award winning author of contemporary erotic romance. She lives in the UK with her husband and a bunch of animals, all rescued, and loves to spend her days immersed in imagination.

Her books are a mixture of full length novels and short stories, some are one offs, some are sequels or part of a series (all can be enjoyed as stand-alone reads).
Follow, friend, read or pin with Lily Harlem by clicking these links.
Website http://www.lilyharlem.com/
Blog http://www.lilyharlem.blogspot.com/
Twitter https://twitter.com/#!/lily_harlem
Facebook http://en-gb.facebook.com/people/Lily-Harlem/100003519563064
Facebook author page http://www.facebook.com/pages/Lily-Harlem-author-page/200182030094568
Pinterest http://pinterest.com/lilyharlem/
Goodreads http://www.goodreads.com/author/show/4070110.Lily_Harlem