I am delighted to have the wonderful Primula Bond on my site today!!! WOW!!!  Check out this great interview!!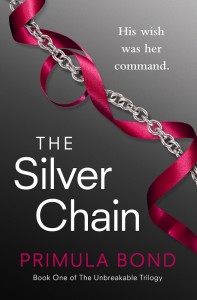 How did you start writing erotica?

I was a struggling single mum and started writing erotica per se when I was rejected by Mills & Boon because my sex scenes were too explicit.  I decided to try my hand at turning explicit into something sellable, turned the sex scene in question into a short story called 'Man in a Cage' and sold it to the now defunct magazine 'For Women.' The indescribable euphoria at being paid £150 for what amounted to an hour's escapism persuaded me that this, among other types of writing, was something I could do.

What's your favourite published work of yours and why?

My favourite published work after three novels, two novellas and numerous short stories, is my latest, 'The Silver Chain', the first of my Unbreakable Trilogy for Avon Books just out in paperback. I have been able to write it as freely as I want, within the parameters of erotica, and have had the added excitement and encouragement of being backed by a major publisher this time.

Where do you draw your inspiration from?

My first stories came from being a lonely single mum who exchanged a very varied romantic/sex life in London, travelling/partying a lot, to being alone with my little boy and in need not only of company, but of money! My inspiration came from frustration, the dating experiences I'd had, but expanding to take inspiration depending on my mood and encounters. It now comes from a mixture of something I've experienced, something someone has told me, something I've seen or read, eaten or drunk, somewhere I've travelled, but the majority, once I have the kernel comes from my imagination. Then I allow myself total freedom to roam!

Do you have any unusual writing rituals?

Not really. I just have to dive in as soon as my family (now a husband, lodgers and 3 sons) are out of the house and on the days when I'm not working part time. I have a particular sofa in a particular room during the week, and I work on my bed at weekends if I have a deadline. I allow myself the odd break during the week day with day time TV or cooking shows.

What's your favourite place to write?

It would be on a desert island, or in a seaside cottage. As it is it's a scruffy blue sofa in our den at home!

Who is your favourite character from one of your stories and why?

Possibly my favourite character is from one of my short stories who is a very glamorous cougar MILF, the mother of a gorgeous twenty something boy who has gorgeous friends she starts to seduce one by one. Not based on fact, I hasten to add

Do your nearest and dearest know what you do and if so what was their reaction?

My nearest and dearest have differing views. My husband dines out on the fact that I wrote 'Man in a Cage' when I was his secretary, and therefore in his time! I wrote it in a lunch hour and was already half in love with him although he upped and married someone else, separated and divorced before we were finally able to get together. He's now very proud, but says it's really for women. My parents, older generation and Catholic to boot, disapprove even though I'm writing for a mainstream publisher and although I guess I can't blame them, it's a source of angst at the moment. Thank goodness for pseudonyms! My eldest son, now 25, says he was teased as a teenager when his mates saw my books on the shelves in the house. He used to turn the spines to the wall. Now most of the books are online, nobody is any the wiser.
Thanks so much for taking the time to answer these questions Primula!
Primula Bond's work is available from the publishers' website and on Amazon.
She can be visited on her Facebook page and follow her on Twitter @primulabond
and see her blog www.primulabond.blogspot.com
BIO
Primula Bond is an Oxford educated mother of three sons living in Hampshire and masquerading as a respectable yummy mummy while harbouring a fantasy to be a cougar MILF. She writes freelance features under her real name, and as Primula Bond has been writing erotica for 20 years. As well as innumerable short stories for magazines and the following publishers, she has written three novels 'Country Pleasures', 'Club crème' and 'Behind the Curtain' for Black Lace, the novella 'Out of Focus' for Xcite Books and the novella 'Sisters in Sin' for Mischief Books at Avon.
Hope you enjoyed that folks!
Happy reading,
Kay xx