With a great deal of pleasure, let me welcome, Cassandre Dayne and Benjamin Russell to my web site today with this MEGA HOT blog- over to your guys…
CARE FOR A SPANKING?
So the title makes me all hot and bothered and in truth hungry to do something really, really bad. I'm going to start off the piece Sir Benjamin and I are doing. I'm sitting here with a sultry glass of cabernet in my hand, listening to my favorite "fuck me" music – Nickelback – and thinking about all things wicked. Oh come on. For those of you who know me already realize how sinful I can be. Kay asked Ben and I to write something kinky and a little over the top, giving you a taste of BDSM. Well, I wanted to mix it up a bit with the thought about a solid ass whooping. There I said it. What woman doesn't really want one?
So, pull up a chair, grab your favorite drink, put on a very sizzling piece of music and come along for the wild ride. In case you don't know us, we're the co-authors of On Becoming His, a collection about two people entering into a D/s life together. It's emotional and full of passion – oh and more than a touch of kink. I am happy to tell you that when you read this the book will have an impressive addition, a snippet from On Becoming His – Lessons Learned and be going on Amazon again just in time for the weekend.
Spanking is many things and handled both for pleasure and punishment. Some couples practice Domestic Discipline in their marriage or relationship and they don't engage any further into a D/s relationship. Some couples simply spank for fun and kinky pleasure. I like both.
Spanking – what does the concept mean to you?
Cassandre: I think spanking is very sensual for two people to share on one hand. It's a little bit naughty and sometimes out of your comfort zone and yet for a woman, there is nothing better than being taken in hand in my mind. I love the thought about a strong man taking you over his knee and doling out very needed discipline. I personally see spanking as being handled in different ways. Pleasure or fun spanking is a powerful kick ass way to get all hot and bothered. Come on Sir, are you hot and bothered yet? The shared moment of intimacy draws you closer together as a couple, allowing you to share something uninhibited and just a touch kinky. If you're practicing Domestic Discipline, spanking is simply a method of punishment and control. The wife or women (remember same sex couples certainly share this as well as the sexes reversed) knows she has a set of rules to follow and will be punished if she disobeys them. The concept isn't new and is Christianity based believe it or not. For me as a woman, I know I simply need to learn to be a little less – what would Sir Benjamin call me? Oh yes, willful. Moving into a D/s situation the concept can be the same and you can taking spanking into flogging and caning for a heightened sense of hunger for pain.
Benjamin: Oh Cassandre, you have a way of caressing words that stroke my imagination and make my nature rise. If you keep teasing me, we may have to give our readers a front seat to you getting a Good Girl spanking.  Pleasure and pain are two sides of the same coin. It's been well documented that mixing pleasure and pain is a powerful aphrodisiac. A spanking is also an effective form of discipline. However, from a Dominant perspective, what distinguishes an erotic, pleasurable spanking from a painful, punishment spanking is the mental state of both the Dom and the submissive. The submissive should always know why he/she is receiving a spanking. If it's part of foreplay or part of the actual sex, then obviously how the spanking is received and delivered is different from a spanking given as a punishment. A good Dominant will get inside the head of the submissive to make sure the intent of the spanking is clearly understood.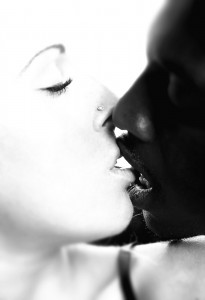 Does it excite or intimidate you?
Cassandre: I'm already wet, my heart racing, my hunger building to the point I need and want and… Oh sorry, I'm panting again. For me the very thought of a hard spanking in every variety and for every reason is terribly exciting. I think the concept of the passionate moment shared is so freeing and also the understanding that for a Dom he is in control and with the flick of a wrist literally bring you to your knees in a sense is stilling. I personally have heard from many women who long to be punished and the aspect of being disciplined gives them salvation. I know for me if my Dom texted me at work and said prepare for a spanking when I got home I would be left wet and completely out of sorts the rest of the day. The anticipation and the excitement go hand in hand. While you want to be a good girl, sometimes you want to push your man just a little bit to see what he's going to do. I know I'd push my Sir…
Benjamin: For me, it's incredibly erotic to spank a woman with my bare hand while she's draped across my lap. In that position, she is so vulnerable and the sense of power over her at that moment produces a rush of excitement that makes me throb. I love the feel of a woman's beautiful ass under my hand and the feel of her squirming in my lap with each sting of my palm. Often, I will be possessed to take her from behind on her knees as soon as the spanking is over.
What do you think about punishment spankings?
Cassandre:  I honesty think that for some couples the concept of punishment, whether we're talking spanking or corner time, soap in the mouth, removal of privileges or the good old fashioned brush or belt to her ass. I'm come full circle in my personal beliefs and in writing, I can see giving my reader more. I think punishment spankings have to be different than anything else as the anticipation and the forgiveness is vital. The moment still brings the couple closer – so much closer. I think for a woman she responds to his care of her as well as his discipline. This isn't just about someone obeying the other. The lifestyle is about being so close as a couple you are lost without the other. As I continue to explore the concept I am utterly amazed. The level of devotion shared and the knowledge of why and how and then again, just thinking about how sore your bottom is going to be for a couple of days is heart wrenching.
Benjamin: As I said earlier, a spanking is an effective form of punishment, but it 'must' be preceded with communication and understanding. "You have broken one of our agreed upon rules. You have disappointed me or embarrassed yourself and/or me. Do you understand why this spanking is necessary?" The tone of my voice, the look on my face and the intensity of the spanking itself, either with my hand or some other instrument such as hairbrush, will make it clear this spanking is a punishment. Truthfully, I would expect my disappointment in my submissive to hurt her more than the physical pain of the spanking.
Maintenance Spankings – how do they differ from punishment spankings?
Cassandre: Maintenance spankings are what you think them to be. They are spankings given on a regular basis to instill in the submissive a sense of calm in order to "maintain" a good behavior and attitude. In most cases, the woman will be prepared to have two or more a week to regulate her attitude and keep her in line. Before you scoff, close your eyes and think about the situation for just a moment. Aren't you a bad girl from time to time, perhaps being mouthy and relating to harsh tactics or breaking the rules because you can? Don't you get pissed off and froth at the mouth. What if you had a Sir Benjamin to point to the corner after he's made you undress? Being naked and spanked goes a long way in my opinion. From talking to some women involved in this lifestyle, they really long for the spankings for tension release, a feeling love and such clear attention from their man. I could see this in my life. We all know I'm a VERY bad girl, right Sir Benjamin? Lying across his lap as he grabbed a hairbrush gives me many sinful thoughts. Purr…
Benjamin: Cassandre, in your case, I suspect you'd need a daily maintenance spanking. Hell, you'd need multiple forms of spankings or punishment every day. *Smiles at the prospect of having the wicked Ms. Dayne squirming on my lap*.  A maintenance spanking is administered when the submissive has not committed a punishable offense. She should be in a neutral frame of mind and from this state of mind; the woman is elevated to a more positive perspective on her life and the expectations of her Dominant. Between erotic spankings and maintenance spankings, unless the sub is unduly willful, like Ms. Cassandre – punishment spankings should be few and far between.
Could you see yourself in a D/s relationship that includes regular spankings?
Cassandre:  It's a fantasy of mine – I can't tell a lie. I think being a woman who some say is very powerful has pushed me into being a person I'm honestly not sure about all the time. I thought in my early days I liked being in power all the time but in truth, I crave what I find so many other women do –  a man in control. D/s? Yes I can see obeying. There – I said it kids. I really can.
Benjamin: Is that a trick question? In a D/s relationship administering spanking comes with the territory. I personally prefer the erotic spanking, both delivering it and for what cums afterwards. However, since I want a submissive, not a slave, I know that regular spankings for punishment and maintenance are required.
I think Benjamin and I agree. The practice of spankings, whether for delicious passion or because your relationship needs a major overhaul is a very valid idea. You must talk to each other and learn about the craft before you pick up a belt or a hairbrush but this could be life changing for both of you.
WHERE TO STALK US:
http://cassandredayne.wordpress.com/casandre@cassandredayne.com
Cassandre FB Fan Page https://www.facebook.com/pages/Cassandre-Dayne/178164866655
On Becoming His Page  https://www.facebook.com/OnBecomingHisTheCollection
Benjamin's FB Fan Page https://www.facebook.com/pages/Benjamin-Tiberius-Russell-Author-Provocateur/211474652233600
Benjamin's Amazon Author Page – http://www.amazon.com/Benjamin-Russell/e/B007EPS3LW
Follow Benjamin on Twitter – http://twitter.com/btr269
Be Friends with Benjamin on Goodreads – http://www.goodreads.com/author/show/5762226.Benjamin_T_Russell
A huge thank you to both Cassandre and Ben for their wonderfully honest, sexy, and informative blog! As someone who does not practise any sort of dom/sub relationship, but writes about it all the time, it is comforting to find that the thoughts and desires I give my characters aren't too far from reality!
Now if you'll excuse me, I am off to by a paddle…
Happy Spanking,
Kay xxx