I would like to extend a warm welcome to my guest today. There are many authors I admire in the world of erotica, but Justine Elyot is without question one of the very best.
Over to you Justine…
The Imperfect Dominant
Sorry for my little allusion there – I couldn't resist, knowing that Kay is the author of The Perfect Submissive, using that title as a springboard for my post.
Few of us ever achieve perfection in life, and my characters in Lecture Notes are no different. Professor Sinclair strives to be flawless at everything, not just his stellar academic career, and he makes a pretty good job of it, on the whole – except when it comes to his personal life.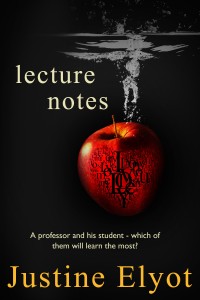 He is good in bed, because that is something that can be achieved with study, and he is good at kink, because he has made it his business to be, but love? No, he isn't good at that. Not yet…
So Sinclair is an imperfect dom.
Beth, on the other hand, is not the highest achiever in life – she is lost in the confusion of sudden adulthood, two terms into her university career, and is not handling it terribly well. But whilst she might find living up to Sinclair's standards a challenge, she understands what it means to let somebody into her life.
Both characters – unlikely as it seems at first – have something to teach and a lot to learn. They can never be perfect, but perhaps they can be perfect for each other.
Here's a little taster:
Leaving my room for Sinclair's abode, I wonder if it will be my last night in the utilitarian square box I call home. Goodbye thin curtains, goodbye thinner walls, goodbye positively anorexic single bed. I hurry through the eerily quiet Sunday dusk, hugging my cord jacket around me. It is early March and there is a cutting wind that makes me twinge. I try to spot signs of spring in the gardens of the lavish mansions I pass but most of them have been given over to gravel and hardy perennials.
I have a swoony, nervy thing going on inside me that is not unlike severe nausea. Perhaps I should have eaten first. Couldn't face it though.
The picture windows loom yellow and enormous from the crepuscular half-light like the malevolent eyes of an enormous beast. I wonder what Sinclair is doing in there as he awaits me. I imagine him lounging elegantly in his bathrobe, gin and tonic in one hand. "Ah, Miss Newland, I've been expecting you…" Nice.
When I walk through into the living room he is not even in there though.
His voice appears before he does. "Sit down; I'll be a few minutes." I can hear furious tippy-tapping coming from another room. A study, presumably. I park my arse on the sofa and take a good long look at Sinclair's living space. It is mutedly tasteful, quite modern but classic at the same time. I imagine I am doing an in-depth piece for an Interiors magazine.
"Eliot Sinclair's home is as elegant as the man himself, sharing his understated charm and wit…."
Sinclair's understated charm is little in evidence as he stalks into the room, glaring at me, with an armful of books and papers. Open-necked white shirt, unusually dark trousers. Barefoot again. I like that. Casual but sexy. I am too busy eyeing him up to take in what he is saying at first, then he clicks his fingers almost in my face and I start.
"I said, I hope you are ready for some serious work, Miss Newland. I am not in the habit of wasting my time."
"Oh…no. Of course not. Yes. I'm ready when you are," I mutter.
He stops to look me up and down, obviously getting why I have worn the jeans and suppressing a half-grin. Then he places the pile of books between us and sits down on the sofa. So close to me. I can smell him. He must have showered recently; he is all piney and fresh. This is going to be way too distracting.
I offer a silent prayer to whoever is the patron saint of hapless women addled by inappropriate lust and turn to my tutor.
He brandishes one of my essays in my face. The one on how Laclos' Les Liaisons Dangereuses presaged the downfall of the decadent French aristocracy.
"I notice a long list of references at the end of this piece, Miss Newland, but I can't help wondering how many of them you actually read."
Ah. I move my eyes shiftily to the left, avoiding his questioning stare.
"Well? Did you read any at all?"
"Was it no good?" I ask desperately.
He flicks his eyes over the comments he has appended to the essay – and there are many – before boring them back into me.
"A passing acquaintance with the plot and a nod to the political climate of the time do not a degree level textual analysis make, Miss Newland. Did you even read the book?"
Possibly my face might be redder if stuck it into a vat of Napoletana sauce, but only just.
"I was in a rush," I whisper. "I had to write five essays in two weeks…"
"And whose fault was that? Did you read the book? Be honest with me. I'll know if you are lying."
My throat is drier than Oscar Wilde in the Sahara as I rasp, "I, er, watched it on DVD."
A long silence. "You watched the film?"
I nod.
"That was it, was it? The sum total of your research?"
Another nod.
"You thought you'd get away with that, did you?"
Nod times three. My nails are digging into my sweaty palms quite hard. I think he's going to kill me.
****
It's available right now, exclusively for Kindle in the UK: http://www.amazon.co.uk/Lecture-Notes-ebook/dp/B00FL241LQ/ref=sr_1_49?s=digital-text&ie=UTF8&qid=1380981943&sr=1-49&keywords=justine+elyot
And in the US: http://www.amazon.com/Lecture-Notes-ebook/dp/B00FL241LQ/ref=sr_1_1?s=digital-text&ie=UTF8&qid=1380982005&sr=1-1&keywords=justine+elyot+lecture+notes
Many thanks to Kay for being the perfect hostess (oops, almost said 'submissive' then) – I always love my visits here. And thanks to everyone for reading too.
Thank you so much for coming by Justine- Lecture Notes sounds even more delicious than the cover looks!!
Loving the allusion to The Perfect Submissive! Mrs Peters would approve!!
You can keep an eye on all Justine's amazing stories at – http://justineelyot.com/
Happy reading everyone,
Kay x