I'm delighted to be joining in with the Blisse Bunnies Blog today! This is your chance to WIN some fantastic prizes! Check out this lot!!
International Grand Prize
You can win a £50 Gift Voucher to spend at the sensational Sh! Women's Erotic Emporium. Treat yourself to a egg with a difference 😉
UK ONLY Grand Prize
You can win a £50 Gift Voucher to spend on yummy Xcite Books. Delivery is only available in the UK. So Treat yourself to some very sexy British Easter treats!
Runner-Up Prize
You can win a BritBabes Bundle. Featuring sensational eBooks from Victoria Blisse, Lucy Felthouse, K D Grace, Kay Jaybee, Lily Harlem, Lexie Bay, Emmy Ellis and Tabitha Rayne
SexyReads Spot Prize
One Lucky winner selected by the SexyReads ficklefingeroffate™ will win a £10 Amazon.co.uk or $10 Amazon.com Gift Voucher.
So how can you win??  All you need to do is visit each of the blogs taking part, and count up all the cute Blisse Bunnies hidden on them! A list of all the sites involved, and all the rules, are waiting for you at http://blissebunnies.co.uk/ Once you have your total bunny count, email it, and your details to Victoria Blisse at victoria@victoriablisse.co.uk
GOOD LUCK and HAPPY COUNTING!!
****
Wordy Beginnings
As Spring is traditionally a time of new beginnings, I got to thinking about how important beginnings really are- especially in stories.  An imagination teasing opening sentence or paragraph, can make the difference between someone spending their precious time reading your work, or flicking onto somebody else's.
I confess, I'm a very picky reader! If a book hasn't hooked me by the end of the first page, then I just can't be bothered to read any more. Therefore, when I'm writing myself, I try and make the first few lines really count… Here are a few of my opening lines to tease you with…
My heart thudded in my ears as I looked down at my bound wrists. Tied with rope, the hemp chaffed against my pale skin. Experience told me that there was no point in wriggling to see if they'd come free. Our Master knew his business…
Laura Peters'mind went into overdrive. Flicking through a variety of possible erotic scenarios, she placed him at the mercy of a large muscular man, begging to be skewered up the arse on his magnificent cock. She saw him bound and gagged; a darkly tanned figure bent over his chest, stroking him relentlessly with a split-tailed whip. Perhaps he was writhing on a four-poster bed, awaiting a woman's eager tongue against his balls; a woman who'd just spent the last hour teasing his body with silk scarves …
Rachel's Twisted Tale from Yes Ma'am–
The room was completely bare. Whitewashed walls reflected a false brightness against the polished laminate floor. Despite its lack of furnishings, the room was not cold, a warmth radiated up through the floorboards, stopping its sole inhabitant from freezing to death.
She sat, as she often did, totally naked, her legs crossed, her pale back straight, her arms relaxed and resting against her knees, the long thin yellow plait that hung from the nape of her neck, snaking across the floor…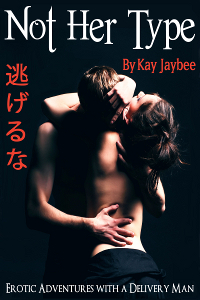 Not Her Type; Erotic Adventures With A Delivery Man (soon to be re-released- I'll be shouting about a date soon!)
What the hell am I doing? I'm a good girl; I just don't do things like this.
A tiny fraction of Jenny's conscience screamed at her. The remainder of her brain sent her hands on a thorough exploration of the densely haired chest that had unexpectedly appeared from beneath her companion's polo-shirt. The fact that Jenny had never liked men with hairy chests seemed irrelevant…
I hope these beginnings have tickled your taste buds, and piqued your curiosity!
*****
I have one eye looking out of my window over my frost covered garden as I write this Blisse Bunny blog, and I can't help wondering if Spring really is coming this year! It's just so cold out there. While it's making it's mine up whether to make an appearance or not, why not snuggle up with some of the lovely blogs and books on offer today via the Blisse Bunnies blog! Make sure you check out all the sites taking part- you could win a prize!!
Good luck!!
Thanks for stopping by.
Kay xx
—