I just had to zip by with a mini blog today to shout YIPPEE!! I'm appearing in this week's Woman's Own magazine!! How totally weird, and really rather cool is that?!
It's funny how things turn out in life- about a year ago I was interviewed for another magazine by a very nice journalist, but after much negotiation, the interview was never used, as – mean thingy that I am- I refused to allow a photograph of my children in the article, and the editor really didn't like that!
Bless that journalist however, for he didn't forget me, and two months ago, he asked permission to pass my details onto the lovely Katie at Woman's Own- and low and beyond- we have an article!!!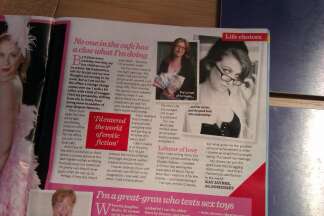 SO, if you want to have a peep at some background into my "Sexy Double Life" (Sexy? More like hard slog, blood, sweat and tears 🙂 ), then check out the Woman's Own magazine dated 15th July!! I'm on p.49, along with 2 other far more interesting women than me!!!
A big thanks to Katie, Fran and the team at Woman's Own- and Matt, for hooking me up with them in the first place.
Happy reading everyone,
Kay xxx