Well here we are, almost half way through 2013 already, and life continues to be as hectic as ever. I thought it might be fun to share a quick round-up style blog with you today- if I'm honest, as much for my benefit as yours! I swear if I don't write it down, I have no grasp on the ups and downs of every day life!
A friend of mine, who is a great fan of Ronan Keating (someone has to be), is forever telling me that life really is a roller coaster- and to be honest, I'm beginning to think he's right!
Luckily for me there are plenty of ups to balance the occasional downs. If you follow me on Twitter (kay_jaybee), you will probably have noticed that I'm on the short list for Best Erotic Writer 2013, as voted for by subscribers to the ETO Magazine!!!
When I first saw my name connected with the awards via Twitter, I honestly thought it was a hoax- just a bit of spam- but soon I discovered that this wasn't the case at all. I was utterly stunned- and very flattered! I can't believe I'm up on a short list with erotica supremos Rachel Krammer Bussel and Kd Grace!! Also on the list- proving how much has changed in the erotic world in the last 18 months- are the mega popular hot romance authors EL James and Sylvia Day. So let's face it- the chances of me getting any further are slim- but WOW, who cares, I was nominated!!! Chuffed to bits!!
I'm really looking forward to heading up to this years ETO Show, signing a few books at the Xcite stand, and soaking up the atmosphere- whilst having my 'ideas' notebook close at hand…
There are loads of categories to vote for at the ETO Awards, so if you are registered to receive the magazine don't forget to vote for your favourite author, retailer, publisher and so on.
Continuing on the upward course of my roller coaster ride, I'm pleased to say that my latest work in progress The Retreat (the full length sequel to The Perfect Submissive), only has two more chapters left to write before I hit the editing stage. That means it will be ready in plenty of time for its launch in October- which is just as well as I've been asked to write two short stories and another novel before the year is out…. and breathe….
Alongside having had lots of fab guest bloggers on this site so far this year, and a heap of fun working as part of the Brit Babes, there is one more major 'up' to report so far this month! And that is the arrival through the post (in fact, by wonderful coincidence, it came via courier), of my copy of the paperback edition of Not Her Type: Erotic Adventures With A Delivery Man. What can I tell you- I LOVE IT!!!!
The front cover is lush, the back cover is beautiful, and the quality of the paper is superb. It is just a joy to hold in the hand. Do you get the impression I'm pleased with how this book has turned out??
And believe me- the timing of this books graduation from e-book to paperback could not be better- if you need a short punchy read for National Masturbation month- look no further…you get my point!!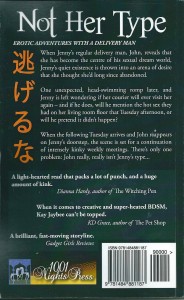 So, there we have it- not a bad haul on the 'ups' front! But where life gives you ups there are bound to be downs…
But hey- you don't want to hear about my Internet problems, 'real' work issues,…….
So let's forget the downs and celebrate the fact that May is Masturbation Month by taking a peep at a suitably fitting extract from my hot erotic romance A Sticky Situation… I hope it hits the spot…
…Dumping her holdall without ceremony, relieved to be in the one place where it didn't matter if she got half a can of cola down her chin, Sally kicked off her comfy travelling shoes, letting her feet luxuriate in some well deserved air, prior to them being held prisoner in stupidly high heels for the next few days.
In an hour she would have to start being Miss Sally Briers, "marketing queen", but for now she could simply rest. Closing her eyes, Sally's imagination returned to the pages of the book she'd been reading on the train. Carol had thrust it into her hand as she'd deposited her at the station, telling her it would relax her, but all it had done was make Sally regret telling Carol about her, well- built-tradesmen-with-tattoo, fantasy. She had become horny to the point where she'd wondered if she could risk losing her seat to someone else while she nipped into the toilet cubicle to give herself a good seeing to.
At last she could work off the ache that the erotic novel had caused in her clit. Keeping her eyes shut, Sally trailed a hand down her front, undoing the buttons of her shirt, making believe that her hands belonged to the grubby, stubbled, cock-sure garage mechanic who had given the heroine of the story such a thorough fucking.
Peeling open her top, her fingers danced over her breasts as her legs opened wider. Her skirt was already rucked up around her waist, and her bare legs were bent expectantly at the knee. As Sally clutched at her chest, she pictured the fictional mechanic's mouth landing on her nipples, drawing them out with his tongue. She shoved her bra unceremoniously above her tits, and plucked at her teats, until they were stiff enough to pull at in unison with thoughts of oil stained fingers in her head.
Behind her eyelids, she could clearly see him strip away his dirty boiler suit, before his large nail-blunted hands roamed roughly over her body; the bulky man's jeans barely holding the bulge at his groin. Sliding her palm downwards, tracing the line of her waistband, she could see her fantasy man's digits reach out to undo his belt, and ease his erect shaft from his clothing. As her imaginary lover stroked his tip over her panty covered clit, Sally tucked a finger inside her knickers and ran it along the folds of her snatch.
Raising her hips, Sally manhandled her clit harder, while wetting a finger and using it to massage her right nipple, feeling little flickers of electricity sparking within her stomach, she continued to caress herself, visualising Cameron as he lowered his lips to her nub and … Cameron!
Sally's eyes flew open, and her hands were temporarily immobilised in position against her fast dampening pussy and her chest. How did he elbow his way into my perfect "bit of rough" fantasy!
It was all Carol's fault. She'd gone on and on in the car, winding Sally up about hotel flings, and how Cameron might not be so bad after all.
Almost imperceptibly, Sally's fingertips started to move across her slit again, too far along the road towards climax to want to stop just because Cameron bloody James had interrupted her seam of concentration.
Clamping her clear green eyes shut, Sally sank deeper against her pillows, searching for the image of her greasy, sweetly sweaty, tattooed, dream lover.
Drumming her fingers with increasing pace over her pussy, pushing two digits inside her channel, she swirled sticky moisture around her hole. Pinching her left and then right nipples in quick rotation, Sally's mind jumped between shots of her heavy voiced mechanic and the smooth physique of her senior colleague.
Close to the edge, Sally pressed onwards, making her hips rise to meet her own fingers as a third slipped inside her. With a final tug at her full creamy flesh, she juddered; mewls of personal pleasure escaping from her lips, her brain continuing to merge the visions in her head, creating a tattooed hero who looked frighteningly like Cameron James in oil spattered overalls.
Catching her breath, Sally allowed her pulse to stop thudding in her ears before she swung her legs so that she was sitting on the edge of the bed. 'Bloody Cameron, bloody James!!!' She scooped up a towel and headed to the shower, 'I can't even have a wank without him butting in!'…
You can read the rest of A Sticky Situation by buying it from…
Amazon UK- http://www.amazon.co.uk/Sticky-Situation-Xcite-Romance-ebook/dp/B0086X6XQ8/ref=sr_1_1?ie=UTF8&qid=1360509794&sr=8-1
Amazon US- http://www.amazon.com/Sticky-Situation-Xcite-Romance-ebook/dp/B0086X6XQ8/ref=sr_1_2?s=digital-
Happy Reading,
Kay xx
text&ie=UTF8&qid=1360509882&sr=1-2&keywords=a+sticky+situation