I, like all writers, had a dream when I first started to write- I dreamt of seeing a row of my books on a bookshop shelf one day.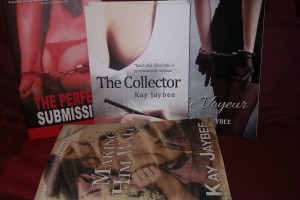 You may not have noticed, but you can buy erotic books in actual shops now! Yes- shocking isn't it!!
Alright, I was being sarcastic- but right now I'm a touch disillusioned with the world of erotica when it comes to actually buying hold-in-your-hands books. Which is ironic, as you can't move through a supermarket, newsagents, or bookshop without getting a face full of "Popular erotica."
Now- I don't really have a problem with such books- I wish the majority of it was better written- but that's another story. We all have different tastes, and that's how it should be. I confess however, that I thought- well hoped- that with all the recent hype, folk would move on from those 'lift off the shelf' books, to seek out erotica from those of us that have been slogging away for years, honing our trade.
That has happened to some extent (mainly in the e-book arena)- I've been very lucky. I've had people find my work after reading James- and I've been gratified by comments from some of my newer readers-such as –
'The Perfect Submissive makes 50 Shades look like a waste of paper' and
'I thought James was fantastic- then I read The Voyeur- WOW- Shades was nothing compared to this…'
I could go on- but I won't because it is coming across like I'm showing off or attacking James-and that's not the point of this blog at all. My point is, that the expected surge of, and demand for, paperback sales never happened. Well- it did for 2 months, then there were 2 okay-ish months sales wise in the e-book world- and now, well…
I, like so many of my colleagues are only still writing because we are addicted to what we do-not because we are making a living at it. As Remittance Girl so rightly told us all at this years Eroticon conference- "If you are in erotica to make money- get out now!"
I have never been in this to make big bucks- I just love what I do. I have a day job, and my husband is a very kind supportive wage earner. However, there are times, and they are becoming increasingly frequent, when I do wonder why I'm up until midnight, scribbling away to earn the equivalent of less than 10p and hour. I am not after 'things' or  big houses, or cars, but it would be nice to be able to not worry about how we are going to pay for the kids to go to university in a few years, and not to have to do that very special dance I do when the boiler needs servicing, or the car needs an MOT, and I simply can't afford for it to fail.
As I've already said however, I really am one of the lucky ones- other's have given up, disillusioned, and with the sad feeling that all their hard work at getting intelligently written erotica for intelligent men and women out into the world has been a battle that was so nearly won- and then was taken away by a mass of billionaire erotica, which in its turn has inspired a lot of badly produced self published erotica, which in its turn is drowning out the well done self published erotica out there….(but that's another rant for another day.)
A little while ago I was actually told by a major publisher that my writing was too good for them to publish – that I was too broadsheet when the world wants tabloid, and that I should maybe watch reality TV to see what people are actually after. I wanted to shout- 'but none of my friends watch reality TV, but they all read! Every moment they have they have their noses stuck in a book (yes a book, not a Kindle)- they all have brains- they are all clever (whether academically or not), – and not one of them wants to read one more story implying that it's only rich people who are handsome, sexy and successful'. (Do read Kd Grace's brilliant blog post on this- she rants to perfection!)
I seem to have gone off at a tangent- And breathe… So, back to paperbacks…
Okay- so it has been possible to buy erotica paperbacks in shops for years and years- usually along the (almost extinct) top shelf. They have long been the preserve of service stations, and could be found tucked away in corners in some of the larger bookshops etc- and yes, a few erotica writers books have now edged their way onto the occasional noticeable shelf- including my own Making Him Wait– which is available in a few airports and railway stations.
But as it now costs publishers approx. £2000 a time simply to get a single title on a bookshop shelf, this is going to happen less and less- and soon traditional erotica will be the preserve of Amazon and online sellers only… Who can blame publishers for not spending that kind of money in that way when there is so much else to spend it on? This means the difference between the popular conception of  'making it' and not 'making it' is growing by the day- and the dream I had when I was a new writer of seeing rows of my books in Waterstones and other bookshops is unlikely to ever come true.
And yet, somehow, I can't quite stop hoping…
And, more to the point, I won't be stopping writing either – I dread to think what I'd be like if I did- the powder keg of ideas in my head would explode with no where to go! Self indulgent perhaps- but I needed to get this off my chest!
Erotica- although still a wonderful world in which to work, with a huge amount of positive things happening, and some of the friendliest most supportive people in the world working within it- is a very different place than it was before April 2012- and not necessarily a better one.
The battle of well written erotica may have suffered a major skirmish defeat- but I'm darn sure the war hasn't been totally lost yet!! So if you'll excuse me, I will go, roll up my sleeves, put my tin hat on, grab my whip and pen, and carry on fighting!
Maybe one day I'll get some books in that mainstream bookshop. Maybe.
Kay x