Major delivery alert!!
He's back- John the courier- a man with an erotic imagination that would be envy of many- has returned to his round!!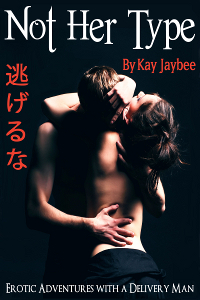 Blurb-
When Jenny's regular film courier, John, reveals how she has become the centre of his sexual dream world, Jenny's quiet existence is thrown into an arena of desire that she thought she'd long since abandoned.
One unexpected, head swimming romp later, and Jenny is left wondering if her courier will ever visit her again, and if he does, will he mention the hot sex they had on her living room floor that Tuesday afternoon, or will he pretend that it hadn't happened?
When the following Tuesday arrives and John reappears on Jenny's doorstep, the scene is set for a continuation of intensely kinky weekly meetings. There is only one problem. John really really isn't Jenny's type…
****
As those of you who are kind enough to follow my work will know, Not Her Type: Erotic Adventures With A Delivery Man used to be published by the OCPress. However, a few months ago, the lovely editors at OC decided to call it a day, and so the hunt was on for a new home for John and Jenny.
I was incredibly flattered by the offers I had for my kinky courier tale! I had no hesitation however, in handing my book over to the wonderful Sharazade at 1001 Nights Press– Not only will you be able to buy NHT for your Kindle -or as a download- but in a few months it will be a slim-line paperback as well!!!
So, if you fancy having a read of the novella that was inspired by the stories and fantasies shared with me by many of the couriers I've worked with in my 'real' job over the past 12 years- then you can buy Not Her Type from…
Buy links
Amazon UK – http://www.amazon.co.uk/Not-Her-Type-Adventures-ebook/dp/B00C8PDEE4/ref=sr_1_1?ie=UTF8&qid=1365345730&sr=8-1&keywords=Not+Her+TYpe+kay+jaybee
Amazon.com – http://www.amazon.com/Not-Her-Type-Adventures-ebook/dp/B00C8PDEE4/ref=sr_1_1?ie=UTF8&qid=1365345892&sr=8-1&keywords=Not+Her+Type+kay+jaybee
Happy reading guys!!
Kay xxx