Review- Secret Life of Girls by Chloe Thurlow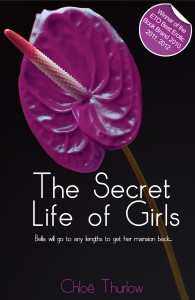 Blurb
The Secret Life of Girls is a fictionalized memoir of Bella, an 18-year old girl at finishing school on the English coast. When her father dies, her mother remarries a man who secretly buys the manor house left in trust to Bella to pay off her father's debts. The betrayal cuts Bella to the core – the house is a part of her. She has nothing left – except she is beautiful, bold and unafraid to use sex to get revenge – as well as for her own pleasure.
Review-
Coming of age erotica has never been this good! Packed with action, Chloe Thurlow draws us along with Bella- not a young woman to be trifled with- who has worked out at a very early age just what a powerful weapon sex can be- and how to use it- particularly against her gullible new step-father, Simon Daviditz…
On the death of her father, Bella is taken to the Convent of Saint Sebastian and the Holy Martyr finishing school, run by some of the least moralistic nuns I've ever read about. Oh how I'd like to meet Sister Nuria one day….
Bella has only been in her boarding room for a few moments, when she is being intimately examined by Jack (female), one of her new room mates. This situation could so easily be seen as contrived, or as adding sex for the sake of it, rather than to the furtherance of the story- but this is very much not the case. Clichés are neatly avoided, and every scene within the novel adds to Belle's complex journey as she learns to use her body- and more importantly- her quick brain- to advance her future, and stay one step ahead of her rival Tabby Van Deegan…
Although I wouldn't recommend The Secret Life of Girls to first timers to erotica (it plays close to the edge with age limits and incest) – lovers of the genre have to read this refreshingly well crafted book.
****
You can find more information about Chloe Thurlow on her blog- http://chloethurlow.com/
You can buy The Secret Life of Girls from all good book stockists, including-
Amazon UK- Paperback- http://www.amazon.co.uk/Secret-Life-Girls-Chloe-Thurlow/dp/190776190X/ref=sr_1_1?s=books&ie=UTF8&qid=1377713568&sr=1-1&keywords=the+secret+life+of+girls
Amazon UK- Kindle- http://www.amazon.co.uk/The-Secret-Life-Girls-ebook/dp/B008GO4E6I/ref=tmm_kin_title_0?ie=UTF8&qid=1377713568&sr=1-1
Amazon US- Paperback- http://www.amazon.com/Secret-Life-Girls-Chloe-Thurlow/dp/190776190X/ref=sr_1_2?s=books&ie=UTF8&qid=1377714099&sr=1-2&keywords=the+secret+life+of+girls
Amazon US- Kindle- http://www.amazon.com/Secret-Life-Girls-Romance-ebook/dp/B008GO4E6I/ref=tmm_kin_swatch_0?_encoding=UTF8&sr=1-2&qid=1377714099
Happy Reading,
Kay xx