I can't deny it, there are few things in life I like more than a nice cup of coffee- but one thing that betters that, is seeing a story I've written, long or short, hitting the world!
So what better way to have the best of both worlds, than to write a naughty story which includes a lot of coffee? Bliss!!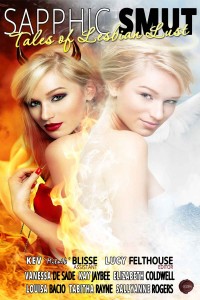 Blurb
Light hearted, sexy Sapphic smut is the theme of this erotic anthology, edited by Lucy Felthouse with assistance from Kev 'Mitnik' Blisse.From coffee shops to exotic Indian adventures to cosy cabins in France, Sapphic Smut has it all. Fun with sugar, naughty spankings, seductions by strangers, seductions by friends, cougars and even a twist on a fairy tale abound in this exciting collection of lesbian stories from erotica's finest authors.
This delicious girl-on-girl anthology contains stories from Lucy Felthouse, Kay Jaybee, Louisa Bacio, Sallyanne Rogers, Vanessa de Sade, Tabitha Rayne and Elizabeth Coldwell.
****
Here's a mini extract from my story, Barista Girls…
Warm sugar; that's what it felt like. A rough body scrub of granules, smothered in caramel that had been melted and burnt, leaving an aroma of scorching that hit the back of the throat in its wake. Pleasant, but not really pleasurable at the same time; and yet certainly as addictive a sensation as the taste of candy floss is to someone with an unerringly sweet tooth.
As Carrie switched her attention from Lisa's breasts to her thigh, the only sound that could be heard in the café was the gentle crunch as more of the crystallised substance was gathered up. Exhaling slowly, Lisa closed her eyes as Carrie massaged the mix into her flesh at the top of her left leg, almost, but not quite, touching where she most yearned for the touch to go.
Although unsure if she'd been enjoying the odd caresses whilst they had been happening, now Carrie had paused in her unusual administration of the cafe's most popular coffee flavouring, Lisa was missing it with a passion. Her whole being felt honed for more and bereft of the touch. Each thought in her head, and every fibre within her being, tried to second guess where, when, and if, the next batch of glutinous substance would land next…
****
If you like your erotica with an all girl flavour (not just coffee flavoured!), then Sapphic Smut is the anthology for you!
Buy links
Happy reading!
Kay xx