I was honoured earlier this year, when Rose Caraway asked me to write a short story for Cleis Press's latest anthology, The Sexy Librarian's Big Book of Erotica.
As a former library assistant, I am here to tell you…some of the things they say about librarians are true…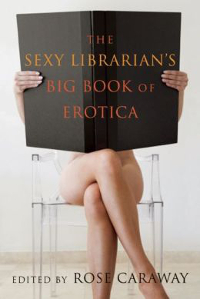 Why is this library different than any other library? First of all, it has velvet chairs and fine-grained bookshelves. But what really makes this library stand out is its sexy and brilliant librarian, Rose Caraway, who is very caring about her patrons and will stop at nothing to service her readers.
In The Sexy Librarian's Big Book of Erotica, Caraway has gathered a wide range of stories to satisfy anyone's lust, literary or otherwise, from today's top eroticists. From Rachel Kramer Bussel's spanking-fueled flight in "Book Swap," Tamsin Flowers' sexy superhero tale in "POW! It's Shibari Girl!," and KD Grace's sweet supermarket rendezvous in "Cherries in Season," the Sexy Librarian has got a special story for you.
Librarians are on the front lines of our freedom to read, to think and to look at anything and everything the printed word, the digital word and the Internet have to offer. They fight the good fight every day, to ensure that you can access whatever you wish, without judgment or censorship of any kind. Is it any surprise that Batgirl was a librarian by day? Barbara Gordon, head of the Gotham City Public Library and superheroine fighting crime by night. Librarians in the real world these days are as likely to have pink hair and tattoos as they are to fit the stereotype of sensible shoes and a cardigan.
The best thing about being a librarian is that you don't have to know everything, you just have to know where to find it. And for those who believe there's no need for librarians in the age of Google, I give you this quote from Neil Gaiman: "Google can bring you back 100,000 answers. A librarian can bring you back the right one."
No wonder librarians are featured in the sexual fantasies of so many people. After all, the brain is the most important sex organ in the body. You don't have to be a sapiosexual to recognize that, yes, intelligence is the sexiest attribute. Librarians, in my experience, are often both smart and sexy; they read widely and across many genres, from horror to science fiction to literary fiction and nonfiction. If it's well written and thoughtful, a librarian is likely to enjoy it.
The Sexy Librarian's Big Book of Erotica is a superb dictionary of desires. You'll be amazed at what Rose Caraway, The Sexy Librarian has in circulation, just for you.
You can find on The Sexy Librarian's Big Book of Erotica on Amazon, and from all good retailers.
Do not miss Rose's brilliant series of interviews with the authors involved in this brilliant anthology- including mine- which can be found here- http://rosecarawaythesexylibrarian.blogspot.co.uk/2014/07/inside-erotica-authors-studio-with-kay.html?zx=5e20a67d400133d2
Happy reading everyone,
Kay