I'm writing this blog through slightly blurred eyes and drooping eyelids. Why? Because I've only been back from the Eroticon 2014 conference for a few hours, and my head is still in a whirl from all I learnt, all I saw, and a major lack of sleep!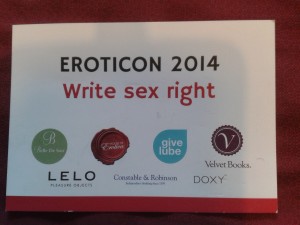 Anyone who follows this blog will know that I was seriously nervous about being one of the speakers this year- but I loved it! Yes, I was nervous- but those nerves buoyed me up on a bubble of adrenalin and kept myself and the wonderful Lucy Felthouse going before a talented and friendly audience.
So- where to begin? The beginning seems a sensible place to start.
As with all the best adventures, things got off to an eventful start when I found that the train tickets I had pre ordered were for trains that no longer exist. I'm proud to say this only gave me a minor attack of anxiety, rather than full blown panic and, after a much longer journey than anticipated, I eventually got to Bristol raring to go
Although Eroticon wasn't due to start until Saturday morning- I was really looking forward to the Friday night – and for good reason. For this was to be the night of the first anniversary of the Brit Babes gathering!
Yes- Sexy really was walking into town!!
Starting off with champagne and strawberries, courtesy of the gorgeous Lily Harlem, we (Lucy Felthouse, Victoria Blisse, Kd Grace, Tabitha Rayne, Lexie Bay, myself, and honouree BB, Kev Blisse), headed into the heart of Bristol.
As we settled down to tuck into a delicious dinner at Browns, much plotting occurred. This smuttish scheming would have gone on until the wee small hours, if we hadn't suddenly remembered we were supposed to be professional delegates; and we headed to bed ready to learn as much as we could the following day.
The Eroticon schedule was so full of treats; it was very difficult to choose what to do. Having said that, having loved every single second of Ashley Lister's poetry class last year, I was determined to make it to his writing workshop, 'The Lister-Dent Formula.' What can I say? It was brilliant.
No matter how many years you write for, there is always more to learn, and who better to teach than the intelligent Mr Lister, with his wicked sense of humour and boundless enthusiasm.
From there, I headed off to listen to Kd Grace and Victoria Bliss talk on Sex and Spirituality. Of course it was excellent, and the audience discussion gave us all much food for thought.
On Saturday evening it was cocktail party time! Vacuum packed into my Japanese dress, I headed out with my fellow Babes, and had a ball- well I had half a cola actually as I was due to speak the following morning, and was so parched from talking all day that I daren't hit the hard stuff!
Once I hauled myself into bed on Saturday night, I was so exhausted that, rather than my 'about to speak in public' nerves coming back to haunt me, I just passed out into slumber!
After a relaxed |Sunday morning breakfast with my partner in crime, Kd Grace, it was time to face my fears and join Lucy Felthouse to run our 'Step It Up' talk- which was basically a holding out of a helping hand for those who have conquered the short story, but can't quite make the jump into novella or novel writing.
What a wonderful audience we had! I hope we laid a few of their fears at rest. It was largely a fear of failing to complete a manuscript of 60k words plus, finding the time to write, or lack of confidence in writing abilities that formed the root of most people's reasons for not having made the step towards longer fiction.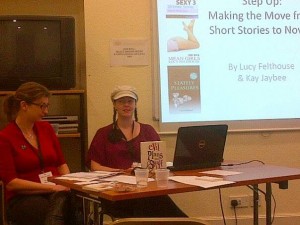 As these fears are all things that Lucy and I have both experienced- and lack of confidence in our writing abilities is something that stays with us to this day- we (I hope) were able to give some constructive help. (I will set up a blog about the pointers we gave in the near future).
Next, after a quick cuddle and natter with the gorgeous Cara Sutra, and a bit of plotting with the lovely Anoymisslily, I headed towards Anna Sansom's enticingly titled talk, 'I recognise your vagina but not your face' about the benefits of anonymity. Here, we set up and discussed our own personal guidelines and boundaries, to regulate how much of our 'true' selves we share with you lovely reader folk. It was fascinating!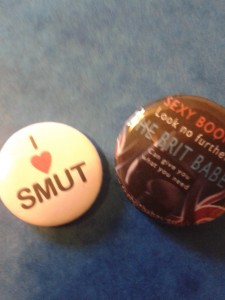 After more Brit Babe scheming over lunch, came the last workshop of the weekend- the BlisseSmut talk, in which the "Smutigos" (that would be Victoria, Kev, Lucy, Kd and myself), gave hints and tips on how to submit stories, prompt inspiration (yes, I really did run around the room with a Paddington Bear bag and get the unsuspecting audience to make up story plots from such things as a spoon, a compass, a business card and a wooden bangle…..), and read snippets from our own tales to give a guide as to what sort of tales to submit.
Then, before we knew it, it was time to go.
Joined by my "twin", Kd Grace, and the totally lovely Lady Pandora, I headed to Bristol Temple Meads, and back to reality with my arms full of conference goodies.
I had so much fun this past weekend. It is a rare treat to be able to talk to so many erotica writers and bloggers in one place. Of course, there were folk I met who I'd love to have spoken to for longer, and even more who I would have loved to have chatted to, but never had the time- so roll on Eroticon 2016 so we can do it all again!!
A big THANK YOU to Ruby Kiddell for putting on another great Eroticon.
Now, if you'll excuse me, I have a bit more sleeping to do!
Kay xxx