I'm delighted to be able to offer you (on behalf of Xcite- Cariad) a FREE read- or indeed 3 FREE reads in one sexy Corporate package!!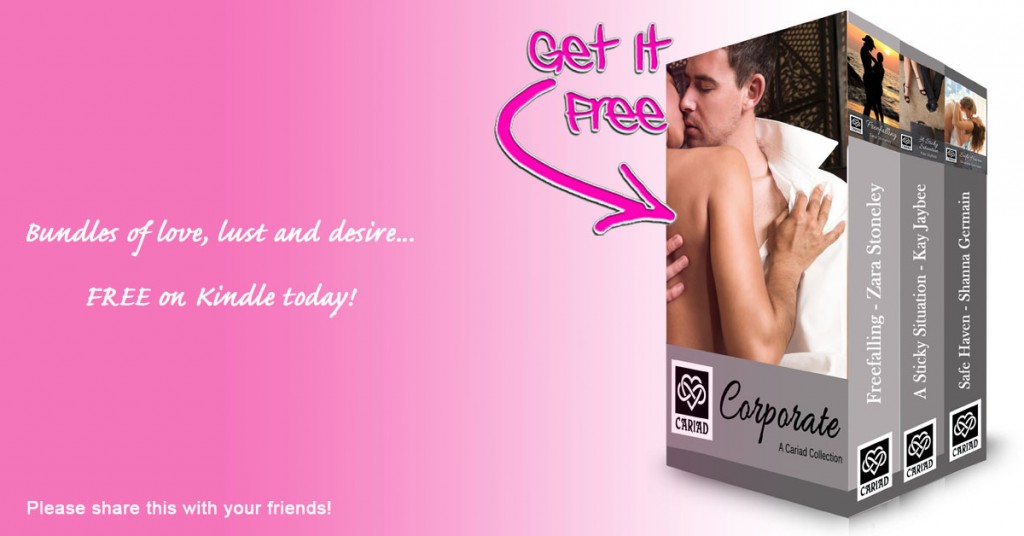 Not only can you read my novella, A Sticky Situation for FREE, but also two wonderful tales from fellow erotica writers Zara Stonely and Shanna Germain.
Here's the blurb for A Sticky Situation to whet your appetite…
Blurb
If there is a paving stone to trip over, or a drink to knock over, then Sally Briers will trip over it or spill it. Yet somehow Sally is the successful face of marketing for a major pharmaceutical company; much to the disbelief of her new boss, Cameron James.
Forced to work together on a week-long conference in an Oxford hotel, Sally is dreading spending so much time with arrogant new boy Cameron; whose presence somehow makes her even clumsier than usual.
Cameron on the other hand, just hopes that he'll be able to stay professional, and keep his irrational desire to lick up all the accidently split food and drink that is permanently to be found down Sally's temptingly curvy body, all to himself.
It could be a very long week- unless Cameron can find a way of making Sally slop so much of her after show champagne, that he has no choice but to march her off and relieve her of her sodden clothing… He is sure that, if he could find a way to stop Sally resenting him taking her previous bosses job, then they could enjoy no end of sticky situations together…
Buy Links- FREE until 28th FEB-
ENJOY!!
Happy reading,
Kay xx