Today I'm delighted to welcome to my blog a new voice in erotica, Charlie J Forrest, who I had the pleasure of meeting at this years Eroticon UK conference.
Over to you Charlie…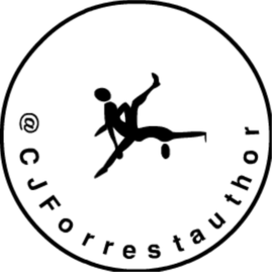 "An England that never was, or perhaps should have been."
Those words, from my favourite erotica author Penny Birch form the opening to her only exclusively e-book editions.
It sums up, for me, the kernel of what I love in erotic fiction. It's a combination of something recognisable as the everyday with what we wish it could be, if only in an escapist sense, with the acknowledgement that maybe it never could exist.
I grew up in the shires of rural England, and descriptions of squat dry stone walls, countless local pubs, uneven fields of dry grass and skittish cattle all evoke sensations of when I was young, including those formative years when you start to figure out who you are.
I've had people comment on the use of British English in my stories, more particularly on my occasional inclusion of local dialect. This is done with great affection and, whilst I like to think it adds flavour, I certainly try to avoid over-using it (and it generally has no place in sex scenes, I'm writing erotica here, not just another bloody re-hash of Lady Chatterley's Lover.)
They say to write what you know and the hills and by-roads of the countryside are exactly that. yes there will be times when I want to write something with the vibrancy and edge of city life, but at the end of the day, I will always have a soft spot for home and eroticising it is, perhaps, my way of trying to share my love for it with the world.
Which might go some way to explaining why, thus far, almost all of my stories have been set at a B&B in a sleeply little village in the Derbyshire hills.
****
Thanks Charlie!
I'm pleased to say that for this weekend only, you can download Charlie's work from Amazon UK and Amazon.com for FREE-
Check out these links-
http://www.amazon.co.uk/gp/product/B00I47CERI/ref=as_li_ss_tl?ie=UTF8&camp=1634&creative=19450&creativeASIN=B00I47CERI&linkCode=as2&tag=edgallpoe-21
http://www.amazon.com/dp/B00I47CERI).
Bio
Charlie is a London-based writer of erotica and erotic romance. He specialises in writing stories about BDSM, bondage, humiliation, submission and public sex.
He tries to bring a flavour of the British countryside into everything he writes, although any description of sunny weather or functioning public transport are pure works of fiction.
In his free time he pursues the twin impossible goals of the perfect cup of tea and trying to get the cat to stop sitting on his laptop and do something about the mice.
You can find Charlie on Twitter at – @CJForrestauthor
****
Happy reading everyone,
Kay xx