It's a great pleasure to introduce the lovely Demelza Hart to my blog today- and with such a juicy subject!!
Over to you Demelza…
Many thanks to the gorgeous Kay for having me over here today.
What is it about anonymous sex that gets us going? The idea of crazy hot spontaneity with a stranger may not to be advocated in reality, but it's one of the most powerful fantasies there is. I remember sneaking my mother's copy of Fear of Flying by Erica Jong when I was an adolescent. She wrote about the 'Zipless Fuck': sex where clothes simply fall away; sex without ties, sex without names; sex with strangers; sex which is sudden and impulsive and, of course, outstanding. That scene where a woman suddenly fucks the man opposite her on the train (which in itself is simply a fantasy of the main protagonist – a fantasy within a fantasy) has remained for me one of the most influential erotic scenes. Sex with no repercussions.
But, unless we get really lucky, there always are repercussions, aren't there? And that's why these ideas work so well on the page. As women, with the responsibility of work and family and future pressing down on us, the idea of the zipless fuck is an ideal, an ideal we can yearn for but rarely, if ever, attain. And, like all ideals, it remains thus – ideal and therefore, in reality, unattainable. (At least for the majority of us. For those of you enjoying regular zipless fucks – hooray!)
But if we can't live it, we can dream it, write it, and read it. Luckily for us, we have Tara, who does live it in my story Spontaneous (Book One of the Suited to You trilogy). We've met Tara before. Interestingly, in her first outing ('Come Underground' in Xcite's Watching Me, Watching You and Your Ultimate Fantasy anthologies) she happens to be on a train, just like that lucky lass in Fear of Flying. For Tara it's even better – five men in a carriage on the London Underground. And boy is it zipless! Five men, no names, just first impressions: Painter Man, Violin Pirate, T-Shirt Hottie, Hip Hop and The Suit.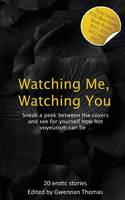 When we meet her again in Spontaneous, she can't shake The Suit from her mind, and neither, it seems, does he want to be shaken; he left his number on a scrap of the FT. That wasn't the deal. She wasn't supposed to see him again. She wasn't supposed to want more. But she phones the number. Of course she does. And isn't she glad of it? She may not know his name, but as she gets to know him, Tara gets drawn in deeper. And there's the question: ultimately, is the zipless fuck ever enough? Come on, girls, you know we always want more.
Here's a little titbit for you. Tara has just met up again with The Suit in a bar, but his immediate exertion of control unsettles her…
A throbbing warning started in my head. This wasn't right. I was losing control. I only liked to relinquish control once I knew exactly where the sex was coming from. My skin prickled with unease and I reached for my bag, intending to go.
'I'm sorry,' I started.
'What?'
'I don't think this is what I –'
'Tell me ten things you like.'
His interruption startled me and I made the mistake of looking back into the crystal-blue eyes.
'What?'
'In a list. Tell me ten things you like.'
I exhaled a confused laugh. 'You won't even tell me your name.'
'Names are trivial, desires are not. Tell me what you like.'
'What, to do with sex?'
'Not exclusively.'
'Umm …' I was still sitting there, I realised. He waited.
'I like Parma ham,' I offered.
'Go on.'
'I like the film Rebecca with Olivier and Fontaine. I like Lindor, especially the dark ones. I like going down on a man when he's least expecting it. I like watching really big waves crashing in from the west in the middle of January.' I smiled and dropped my head, embarrassed.
'Five more.'
'I like duck breast, pink. I like blue lights on a Christmas tree. I like the stretching pang when I'm fucked in the arse. I like cats over dogs … and I like … spontaneity.'
He stared at me with a faint smile. I hadn't left yet.
'When was the last time you came?' he asked, as matter-of-factly as if he was filling in a form.
'What?'
'When did you last have an orgasm?'
'This morning.'
'With someone?'
'No.''
Where were you?'
I tugged a lock of hair back around my ear. 'In the shower.'
'How did you make yourself come? Fingers? Dildo?'
'No. I used the shower head.'
'Do you do that often?'
'Yes. It gives me a very hard come.'
'Were you standing up?'
'Yes. I come strongly standing up.' I took another drink of wine. I should go. I really should.
'Your breasts are perfect in that dress.'
'Thank you.'
'Are you wet?'
He spoke with such calm authority, as if he was conducting a board meeting, that my mind could not quite process his words. 'Excuse me?'
'Is your cunt wet?' he articulated clearly.
'I don't know.'
'Touch yourself.'
Whether I was too shocked not to or simply adoring this game, I found myself doing what he asked. I reached under my dress, slowly. There was nobody directly beside us who would see.
'Are you wearing underwear?' I nodded.
'What kind?'
'A thong.'
A finger slipped along my snatch. It came across considerable moisture. I gasped a little.
'Wet?' he queried. I nodded again. 'Push two fingers deep inside you. As deep inside as you can.'
I arched my fingers as high up as I could.
'Work them for me.'
I did, grinding and stroking along my pussy which grew wetter with each pass.
'Show me your hand,' he demanded suddenly.
I obeyed him and pulled it out. He reached across and took it. The Suit studied my glistening fingers reverently before pulling them to him and closing his mouth around them. He sucked, or rather he fucked my fingers with his mouth. Warm, wet bliss. His tongue rolled around them, his lips worked along them, and all the while he held me in the brilliant gaze of his eyes. I would not be leaving.
****
Come and say hello to Demelza on Facebook, Twitter or at her blog. She'd love to get to know you.
Spontaneous (Book One in the Suited to You trilogy) is available now, as is Watching Me, Watching You and Your Ultimate Fantasy (containing 'Come Underground').
Thanks again for coming by to visit Demelza! A hot blog with an even hotter excerpt…ummmm.
Happy reading everyone,
Kay xx