Happy Valentines Week!!!
I hope you area all having a suitably lusty day today!
If however, as I suspect is the case for many of you, you are sneaking a read of this blog at work, during your lunch break, or in between doing all those household tasks that always seem to have accumulated to mountainous proportions by a Friday, then settle down for five mins, and let me take over your imagination with an extract and a mini snippet of smut that …
This first sexy extract comes from Tied to The Kitchen Sink…
'Hi, you must be Will; Happy Birthday.' The girl smiled a dazzlingly set of white teeth in his direction, as she turned her head away from the washing up.
Will stopped dead. He had gone through Ben's back door into the kitchen, expecting it to be deserted as usual; but it wasn't.
It wasn't her smile that caused Will's feet to feel as if they'd become super glued to the floor, and his trousers to tighten. It was the fact that she was stood there, smiling at him in long black high heeled boots, and absolutely nothing else.
'You look pale honey,' the girl's eyes twinkled, 'why don't you have a little sit down over there', she pointed to an armchair in the corner of the room. 'I can't join you I'm afraid', she raised her hands, revealing long thin silver chains attaching her to the taps. 'I'm tied to the kitchen sink at the moment.' As she laughed, the dark pig tails which hung down her back quivered against her bare flesh.
'Um, well, I…' Will stumbled over his words as his eyes scanned every inch of her. 'Where's…?'
'Ben?' she finished for him. 'At the pub. He thought you would enjoy your birthday present more if he wasn't here. I'm Karen.'
'Karen?'
'Are you okay? Ben seemed to think that I was exactly what you wanted for your 21st. If not, perhaps you could unlock me.' She indicated a small pile of keys on the table, conveniently placed next to a pack of three. 'Ben said that you fantasised about finding a woman tied to the sink.' She looked up though her fringe with mock shyness.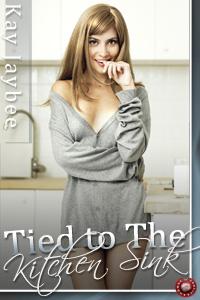 Will was torn between simply walking out, untying the girl or…who was he kidding? His head swam with erotic images. She was real. He'd already pinched himself and this was not a dream. His dick stirred as he stared at her.
Tall and slim, her tanned skin shone against the dull kitchen units. Will focused on the soft flesh that appeared out of the top of her killer boots. He could almost taste her already.
'Who are you?' Will took a deep breath and walked towards the sink. 'Why the hell not?' he thought 'It is my birthday.'
'I told you, I'm Karen.' She sighed as he trailed a finger around her neck. His hard, denim encased, cock rubbed against her arse as he stood beside her. 'A friend of Bens. You thought I was a hooker?'
'Well I…'
'You aren't the only one with fantasies you know.' She stroked his cheek with her polished silver nails. 'I've seen your picture on his mobile.' She turned as much as her tethers would allow and ran wet hands over his thin shirt. 'Now, I think that's enough questions. What would you like to do for your birthday?'
She looked at him beseechingly. 'Are you going to leave me tied here to do all this awful washing up Sir? Or are you going to let me have a little lie down on that nice table? Or maybe a rest in that armchair?
Will smiled; so, Ben had explained his fantasy to her. He was in charge. He stripped off his damp shirt and stood next to her in just his jeans. 'I think you should stay exactly where you are until all that work is done don't you?'
'Oh Sir, but I am in so much need here, and the water is making my skin all dry.' Karen looked up at him though her eye lashes.
'It's like acting out a bad porn movie.' Will thought. 'Fantastic'…
*****
If you'd like to read on, you can buy Tied to the Kitchen Sink at
All Romance- https://www.allromanceebooks.com/product-tiedtothekitchensink-866830-354.html
Amazon UK- http://www.amazon.co.uk/Tied-Kitchen-Sink-BDSM-Erotica-ebook/dp/B008J46P1W/ref=sr_1_1?ie=UTF8&qid=1391959394&sr=8-1&keywords=Tied+to+the+kitchen+sink+kay+jaybee
Amazon.com – http://www.amazon.com/Tied-Kitchen-Sink-BDSM-Erotica-ebook/dp/B008J46P1W/ref=sr_1_1?ie=UTF8&qid=1391959472&sr=8-1&keywords=Tied+to+the+kitchen+sink+kay+jaybee
****
This next mini extract comes from my erotic romance, A Sticky Situation.
…Resting Sally's juddering frame against the bed, Cameron's eyes fell on the carton of noodles. Taking up a single strand of the cold sticky string, he held it between finger and thumb, bringing the end against Sally's hypersensitive nipples. It was high time he lived out one of the fantasies she had inspired…
Her eyes flew open as the tacky pasta began to circle her right tit, reminding Sally of the snake hidden away on his backside. Her breath caught in the back of her throat as she watched, mesmerised, as the elongated noodle began to hide her boob.
Picking up another noodle with quiet reverence, Cameron said, 'I was going to tell you about my fantasy…'
*****
Heeee…heeee – told you this second extract would be a mini extract didn't I!!
If you'd like to find out what happens next, A Sticky Situation can be bought as an e-book or a paperback from-
Amazon UK- http://www.amazon.co.uk/Sticky-Situation-Xcite-Romance-ebook/dp/B0086X6XQ8/ref=sr_1_1?ie=UTF8&qid=1360509794&sr=8-1
Amazon US- http://www.amazon.com/Sticky-Situation-Xcite-Romance-ebook/dp/B0086X6XQ8/ref=sr_1_2?s=digital-text&ie=UTF8&qid=1360509882&sr=1-2&keywords=a+sticky+situation
***
I hope you enjoyed your break from reality for a moment, and that you have a very Happy Valentines Day!
Kay xxx