Wow!! I'm freshly back from my very first Smut by the Sea extravaganza in the lovely seaside town of Scarborough.
I have to confess, my head is still buzzing!
I set off with my dear friend, and Brit Babe supporter, Debbie, from our sleepy town in the South West of England, for an epic train journey that would take up 7 hours north to the Yorkshire coast!
To help pass the time, we played, 'be the first to spot and photograph the station name'- being the better photographer by a mile, Debbie won that hands down!!
We also played the little known, 'wriggle your backside so your butt cheeks don't seize up in the train seat' game, and the 'eat a cherry whiskey liquor' game- for every quarter of the journey survived!! These excellent tactics, got us into Yorkshire's seaside town of Scarborough in good spirits, and before long we were booked into your respective hotels, and outside again to exclaim at how beautiful the views were!
A welcome shower and strong coffee later, we were in the excellent company of my well known partner in kinky crime- Kd Grace ad her lovely husband, Smut organisers extraordinaire, Victoria and Kev Blisse, and the wondrous Lucy Felthouse and her partner, and ace book seller, Ian. To add a cherry to that cake, we were also joined by another of our Brit Babe followers, the lovely Alison- and we all headed off for a totally delicious Italian meal, before being incredibly sensible and heading back to our respective hotels to crash out into sleep and to prepare for the main event the following day…
I was terribly disappointed to miss out on Smut by the Sea last year, and was determined to make it, and I'm so glad I did! Not only did I have the chance to have my very own KJB stall (run brilliantly by Debbie- thanks hun), but I got to catch up with a great many of my favourite writers, and even better- some of our readers, including the fabulous Alison, Steph, and Peter from the Brit Babes supporters team!
The day kicked off with a warm welcome from Victoria, followed by a fabulous session on 'Inspiration' using lots of suitably seaside related props!
After a welcome cuppa and a little browse of the stalls, which included a craft stand, lots of delicious books, an erotic tombolo (I won something utterly yummy- but I'm not telling you what!!), Lucy Felthouse ran a session on what editors want – and believe me that's so important!!
Lunch time- supplied by Subway- was scrummy, but I have to confess the edge was taken off its deliciousness because I was awash with nerves! For in the afternoon I was to host the reading slam- and I always get a touch of stage fright!
Paddle and stopwatch to hand, I prepared to usher each reader up to the stage, and time them carefully make sure that they didn't over stay their time by a single second…because if they did, then my paddle would me meeting their bottoms!!! (I love my job sometimes!!!)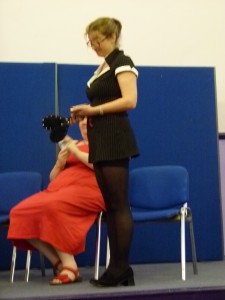 But wow- what great readings I had the privilege to introduce! Victoria Blisse, Lucy Felthouse, K.D. Grace, Kay Jaybee, Janine Ashbless, S M Taylor,Tilly Hunter, Charlotte Howard, Charlie J Forest, Jacqueline Brocker, Gemma Parkes, Jennifer Denys, Ashe Barker, Slave Nano, and, giving her first ever reading with utter brilliance, Bella Settarra.
After I'd got my spanking fix, there was just time for one more round of smut shopping, but then all too soon we were saying goodbye!
Thanks to Victoria and Kev Blisse for organising such a wonderful event!! See you next year!!
Happy reading everyone,
Kay xx