The clock is well and truly kicking now until the release of the third and final part of my The Perfect Submissive Trilogy – Knowing Her Place.
Miss Jess Sanders, Miss Sarah, and Mrs Peters have been a part of my life for so long, that I wanted to celebrate the completion of the trilogy with something of a fanfare- and the first stage of this is to release my very first mini clothing range!!
A range of t-shirt and hoodies!
Worried about wearing a BDSM style top in public? Fear not!
Devoid of images, you can proudly wear your 'What Would Mrs Peters Say…' top without causing offence to anyone…only you'll know what delicious BDSM secrets lie beneath those words…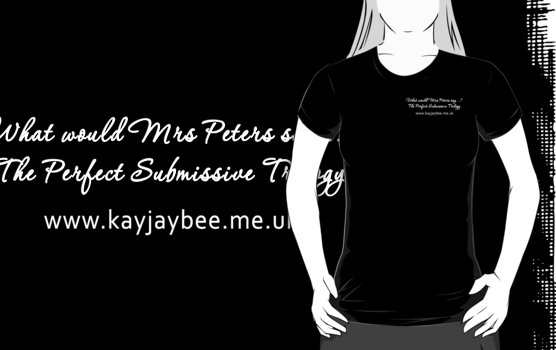 I cannot take credit for these wonderful t-shirts and hoodies- they were designed for me by my good friend, and all round excellent chap, Kev Mitnik (aka Mr Blisse), and are available via RedBubble in a variety of cuts, styles, sizes, and colours.
So if you'd like a Perfect Submissive top- just follow this link….
http://www.redbubble.com/people/mitnik/works/11673554-the-perfect-submissive
Happy top wearing!!
Kay xx