I am delighted to be hosting Day 3 (and therefore Chapter 3) of this amazing blog tour- I'm not going to ramble on- but just hand you straight over to the brilliant Lily Harlem and Natalie Dae….
Welcome to The Novice Christmas Chapter Tour. This is a very special tour as over twelve days the first twelve chapters of The Novice, book #1 in the Sexy as Hell series by Harlem Dae – http://www.harlemdae.com  will be published, one per day, per blog, for you to get a taste of Victor and Zara's wild and erotic journey. A huge thank you to Kay for hosting us today.
About Sexy as Hell – Sexy as Hell is an erotic trilogy that will submerge you into the black heart of a world of bondage and discipline, Dominance and submission, sadism and masochism.
Dare to take this twisting journey with Victor and you'll learn the ropes with him, experience every carnal sensation and fall into a dark and dangerous love that grips like a fist and binds like a collar.
Get to know Zara, his sultry teacher, and you'll gasp when she doles out her sinful instructions but then delight in the stunning results she not only demands but achieves. It seems Heaven and Hell are not so far apart when she holds the reins.
Victor has his layers peeled back, but when he does the same to try to get to his Vixen's core, a revelation appears. Because Zara is a woman whose vast sexual experience is both her strength and her weakness; she can inflict pain and pleasure, make lusty demands and instruct, but she needs so much more, she needs…
Yes, the time has come to for her to admit to her needs and confess to the repairing her soul hungers for. A sea of memories, a lifetime of control requires an acknowledgement that will cut through her barriers, and there's only one man up for the job—her virgin, her student, her newly trained monster, Victor Partridge.
Please note, in order to enjoy Victor and Zara's adventures, the trilogy must be read in order.
The Novice is the first book, the second The Player and finally The Vixen. Here is the back cover information for The Novice.
London – one meeting, one month of lessons and a landslide of depraved new desires.
My journey to hell started with a decaff coffee. Nothing more than a grey mug full of dull-brown liquid devoid of its most useful ingredient.
One sip, one smile, one touch of her hand and it was soon clear my life wasn't destined to stay dull. Oh, no, suddenly I had a month of bedroom education planned by a sultry vixen who intended to broaden my horizons beyond my usual peach-pink palette.
She wanted to take me to deep purples and navy blues and the pitch blackness that was pure sin. And on the other side of that blackness was a place that might look like Hell, with debauchery and wantonness, people playing devil's advocate, luring innocents into the hotter, steamier corners of the world.
Her world.
Oh, yes, she promised each night to take me there and paint me an orange-and-red picture that would come alive, flickering like flames, enticing me, holding me spellbound and eager to learn more. To touch, explore, drown in coming.
And drown I would. I was no match for her tricks and taunts. My only chance of survival was to show her that I was no vanilla virgin. I had a rainbow of mastery up my sleeve, too, and if she just opened her eyes, she might be dazzled enough to stay—stay and take 'my' lessons. If she didn't kill me first, that was, with pleasure.
* * * * *
So what are people saying about the Sexy as Hell Trilogy? I'm pleased to report that it's all good, no, more than good. This trilogy has been described on Amazon as "far better than the 50 Shades of Grey", one reader said, "I've read many erotic novels and BDSM books but these ones are by far my favourites." another stated, "I was looking to be titillated yes, but instead was captured by the story of Zara and Victor." You can read all the glowing reviews on the Harlem Dae website, plus read the FREE Harlem Dae magazine with all the inside gossip about the Sexy as Hell Trilogy and what it was like for two authors writing nearly 300k together and how their characters inspired them to keep on writing.
So finally, with just a last warning that this story is boundary pushing, hot, edgy and dark and not for those of a delicate disposition. It's BDSM primarily but has a slow burn romance that tips everything on its head as feelings intensify and souls are bared.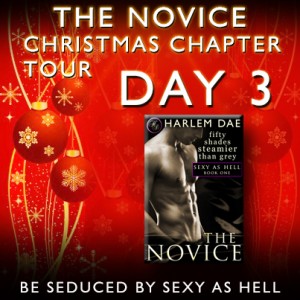 Links
Tour Information/Where to find all the chapters – http://www.harlemdae.com/p/sexy-as-hell-on-tour.html
Harlem Dae Website – http://www.harlemdae.com
The Novice –Amazon http://www.amazon.com/The-Novice-Book-Sexy-Trilogy-ebook/dp/B00G002LHE/ref=sr_1_1?ie=UTF8&qid=1382286311&sr=8-1&keywords=the+novice+by+harlem+dae
Amazon UK http://www.amazon.co.uk/The-Novice-Book-Sexy-Trilogy-ebook/dp/B00G002LHE/ref=sr_1_1?s=digital-text&ie=UTF8&qid=1382369723&sr=1-1&keywords=The+Novice+-+Book+%231+in+the+Sexy+as+Hell+Trilogy
The Player – Amazon – http://www.amazon.com/The-Player-Trilogy-Erotic-ebook/dp/B00E251FOO/ref=pd_sim_kstore_1
Amazon UK http://www.amazon.co.uk/The-Player-Trilogy-Erotic-ebook/dp/B00E251FOO/ref=sr_1_1?s=digital-text&ie=UTF8&qid=1380641765&sr=1-1&keywords=The+Player+-+Book+%232+in+the+Sexy+as+Hell+Trilogy+%28Erotic+BDSM%2C+Fifty+Shades+Hotter%29
The Vixen – Amazon http://www.amazon.com/The-Vixen-Trilogy-Erotic-ebook/dp/B00E251KU8/ref=pd_sim_kstore_1
Amazon UK   http://www.amazon.co.uk/The-Vixen-Trilogy-Erotic-ebook/dp/B00E251KU8/ref=sr_1_1?s=digital-text&ie=UTF8&qid=1380641805&sr=1-1&keywords=The+Vixen+-+Book+%233+in+the+Sexy+as+Hell+Trilogy+%28Erotic+BDSM%2C+Fifty+Shades+Sexier%29
Chapter Three
How the bloody hell did I end up being sucked off by the crazy woman from the damn coffee shop? No, it was more than sucked off, she was gulping and guzzling me deep into her sublimely hot throat. It wasn't your regular blowjob—those I had some modicum of self-control over. No, this, delivered by a wanton, trickster of a creature, had me consumed, completely possessed. Three wickedly rich slurps connecting her palate to my cock and it was all over. I'd never come to the boil so fast or hit the finish line with such devastating speed. I wasn't proud of either fact. To tell you the truth, I was fucking embarrassed.
I'd clenched my fists at some point and now the strands of her hair, woven through the softer skin at the seams of my fingers, were nylon-sharp with tension.
But she didn't complain at my firm grip. Her head kept bobbing, her tongue slipping and sliding and hugging me like a silken, moist blanket.
I wanted her to keep going, I needed her to stop. As my climax dissipated, sensations washed through me in an avalanche of release. It was both exquisite and agony and it scared the shit out of me.
"Please." I shifted on the chair. "Please, no more." I was panting and breathless, my vision foggy, and I had a tingling in my fingertips.
I dragged in a deep breath, willing the oxygen to circulate. My heart was thudding so hard I could feel the flow of the cardiac contractions, top to base, rippling within the inner walls of my chest.
Keep going, you onerous bugger.
Pulling harder at her hair, I shut my eyes. I didn't need to see Julie writhing in the afterglow of her orgasm. I'd had as much as I could take. The bombardment of pleasure, extreme pleasure, in one short, sharp blast was the same as getting a slap around the face or a kick up the backside. I needed to re-align my senses and let my body calm down.
I opened my eyes as Zara raised her head. She kept her hand coiled around my cock. There was a drip of cum sitting right in the centre of her bottom lip.
She must have sensed the droplet there, or seen me staring, because she made a show of scooping up the cum, balancing it on the pointy pink end of her tongue and then drawing it into that sinful mouth of hers.
My cock twitched against her palm; my heart continued to thud.
Dirty bitch.
"So, Victor," she said with a smug smile, "did you know watching a woman flagellating herself to orgasm would turn you on so much?" She tilted her head and tumbles of her now messy, tangled hair slipped over her shoulders.
I fingered my damp brow, worrying that I was clammy. No, just sweaty. Sweat I could handle. Sweat could be wiped away and forgotten on the sleeve of my shirt.
"Is that a rhetorical question?" I pressed my arm over my forehead then gripped the arms of the chair again.
She laughed, not with humour, just with the mirth of being right. "You're so sweet."
"I'm not sweet." I frowned.
She bloody annoyed me. She was so damn cocky and sure of herself and now she thought I was sweet of all things. I perhaps had some issues, limitations, and I wasn't as clued up on the seedier aspects of the city as she was, but I wasn't fucking sweet. I was a successful businessman—no, more than successful, I had my career by the balls and was dragging it exactly where I wanted it to go and making a tidy fortune along the way. Had been for several years now.
"Ah, you prefer to be considered manly, don't you?" She stroked my face, temple, cheek, chin and then up the other side in a caressing, sweeping gesture.
It didn't feel caring. It felt like she was mocking me. I hated to be mocked and she'd done more than her fair share of it tonight. Hell, I couldn't remember when anyone had last dared mock me. Yet here she was…
The redness of anger that grabbed me sent sharp fingers of heat over my skin. My temper could reach Richter scale proportions, it was true, but it hadn't for so long. Not for years now. I couldn't afford for it to. But Zara, she was taking me to the edge of that cliff.
No, I wouldn't tip over the ledge. She wasn't worth it. This wasn't worth it. And certainly it wouldn't be ideal considering the already rampant rate of my heart. I sucked in a great pull of air, held my breath and tried to force the air out, feeling the pressure increase in my lungs. My heart clattered all the harder, almost rocking my whole body to its tempo. I should be willing it to slow down but all I could think about was getting up, tucking my cock away and leaving.
All this crap about hanging around with her for a month while she showed me new things was bullshit. I'd said yes out of curiosity. Out of not wanting to go back on my word or look a coward.
"You can be manly and sweet," she whispered onto my lips.
I slowly blew out my breath, felt a modicum of normality return.
She leaned in, closer still, as though trying to breathe in my air. When she spoke her lips brushed mine as her mouth moved around the syllables. "Right now what I'm holding is all man." She gave my dick a stroke and the traitorous blighter twitched despite the fact it was softening. "But your blue eyes, they're sweet as sugar."
"Stop saying sweet." I'd spoken through gritted teeth.
"Okay, how about delightful, does that sound better?"
"Marginally." I frowned.
"So what do you think? You want to stay and see the next show? See if we can wake Sid Vicious up again?" She squeezed my cock. "Or shall we go somewhere else?"
"Please, do not start naming my dick. We're not nearly familiar enough for that kind of crap." Talk about taking liberties. Even Helen, after four years together, hadn't baptised my prick.
"Oh, but I beg to differ. You've just come down my throat, doesn't that give me some kind of naming rights?"
I shifted, pushing her off my lap and dislodging her hold on my cock. "No, it doesn't. I didn't exactly have much say in the matter, did I?"
"But you didn't complain." She licked her lips. "And it didn't take long, did it?"
I stood, stuffed my cock away and turned from the window, blocking out the view of Julie, shining with sweat and red with lashmarks as she bowed and smiled at her audience. "I'm out of here."
"Where are we going?" She stood, placed one hand on her hip and straightened out her hair with the other.
"We?"
"Yes, we.'
"We're not going anywhere. I'm going home." I needed to chill out, lay the hell down, take one of my pills. It was about due.
She pouted. "But, Victor, I thought we were together now, for the month."
"What, twenty-four-seven?" She couldn't be serious. She'd bloody suffocate me. Not to mention I had a shedload of work to be getting on with.
"Well, no, not twenty-four-seven, but at night at least. You know, right up until the witching hour."
You're a fucking witch. The words were on my tongue, but I didn't let them escape, even though they were slippery suckers and desperate to get out. "Witching hour?"
"Yeah, until at least midnight, every night."
"Every night." I shook my head and gave a derisive snort. She was off her head. I had a multi-million-pound business to run.
She frowned and narrowed her eyes. "I thought we'd agreed that you, the great Victor…" She drew a circle in the air, as though reeling my surname from my mouth.
"Partridge." I offered my surname, for the third time, a little grudgingly.
"That you, Victor Partridge, need a teacher?"
"Well, you seemed to decide that I need one and that you were qualified for the job." I walked to the door and reached for the handle.
Suddenly she was behind me, pushing insistently and moving me forward. Before I could react, I was pressed to the door, pinned in place by her connecting her body with as much of mine as possible. My breath blew out and the tips of my shoes kicked the base with a sharp thud.
"Hey," I said, shocked at the violent way she'd cornered me and was keeping me prisoner.
The tense peaks of her breasts were slotted against my back, her mound on my right buttock and her knees jutting into mine. If she bent her legs sharply I'd crumble.
A wave of irritation crested then broke through me. The surface of the door was super-cool on my hot cheek. "Hey."
I went to turn, but she flattened her mouth to my ear, stroked her tongue along the outer crease and then inside the hole. Her breaths were as loud as a storm, and a moist heat filtered down my neck. For a moment the sensation was disorientating and I reached for the doorframe, needing something to hold on to.
"Shh," she said. "Just give it up, will you? I thought we'd agreed you'd have a go at switching and not always having your finger on the pulse."
Great analogy.
"Victor, just surrender to me, for the smallest pocket of time. Be mine, be under my command." Her voice was like that of a siren, all hypnotic and floaty and the only thing my brain could register. "Relax, breathe deep. You have no responsibility but to give up responsibility. I will care for you. I will take all that weight off your shoulders and carry it for you, nothing can hurt you here."
She rested her hands over mine, interlocking our fingers as she wriggled them and then leaned even closer into me.
I wondered if people in the main room could see us like this. What they'd think of Zara hemming me in. Preventing me from leaving and me letting her have her way. Oh, I knew I was stronger than her, my brawn no match for her petite stature, and I could escape with one lunge if I threw my full body weight into it. No doubt send her sprawling in the process. But I didn't want that. Because, pressed against the door, bending to her will, I noticed that the fluttering in my chest was easing.
"Good boy," she said, her lips tracing the shell of my ear, her teeth just grazing the fleshy lobe. "That's it, relax. I've got you. There's nothing to worry about, you're safe with me."
I closed my eyes. It was as though she was melting into me, becoming part of me. Taking over all my senses with her touch and the wind of her breaths. I let myself drift. Tension wept from my body, seemingly soaking backwards, into hers.
Suddenly she stepped away. "You may go." Her voice was harsh, the sing-song quality gone as quickly as it had arrived.
I balled my fists, and a whoosh of air plundered my lungs. "Yes." I managed. My back, though previously hot and tacky, felt cold and naked without her, and my fingers were stiff and empty.
"I'll see you tomorrow. Nine p.m. You know where I live. Pick me up in that fancy car of yours you told me about."
"Tomorrow, I don't know if…" I hesitated and stared at a knot in the wood of the door that had been painted over but was still faintly visible. Tomorrow was a full day of catching up on some tax returns I'd been putting off for weeks, and there was the Morton project that still needed work. I'd been anticipating a sixteen-hour day at least. "Okay, I'll see you at nine."
I opened the door, stepped through it and into the hall. Damn, I'd have to work the weekend now.
"Victor," she called.
I stopped but didn't look back. She wanted me to, so I didn't. She'd caught me in her web, but I didn't have to do everything she said. Which meant I wouldn't give her the satisfaction of facing her now as well as everything else.
"You've made great progress for a first night," she said with a chuckle in her tone. "I might be able to knock that sweetness out of you after all."
****
Oh boy!!!! That was some Christmas present!! Don't miss the other stops on the tour guys!! Now, if you'll excuse me, I need to go and lie down!!
Happy Reading,
Kay xx