Last week I filled you in on my adventure at the Erotica 2013 event. It was a brilliant experience, and I loved every second. However, as well as having all the fun and satisfaction of meeting my readers, selling my books, and generally soaking up the sites, such weekends serve another- equally important- purpose for me. They allow me to catch up with my writer friends. I can't underline enough exactly how important this is!
Writers- as you probably know- (at least half of you reading this will be writers yourselves) – are a rather self doubting lot. We sit in splendid isolation, scribbling down our thoughts, dreams and ideas. We weave words into complex plots, and hope against hope that we can keep you guessing until the very end of our stories- and quite often along the way, we lose ourselves just a little bit. We constantly doubt our abilities, unendingly worry that the work in progress is never going to match up the book we wrote before, and feel as if we are racing against time to reach a finish line of our own creation, which nine times out of ten we have placed far too close to the start post in the first place.
In other words- we are our own worst enemies!!
And the cure for this?
Writers need other writers! We need to meet up every now and then to remind ourselves that we are not the only idiot in the world. To remind ourselves that our comrades are also trying to push a pea up the side of Vesuvius with their noses while simultaneously doing the washing up and making sure the ironing basket doesn't overflow! This writer – and I know I'm speaking for a few friends as well- needs to hear every now and then that she isn't the only loony in the bin!!
So, in the eternal search for some form of sanity, to co-inside with this year's trip to Erotica, my wonderful friend Kd Grace and I treated ourselves to an evening in London to chat, laugh, tell each other we can both write after all, and drink coffee- we both drink A LOT of coffee!!
As soon as we arrived at our hotel, Kd Grace and I dumped ourt luggage, and headed into the city for a few precious hours together. The reality of living in different parts of the country means we rarely get time together when we aren't working, so we always make the most of it. This time, we started as we meant to go on, by indulging in some well deserved coffee and cake, before heading to one of my very favourite places in the world- The British Museum.
Currently the British Museum is hosting a Shunga exhibition, and Kd managed to snag us a couple of tickets! If you are in hailing distance of London I urge you to visit.
Shunga is the name of a style of Japanese erotica which was illustrated on scrolls and books hundreds of years ago.
Forgive this simplistic description- I simply can't do what we saw justice…it was amazing.
As Kd and I wandered around we must have used the phrase "Nothing New Under the Sun" a dozen times or more. In this modern western world we are so confident of our originality, of our daring erotica and pornography. And yet in fifteenth century Japan erotic scrolls were given to new married couples as guides to what to do.  Unlike in the extremely repressed Britain of the time, which was suffering under King James and his belief in the divine right of kings, the Japanese were promoting the pleasure of sexual activity. Wow- how times have changed on that front…
For two hours Kd and I wandered around, thrilled and awed by what we saw- until our stomachs reminders that we needed to eat became relentless, and we departed in search of food, more writerly chatter, and much more laughter.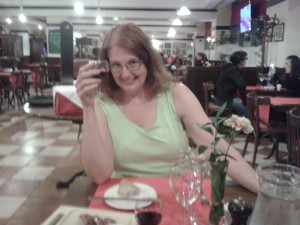 Refreshed, rebooted, and dressed in a rather skimpy skirt in my case and a glorious shimmery number in Kd's, the following day we headed off to Erotica- and there met out other partners in crime, fab friends, and fellow Brit Babes Lucy Felthouse and Victoria Blisse.
One of the reasons we formed the Brit Babes– which also includes Tabitha Rayne, Lexie Bay, Emmy Ellis and Lily Harlem- apart from as a forum to provide readers with a well written library of erotica-  was to be a support group for each other! If one of us needs help, one of the others always is always on the end of the email- if we're stuck on a plot, there are 7 writers to ask for guidance- and if one of us is having a bad day- then we all understand- because we're all been in that position at least once a fortnight!
This blog is just to say YIPPEE for other writers- because only writers can truly keep writers sane!
Happy reading
Kay xxx
PS- if you like to read erotica for free, why not consider becoming part of the Brit Babes Street Team- check it out… http://thebritbabes.blogspot.co.uk/p/street-team.html