It's time to put the kettle on, for my dear friend Lily Harlem has popped by to tell us all about some of her amazing books…
Over to you Lily… (biscuit with that cuppa?)
Thanks for inviting me over to your blog today, Kay, you know how much I adore dropping in for a cup of tea and a chat. I've brought news of several of my novels which have previously only been available on Amazon but are now available for purchase on Barnes and Noble, Kobo, iBooks and All Romance eBooks. These books have all earned many five star reviews and I felt it was time to let my characters spread their wings and inhabit e-readers other than Kindle. Here are the details…
THE GLASS KNOT
What's a girl to do when the guy she falls for is married to another man?
This is exactly what happened to me. Seeing Josh Kendal stroll out of the Mediterranean Sea wearing tight navy swim trunks and looking like a hot new James Bond was a truly delicious moment. Catching sight of his wedding ring was like a kick in the shin and meeting his gorgeous husband, phew, that was enough to make any girl groan at the cruel joke God was playing on her.
But all was not as it seemed, and when Josh needed a woman to sort out a 'delicate predicament' I was the one for the job – heck, what did I have to lose? Certainly not as much as him, literally.
Trouble is, emotions always get tangled, loyalties can't help but be divided and with a night of memories so hot they'd have the devil sweating, there was only one thing for it—it was time to get honest, fight for what I wanted despite society's constraints and open my heart to the people it needed most.
Barnes and Noble  Kobo  iBooks  Amazon/UK ARe
BREATHE YOU IN
Soul-aching desire was just the beginning!
If the road to Heaven starts in Hell then I was ready to start climbing my way out and Ruben Strong was the man to accompany me. With his devastating good looks, seductively sexy charm and lust for adrenaline he was sure to make it a sensual and erotic experience as well as one to re-awake the passionate, throw-caution-to-the-wind woman I'd once been.
I'd given Ruben something, though, without him realizing, and that gift had come from the man I'd loved before. But I couldn't tell Ruben. I had to keep that a tight secret even as our naked bodies wound together, sought out pleasure and hit the dizzy heights of ecstasy as one. Because Ruben had my husband's heart, literally, and that heart was still in love with me, so it seemed, and now I was in love with Ruben.
Emotions tangled with bliss, and fears were locked away as I surrendered to the touch of Ruben's hands, the taste of his skin and the sounds of his pleasure. I couldn't deny that Ruben had brought me back to life the same way I had him and there was no way I was giving up that feeling, not for anyone.
Barnes and Noble  Kobo  Amazon/UK ARe
SCORED
Okay, so I eat, sleep and breathe football and reporting the beautiful game is my dream career. But that doesn't mean I don't have time for a major crush on the England captain, Lewis Tate. The bloke is sex on legs, hot with a capital H. Add in his awe-inspiring talent, his brooding good looks and what's not to lust after?
So my excitement is sky-high as I set off with the official press team to cover England's battle for the European Cup. But when a series of unfortunate, or as it turns out fortunate events, attracts Tate's attention my way, who am I to say no?
Add in a misogynistic manager, an over-zealous colleague, two blue silk ties and some incredible ball-handling skills and it becomes clear the road to victory, for me, will be an intensely erotic journey. Determined to savour every moment, I hang onto my sanity as best I can while living the fantasy and wondering if it can ever become reality. Because once Lewis Tate has taken me to heaven and back, its clear no one else will ever compare.
Barnes and Noble  Kobo  iBooks  Amazon/UK ARe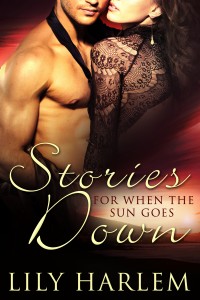 STORIES FOR WHEN THE SUN GOES DOWN
Stories for When the Sun Goes Down is a compilation of 10 erotic and romantic stories by multi-published, award-winning author Lily Harlem. They're perfect for snuggling up in bed with on a cold winter night, sizzling from your ereader on the beach, or even better, reading aloud to a lover to get the sultry mood just right for an evening of fun.
Contents
Madam President
The Champagne Whore
Shy Bird
The Actress
Making Shapes
I Promise to Please
I Promise to Surrender
I Promise to Perform
A Classic Wedding Night
Stable Manners
Please note most stories have been previously published in a variety of US and UK anthologies. 
Barnes and Noble  Kobo  Amazon/UK ARe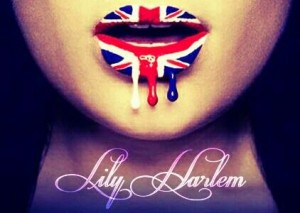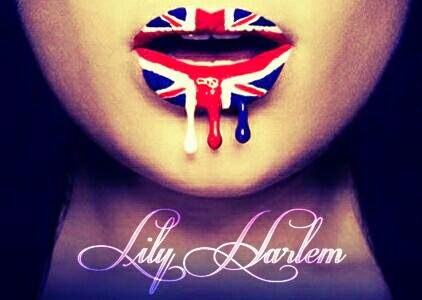 Because these four books are recently uploaded to these vendors they have few or no reviews. So if you have already enjoyed any of these stories and feel like doing a little writing yourself, a rating or review would be hugely appreciated so other readers have an idea of what they are purchasing. Many thanks for having me over to play, Kay.
Lily x
About Lily Harlem
Lily Harlem lives in the UK and is an award winning author of contemporary erotic romance. She writes for publishers on both sides of the Atlantic including Ellora's Cave, HarperCollins, Totally Bound, Xcite and Sweetmeat Press. Her HOT ICE series regularly receives high praise and industry nominations.
Before turning her hand to writing Lily Harlem worked as a trauma nurse and her latest HarperCollins release, Confessions of a Naughty Night Nurse, draws on her many experiences while nursing in London. Lily also self-publishes and The Glass Knot and Scored have been blessed with many 5* reviews since their release in 2012.

Her latest novel, Breathe You In, is a super-sexy romance with a twist that will not only heat you up but stay with you for years to come.
Lily also co-authors with Natalie Dae and publishes under the name Harlem Dae – check out the Sexy as Hell Box Set Trilogy available exclusively on Amazon – The Novice, The Player and The Vixen – and That Filthy Book which has been hailed as a novel 'every woman should read'.
One thing you can be sure of, whatever book you pick up by Ms Harlem, is it will be wildly romantic and down-and-dirty sexy. Enjoy!
Lily Links
Website http://www.lilyharlem.com/
Blog http://www.lilyharlem.blogspot.com/
Twitter https://twitter.com/lily_harlem
Facebook https://www.facebook.com/lily.harlem
Facebook author page https://www.facebook.com/LilyHarlemAuthor
Pinterest http://pinterest.com/lilyharlem/
Goodreads http://www.goodreads.com/author/show/4070110.Lily_Harlem
Google+ https://plus.google.com/u/0/106837751333678531161/posts
Harlem Dae http://www.harlemdae.com
Raw Talent http://rawtalentseries.co.uk
BritBabes http://thebritbabes.blogspot.co.uk
Hockey Romance http://www.hockeyromance.com
Newsletter Subscription http://www.lilyharlem.com/newsletter-subscription.html
****
Thanks Lily!! I think we should open a bottle of wine while I decide which of these brilliant books I'll read first!
Kay xx