This week I have lots of my Brit Babe friend's dropping by for a chat, and to share some of their spicy words from the wonderful Brit Babe anthology Sexy Just Walked Into Town!
Today it's the turn of my great pal, and this years ETO nominated Best Erotica Author, Kd Grace  (aka Grace Marshall)
Kd, is sharing a cuppa with Medusa. Over to you hun…
Thanks for having me over, Kay! It's always a pleasure to be on your blog, and especially when I'm talking about one of my favourite short stories.
I'm very proud to have my story, Stones, included in the Brit Babe's anthology, Sexy Just Walked into Town. Stones is a story that was originally published in the fantastic anthology, Seducing the Myth, edited by my sister Brit Babe, Lucy Felthouse. Of all the short stories I've written, it's probably my favourite. I've always been partial to myths and fairy tales, and it has always fascinated me how they somehow, no matter how strange the tale, still resonate even in the modern age. When Lucy asked me to write her a sexy myth, I didn't expect it to be Medusa's story that I would tell, and yet, who can argue with the Gorgon?
I remember the day I started writing Stones. It was after a walk over Pewley Downs into town. I settled in to my favourite coffee shop and had a pot of tea with Medusa. I sipped Assam and wrote fast and furious while she told me about her sculpture garden, all dark and mossy and mysterious. When the tea was gone, I walked back home with the weather threatening rain, all the while Medusa whispered her story seductively in my ear. There was an idea for a post about how to write sex floating around in my head, which Medusa elbowed out of the way none too gently. And back behind the hedgerow I could just catch a glimpse of the Lakeland witches waiting, not very patiently, for their turn. But, as I said, who can argue with the Gorgon?
I had ironing waiting for me at home and the garden needed weeding that day, but try to tell that to Medusa. By the time I got home, she was already telling me about the landscaper she'd developed the hots for the one who uncovered the rude statuary in her overgrown garden. She kept demanding that I tell her story –her story –no not the gruesome one where she gets her head lopped off in all the Greek Mythology books. She wanted me to tell the truth about her, that she was alive and well and living in Southern California in a huge decaying mansion with an over-run garden that she wanted to put tidy. I never knew Medusa had so many secrets. But who wouldn't listen with rapped attention when a Gorgon whispers in your ear?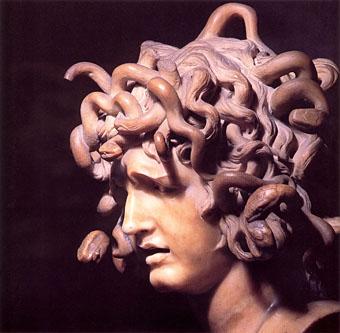 Yup! Stones all started when I unexpectedly had tea with Medusa. Fortunately for me, I never looked into her eyes. But I looked into her mind and into her heart, which was far more interesting, and possibly less dangerous, though I'm not sure about that. She assured me that there's a lot more to her tale than what fit into the pages of one short story, so I'm hoping one of these days she not just join me for tea, but she'll stay on for dinner as well and share the rest of her story.
Blurb:
When landscaper and gardener, Paul Danson, takes on the task of clearing the overgrown grounds of the mysterious Magda Gardener's decaying Victorian mansion, he uncovers much more than the disturbingly erotic sculptures hidden amid the bramble and ivy.
Stones Excerpt:
Then just before I shot my wad, the image of Magda Gardener flashed white hot behind my eyes, an image far more detailed than I recalled seeing. Now my view was close-up and personal, her breasts were full and high, nipples jutting like cherry gumdrops, her perfect pale skin glowing brighter than the lightning flash. In that split second my eyes followed the slope of her belly down to the dark golden curls nestled against her mons. Then, eyes lowered as though she were suddenly shy, she slid her hand between her open legs and with splayed fingers exposed the hard node of her clit and the moist gouge of the valley beneath. I came. I came until the very violence of it threatened to jerk me inside out, as though all my life I'd been holding myself for a tiny glimpse of Magda Gardener.
Not wanting to risk another dream, I settled on the sofa with my laptop. I found myself looking at the works of great sculptors, Michelangelo, Bernini, Rodin, trying to think what made Magda Gardener's sculptures different. There was sex, there was passion, there was violence, even rape. All were themes of the great sculptors. Bernini captured the very essence of Hades dragging Persephone off to hell – her terror, his lust – and no one could look at that sculpture and doubt what would happen next. Yet the horror was once removed, as though the stone itself has rendered safe and distant what was savage and terrifying, what was a breach of human decency.
But Magda's sculptures practically burst from the stone into life, into whatever mute terror secretly torments them, as though the sculptor fully understood that our most hideous nightmares are the ones born from the twisting and disfiguring of our most vulnerable passions. Could there be anything more horrendous than our deepest fear realised at the very point of ecstasy? Horror films capture it perfectly. The young couple, caught mid-fuck, always see it coming, and their last battle is the battle between ecstasy and horror.
About K D Grace/Grace Marshall
K D Grace believes Freud was right. In the end, it really IS all about sex, well sex and love. And nobody's happier about that than she is, otherwise, what would she write about?
When she's not writing, K D is veg gardening. When she's not gardening, she's walking. She walks her stories, and she's serious about it. She and her husband have walked Coast to Coast across England, along with several other long-distance routes. For her, inspiration is directly proportionate to how quickly she wears out a pair of walking boots. She also enjoys martial arts, reading, watching the birds and anything that gets her outdoors.
K D has erotica published with SourceBooks, Xcite Books, Harper Collins Mischief Books, Mammoth, Cleis Press, Black Lace, Erotic Review, Ravenous Romance, Sweetmeats Press and others.
K D's critically acclaimed erotic romance novels include, The Initiation of Ms Holly, Fulfilling the Contract, The Pet Shop. Her paranormal erotic novel, Body Temperature and Rising, the first book of her Lakeland Heatwave trilogy, was listed as honorable mention on Violet Blue's Top 12 Sex Books for 2011. Books two and three, Riding the Ether, and Elemental Fire, are now also available. She was nominated for ETO's Best Erotic Author 2013.
K D Grace also writes hot romance as Grace Marshall. An Executive Decision, Identity Crisis, The Exhibition are all available.
Find K D Here:                                                                   
Websites: http://kdgrace.co.uk/
http://gracemarshallromance.co.uk/
Facebook:   http://www.facebook.com/KDGraceAuthor
Twitter:       https://twitter.com/KD_Grace
***
Many thanks Kd!! A fabulous extract.
Don't forget, you can pick up the entire Sexy Just Walked Into Town anthology fro FREE as a Kindle download, or as a beautiful paperback!
Come back tomorrow for a glimpse at an offering from Lucy Felthouse!
Happy reading,
Kay xx