One of my favourite authors is with me today- and I'm blushing over her kind words already!! I love a spot of historical erotica, especially when it has a touch of the "medievals" about it. And who better to write such a tale than the brilliant Justine Elyot!
Over to you Justine…
It's such a pleasure to be with Kay, who combines writing utterly scorching and filthy books with being herself incredibly kind and lovely (this is a surprisingly common combo in the erotica world, mind you, but Kay is one of the very best).
She invited me to come here and talk about my new novel, Princess In Chains. It's a bit of a departure from my usual thing – although I'm less and less clear what 'my usual thing' is these days. It's fantasy adventure erotic romance, inspired by my love of all things medieval-ish, folksy, swashbuckling and set in days of old when knights were bold. It isn't just the knights who are bold in this, though – the maidens get well stuck into matters too (and not just when it comes to the fighting).
Blurb-
'Leonore, heiress to the Kingdom of Ystra, is promised in marriage to Corvin, unpopular monarch of the neighbouring Kingdom of Vala. When their first meeting ends in disaster, she is tempted to take her handmaiden, Asta, out of the castle to sample an evening of common delights in the city – but forces she hasn't reckoned with are against her, and Leonore finds her destiny taken from her hands.
She must embark on a quest to undo the wrong she has accidentally done, accompanied only by a handsome cooper's boy and the address of a mysterious alchemist whom, she hopes, will be the key to her success.
But nothing is as it seems, least of all Leonore's own heart.'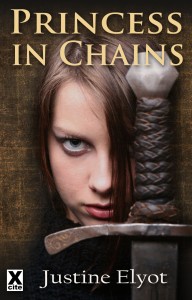 Here's an excerpt:
'Tell me about your games,' he murmured.
'I suppose you might know…games of stroking and caressing and giving each other pleasure…with fingers, or with tongues…'
'Dear gods,' breathed Taran. 'I wish I could see it done. I knew you were a lascivious little beast the moment I clapped eyes on you.' He caught her lips with his again, nipping and licking at them.
'You will never see it done until you help me find her,' said Leonore. 'But perhaps we will both find sleep easier to find if we help each other…' She broke off, sure that Taran knew where her words tended.
'That,' he said, his chest rising and falling fast as he spoke, 'is the best cure for insomnia I can think of. Forget your apothecary mixtures. I'm going to ―'
'You aren't going to do anything. I have never seen a man unclothed before. I want to see you. Get undressed.'
He broke into a broad grin. 'Yes, ma'am,' he said, kissing her brow before standing up and unlacing his jerkin.
Leonore found it enjoyable to watch him remove his belts and leggings. He was a very fine figure of a man, slenderer than Corvin but well made. When he stood in just his broad-sleeved chemise, she wondered if she could stick to her resolve of prohibiting his intimate touch. She really shouldn't…not with a cooper's boy…but he looked quite edible.
He knelt on the bed and covered her, ravishing her with a kiss.
'Your chemise,' she objected.
'It's too cold,' he said. 'Let me keep it.'
'But I want to see your chest.'
He sighed and knelt up, raising the shirt to neck level to display tight musculature and a nearly hairless chest.
'There, my lady. Does it meet with your satisfaction?'
It did, but she was not sure whether she could say the same for the fascinating object that lay lower down at the level of his loins.
This, then, was a manhood.
Noticing her gaze, he laughed and put a hand beneath it. It was firm and hard and stood away from his body at an angle.
With mingled terror and exhilaration, Leonore realised that she should not see one of these until her wedding night with Corvin. Not that that was ever going to happen now.
'You can touch it,' he said softly. 'If it pleases you.'
'I cannot tell yet if it pleases me or not,' she said, but she reached out and stroked the side of the shaft with one fingertip. It felt smooth and sleek, like some luxurious textile, yet when she prodded it, she felt the steel beneath.
****
Fun and games! If you would like to read on, it's available in ebook format from all the usual retailers. Here's the Amazon link: http://www.amazon.co.uk/Princess-Chains–Erotic-Fantasy-Xcite-ebook/dp/B00GFV1E8K/ref=sr_1_1?ie=UTF8&qid=1389692746&sr=8-1&keywords=justine+elyot+princess+in+chains
Thanks for reading!
Thank you so much Justine- fabulous extract!!
Kay xx