COUNTDOWN DEAL!
FROM 3RD-7TH DEC
CHRISTMAS KINK
IS ONLY 99P/99C
Blurb-
What's your favourite part of the Christmas celebration? Decorating the tree with tinsel, the heavenly aroma of cinnamon and fruit from Christmas cakes and puddings, the office Christmas party, a visit to Santa's grotto, the expected presents?
Complete with a brand new story for 2015, Christmas Kink twists all of these festive traditions into six individual episodes of hot erotica that will leave you fanning yourself with the nearest Christmas card…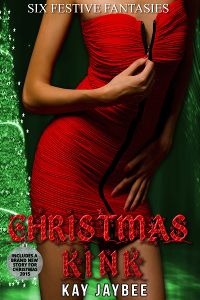 Reviews
"Oh, this is a perfect collection of erotic stories for snuggling up in front of the fire with a glass of mulled wine and a mince pie – it will certainly heat you up with tales of naughty antics at Christmas time. Loved all the character's escapades especially the last one with the food fight – delicious!" Lily Harlem on Goodreads
"…Christmas Kink is…a great collection of saucy Christmas tales that tick all the boxes and then some when it comes to kink. I really enjoyed Ms Jaybee's voice, she's straight in for the action and although there is romance, respect and love, these aspects of the characters relationships are secondary to the sex. So if an erotic Christmas anthology to curl up by the fire and read is what you're looking for, Christmas Kink might just be your thing!" Long and Short Reviews
"Normally I'm not a huge fan of short stories as I feel that by the time I have gotten involved in the story it is over. Christmas kink, however is like steamy snippets of peoples lives and gives the reader just the right amount of info to help the stories along. It incorporates lots of different types of 'play' so there is something to get anybody going. It is a brilliant introduction to the works of Kay Jaybee, which I will now be more thoroughly exploring." Amazon
"extremely kinky Christmassy stories all wrapped up in this perfect parcel of a book!!
A little bit of something for everyone, and then some!! A very quick read but enjoyable ….decorating the tree or making a cake will never be the same again." Goodreads
"Oh my delicious short hot reads in one book. What more can a girl ask for. Even though the stories are short reads, doesn't mean they skip on the hot factor. Some are even comical. Guaranteed to get the heart pumping and the odd blush or two. If you are not afraid of a erotic read, then this is the book for you. Even if your new to erotica, this is a great book to get you started." Amazon
Buy Now
***
Enjoy your book bargain!!!
Kay xxxx