The time for some erotic reading indulgence has arrived.
This week, I'm easing you into the weekend with an extract from my sexy anthology,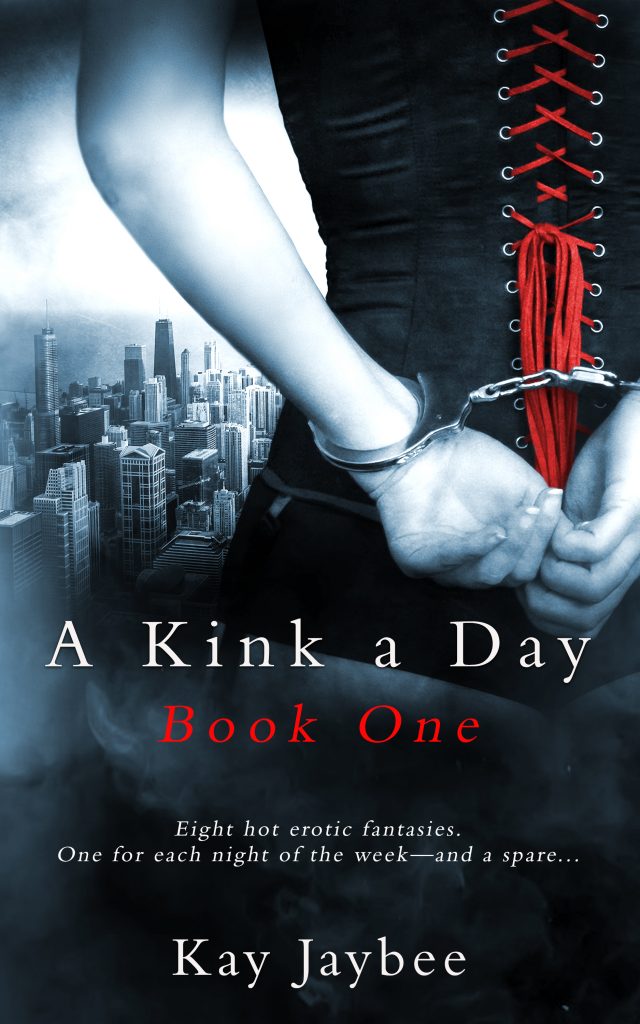 Blurb:
From the spank of a belt, to the unorthodox use of a dictionary; the bizarre obsession of an Egyptologist, to the afterhours indulgences of the staff recreating life in a strictly-run Victorian manor, A Kink a Day Book One provides a bite-sized moment of lust-fuelled distraction for each day of the week—with an additional erotic fantasy to enhance your Saturday morning lie-in.
***
Extract from Through the Gap
I caught my breath as Sally ran through the master bedroom's door and, without taking time to explain, bundled me away from making the bed, into the dressing room cupboard and slammed the door. I stumbled back amongst the hat boxes and glove racks that filled the small, musty space. Scrambling to my feet, I pushed an eye up to the crack between the ill-fitting double doors, just in time to see both the housekeeper and the Master of the house follow Sally into the room.
There had been rumours, of course. The other members of staff frequently whispered amongst themselves of debauchery and submission, without realising they were being overheard. Six months of working in this house, of being neither seen nor heard as I discharged my duties, had made me an expert at overhearing things, and yet I had discovered nothing concrete to substantiate such gossip.
I suppose I have a rather strange job; it's a bit like being an actor and a bit like being a domestic, but mostly I'm part of a complex tourist attraction. Each day, my colleagues and I dress in Victorian costume and work our way around a period manor house.
As a chamber maid, my place is in the bedrooms. I dart between all 25 chambers, making and unmaking beds which are never slept in, stoking naked fireplaces, dusting, sweeping and generally doing all those domestic chores associated with Victorian maids. I'm allowed to answer questions from the tourists, but otherwise I have to keep myself to myself, lower my eyes when my betters pass by, and try and remain invisible in their presence. I had dismissed the rumours of sexual deviancy as the product of boredom from some of our senior staff members' lurid imaginations; fantasies concocted to liven up a slow tourism day. Until now.
Mrs Lawson grabbed Sally's wrist and pulled her towards the Master. His face was solemn, and a stern furrow appeared on his brow as he peered into the eyes of the scullery maid. 'Mrs Lawson informs me that you've been found wandering about above stairs again, young lady. That is not your place, is it?'
'No, sir.' Sally's voice had taken on a meekness that was so convincing I wondered if it was genuine. I tried to quieten my breathing so I could hear what they were saying.
'You know the punishment, don't you?'
Sally nodded at the Master again and I watched as, on a signal from Mrs Lawson, Sally undid her apron and took off her cap and shoes. The housekeeper then leant forward and yanked off my colleague's black working dress, so that she stood shivering in some far-from-Victorian underwear.
Mrs Lawson's eyebrows rose. 'And what exactly are those, young lady?' her voice was harsh, but the high points of colour that had appeared on her face showed how much she was enjoying the situation as she observed Sally in her black stockings, matching bra and knickers.
Sally said nothing, but hung her head in humble submission, as the Master of the house placed a large hand on the back of her neck, gripping it firmly.
'You have the collar, Mrs Lawson?'
'Indeed, sir,' the housekeeper produced a short black leather collar from her capacious apron pocket, and swiftly secured it around the maid's pale neck. Then, rummaging further, she pulled out a thin lead and clipped it to the small silver loop that was positioned at the front of the collar.
My throat felt as if it had dried closed; I could hardly swallow as I watched, afraid of being discovered, but at the same time wishing the gap I was peering through was bigger, so I could see more.
I was unable to hear what the Master was saying now; he'd lowered his voice, almost to a whisper as he pulled on the lead which hung between her breasts. Then, in one swift, brutal movement, he grabbed the front of her bra and pulled it off, snapping the strap beyond repair. Her tits spilled out, revealing themselves to be even bigger than they'd first appeared. I moistened my lips. I could almost taste them and, enviously, I watched as the Master, yanking on the lead, bought Sally closer to him, before bowing down and engulfing a hard, nut brown nipple between his lips.
Sally had been a friend ever since I'd joined the house's workforce, and unbeknownst to her, I'd had a massive crush on her from the first time I'd admired her in her pristine white apron and mop cap. To see her receive another's erotic attentions was agony to my jealous body. I pressed my eye harder to the crack and strained my ears so I could hear the muted mewls my eyes told me were emanating from her lipstick-free mouth.
Mrs Lawson, who'd been watching the scene before her with obvious satisfaction, stepped forward and, once she had received approval from her superior, bent to Sally's other breast. I could imagine so well how wonderful that would feel, the tingling attention, the sharp tang of want that each nip, each kiss, would send hurtling between her legs as both tits were stimulated at once.
I was aware of my own growing arousal. It had been simmering at the back of my mind ever since Sally had thrown me into the cupboard. Now it was controlling me, and I couldn't help wondering if my friend had engineered things so I could observe her. A second's panic shot through me, and I pulled away from the door. What if Sally told them I was here? What would they do to me if they found me? Then I sort of hoped they would find me. My breasts chaffed against my bra and stiffly starched uniform, as I wondered how I'd cope in Sally's position.
My fantasy was cut short by a sharp scream, and I was drawn back to the real life drama in the adjoining room. The maid's knickers had, in my few second's lapse of concentration, been removed, and she was now on all fours. Mrs Lawson held a short white cane, which she had presumably kept in her apron pocket, and was rhythmically tanning Sally's backside as the Master pulled the lead, making the girl walk after him like an obedient bitch on heat.
I was able to view them from every angle, as they moved in circles around the room, Sally yelping as the cane struck her neat backside. Our Master's eyes blazed, his dick bulging beneath his suit trousers, while the housekeeper revelled in her administration of pain.
Without registering what I was doing, I slipped off my apron and slid a hand into my knickers as I watched. My juices stuck to my fingertips as I imagined Sally's liquid dripping from her damp pussy. For despite her calls of anguish, the maid's face glowed with desire, and there was no doubt in my mind that this scenario had been played out, and enjoyed, many times before….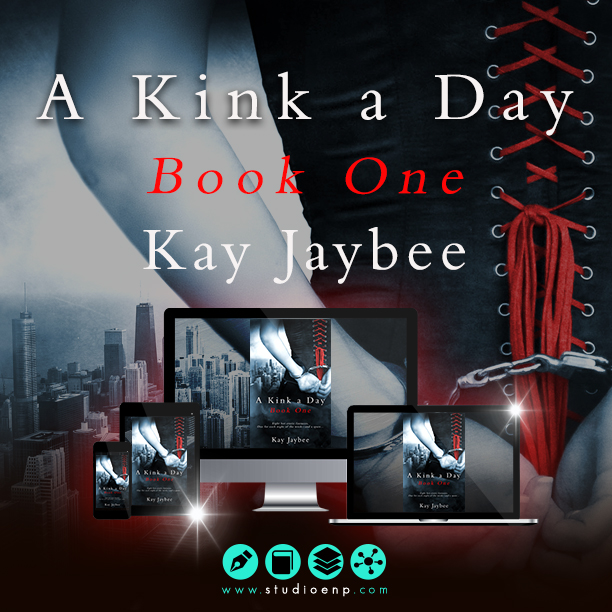 If you want to find out what happened next you can buy A Kink a Day One from:
Amazon UK
Amazon US
Amazon AU
Amazon CA
Barnes & Noble
iBooks UK
iBooks US
Kobo
Smashwords
***
Happy reading,
Kay xx