I'm delighted to welcome Jaz Hartfield to my sight today. Trip to the Netherlands anyone?
Over to you Jaz…
'One Night in Amsterdam' is an erotic romance following a stag and a hen party as they explore the city's Red-Light District. The characters experience the hedonism full on, getting increasingly drunk on the extremes of pleasure offered.
Amsterdam is a weird and wonderful city, most famous for its Red-Light District and the 200 cannabis coffee shops scattered through it. But there is also Anne Frank's House, plus some of the best examples of Renaissance and baroque architecture. The canals of Amsterdam are a world heritage site, whilst the Rijksmuseum and the Van Gogh Museum are two of the finest art galleries in the world. (Not to mention the Sex Museum, Venustempel, which is a hilarious journey through erotic art and inventions through the centuries).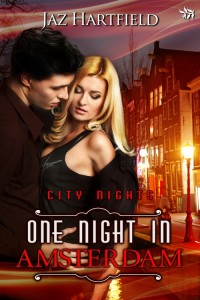 Amsterdam is a city of bewildering contrasts, intriguing culture and challenging experiences. I once visited Amsterdam on a stag weekend myself, and it was certainly a weekend I will never forget… for many different reasons! The effect it had on me was rather overwhelming.
In 'One Night in Amsterdam', Chloe organises a hen party for her best friend; Dean is the groom, enjoying his final weekend of freedom before 'settling down' with Tamsin. The two groups happen to meet and when Dean is smitten by Chloe he wonders if he needs to feel guilty about having one final 'fling'.  Both characters have arrived in Amsterdam unhappy about their 'normal' lives and the narrative explores both lust and love.
When we first meet Chloe, she is going through the motions of another one-night stand:
"Bloody hell! You've got lovely tits, babe."
Chloe bit her lip, not to suppress a moan of pleasure but to stop herself from voicing her sense of disappointment. Every bloke she went with always told her the same thing. 'Lovely tits'. Like a mantra. As if these idiots had nothing else going on in their heads. He could at least tell her she was beautiful, or be original and appreciate her legs or arse. She thought they were pretty spectacular too. No, it was always her tits.
He cupped them and brought them to his lips as if slurping fresh water from a running stream. Over his shoulder, she took a glance at the photograph of Mike with his wife and three cute children. She felt a bit guilty lying in his bed, knowing that the four other people in the photograph were at a school concert, whilst she enjoyed a quick thrill with their husband and dad.
When Mike began twisting her nipple as if turning up a thermostat, Chloe considered walking out on him. He'd been quite sweet until now, buying all the drinks and food. She liked being pampered, and he seemed to enjoy looking after her, so she had no real reason to complain. The fact that Mike also happened to be her line manager played a part in this decision too. Rumours abounded of redundancies and this seemed an excellent ploy to avoid that eventuality. The idea of finding another job, however much she hated this one, was depressing. The only real reason she might need a new job was because she was running out of men to sleep with.
Meanwhile, Dean finds himself engaged but unready for the discipline of being completely faithful to one person for the rest of his life. Perhaps Tamsin isn't the right one for him:
"How do you fancy a little bit of yummy time?" Dean stepped behind Tamsin, unzipped her onesie down to her belly button and slipped his right hand in to fondle her breasts. "Hmm, you are so delicious. I can't keep my hands off you."
After caressing her nipples and feeling them harden, he followed the curvature to her cleavage, and ran his fingers down towards her pubic mound. He kissed her neck and she paused with the washing up. Then he reached further, to gently find her dampening cleft with his fingertips.
She reached back to pat his groin. "You're the male equivalent of a nymphomaniac."
"Can't a bloke be a nympho too? I think I'm one."
"There is a word, I think it's ancient Greek or something, which can be used to describe a man who's obsessed with sex—"
Dean frowned. "You're just describing every guy on the planet."
Closing his eyes, his wayward thoughts drifted to Belinda from his office. She was about twelve years older than him, but always wore low necklines and tight trousers, and he'd often wondered what it would be like to have sex with someone more experienced than himself.
Warm pleasure started to envelop and gush inside him.
Was this normal?
So when Dean and Chloe meet on their drunken weekend of debauchery, both are looking for that perfect night, and for their desires to be finally fulfilled…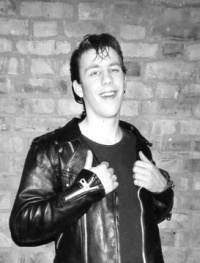 Jaz Hartfield Author Bio:
Jaz Hartfield is a writer and actor who loves travelling. He's always looking for his next thrill, having tried bungee-jumping, parachuting, white-water rafting, pot-holing and deep sea diving. Jaz has lived in many different places; his favourite parts of the world include New Zealand, Kenya, Ireland and the Lake District in England. Having been on a stag weekend in Amsterdam, Jaz is unwilling to admit whether this story has elements of the truth in it or not.
Jaz on Facebook: https://www.facebook.com/profile.php?id=100005224159430&fref=ts
Links for ONE NIGHT IN AMSTERDAM:
Facebook Page: https://www.facebook.com/citynightsamsterdam?ref=hl
***
Many thanks for dropping by today Jaz, and sharing some of your kinky Dutch tale!
Happy reading everyone,
Kay x