There are a few things in life that I can guarantee will make me happy- time with my family, my friends, chocolate (of course!), old episodes of Robin of Sherwood, coffee (black please- no sugar)- and writing.
Ever since I picked up a pen at the tender age of 33, and began writing an erotic story on a paper napkin for no real reason whatsoever, I've been addicted. Writing has taken over my life. More than that- it has become what makes me get up in the morning, what drives me to rarely stop working, and what makes me tick.
You can imagine therefore, how excited I was in 2013 to be nominated for the Best Erotica Writer award at the ETO. Then I was nominated again in 2014, when my gorgeous and very deserving friend Kd Grace won. It was so amazing- and I was so happy for her- we really partied!! And if you have ever seen the Brit Babes in full party mode then you'll know what I mean!!
When I was nominated this year, I was less excited. E L James was up for the awards as well, and so I assumed she would win. This is, after all, a trade award. Love her work or hate it, you can't deny that while her existence has damaged the erotica writing world, it has been a total god send for the sex toy trade. (Which is largely what the ETO is about!)
As you will gather from the title of this blog however- I was very wrong. And I won! How totally amazing, and cool, and wondrous, and incredible, and lots of other big long happy words, is that?
At this point in my blog it would be traditional to show you a whole heap of pictures of myself partying with fellow Brit Babes, Kd Grace, Lexie Bay, Tabitha Rayne and Lily Harlem- all of whom came along to cheer myself and Kd (also nominated for the award) along. However, you'll just have to look at my lovely trophy instead, because life had other plans for me on Sunday night!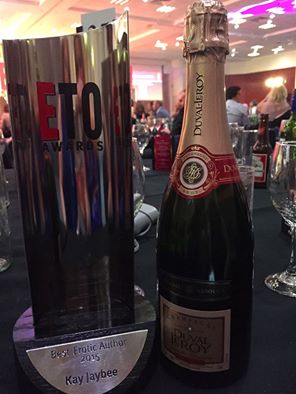 Rather than be at the show, I was laid up in my hotel room at the Crowne Plaza, NEC, having spent the previous day in Worcester A&E. My right leg decided, without the courtesy of any sort of warning, to stop working. Not only that, but it did it in style- or as I put it 'OUCH!!!!!!!!!!!!!!!!!!'
The lovely Dr Jaybee and myself were having a walk in the Malvern Hills prior to arrival at the NEC to celebrate his birthday- when my leg simply gave way. So off we went to Worcester A&E- with me sitting on a dog cushion (surprisingly cosy for the butt afflicted) – and waited for an entire lifetime to be seen by a lovely doctor, who prodded me (steady!) with great skill, and discovered I had trapped nerve buried deep in my right buttock. Well- if an erotica writer is going to have a painful injury, then that isn't a bad one! At least it's a talking point!!
So- with a feeling of massive disappointment and dosed to the eyeballs on painkillers  – I headed to the Crowne Plaza Hotel at the NEC, where all my lovely friends were staying for the ETO Show and awards, and went straight to bed.
At this point of course, I was still convinced I wouldn't win, so while I was very disappointed not to be walking around the show, and even more gutted that I wouldn't be joining Brit Babes, Kd Grace, Lily Harlem Lexie Bay and Tabitha Rayne, or my lovely friends Cara Sutra, Ruby Kiddell, and Renee from Sh! for the awards meal, I was also resigned to the fact. I couldn't sit down, let alone walk! Lying on my back was the only option!
Being looked after like my wonderful husband, who was a total star – even though it was his birthday and he had to carry me everywhere- I listened to everyone go off and party. It was very strange, and I confess, I was a bit down in the dumps.
With a running commentary from Lily, Tabitha, Lexie and Kd via our mobiles, I was kept informed of events via the wonder of technology. But when the awards started I felt nothing- no tension or anything like I did last year when I was actually there. I can clearly remember how exciting it was in 2014- how much we cheered for Kd, and how we all danced for her. I have never been so proud of my friend in my life! It was a special moment I will never forget.
This year, cosy in my hotel robe, and with my lovely husband keeping me going with his constant support and supply of chocolate, it was like it wasn't actually happening.
Then the moment for the author award came- and I had a tweet come through from the gorgeous Modesty Ablaze saying 'Well done'- I was confused. Then Lucy Felthouse texted me, saying 'Congratulations' – I had won. I was 200 yds away- and couldn't hear any of the music, or the applause, or see my name on the stage, or anything- but I'd done it. I'd won something! Oh course, I hadn't heard from the girls who'd been texting me- they were all on stage collecting my award for me!
This took a while to sink in. I never win things. I have been second for everything all my life. This is not something I worry about- I work hard, and that's all that counts- but this time I'd won.
Immediately FB and Twitter went crackers- photos of the Brit Babes collecting the award for me, partying for me, and singing my praises (I love those girls!) came through to me. And I just lay there asking my husband if I was hallucinating on the drugs!
An hour later I got a text from Kd- she had my award and was on her way to the hotel!! Well, you can imagine! I SO wanted to see her and that award- I had to see it was real! So with more help from lovely Dr J, I got dressed, and headed slowly to the foyer, just in time to see Kd and her husband arrive. Forgive the next photo- I am not looking at my best!!
Unable to stand for long, I was soon back in bed, and more acceptable photos were taken!
So it was real! After a lifetime of winning nothing, I'd won- and missed the party! That is SO me!! However- what is more important is –
1.- I have the most amazing friends in the world, who supported me big time.
2- My husband is the most patient man in the universe.
3- I can walk. (HUGE thanks to the staff at Worcester A&E- you were wonderful)
4- I have one hell of an alternative ETO tale to tell!
5- And call me petty, but I beat E L James!!! (That shouldn't make me happy, but it does! We all have our flaws!!)
One of the advantages with not being there, is I've had time to think of what I would have said, if I had gone to collect my award. Of course, in reality I'd have been tongue tied, but if possible- I'd have said this-
"Erotica is in danger of dying. It has been taken over by a whole host of pseudo erotica. If you want to read well written erotica- actual erotica, not hot romance- (which I have nothing against at all, except for the fact it is called erotica when it isn't)- then it is out there. Look at the Brit Babes work- look at Justine Elyot, Janine Ashbliss, Ashley Lister…and many many more It's out there- it's well written, it is intelligent, it has real storylines- all you have to do is look for it."
I'll leave you in peace now! Please accept my hearty thanks if you voted for me. Also- a big thank you to the ETO for running such a fab event.
Last of all- thank you Brit Babes and the Brit Babes Street Team- what would  I do without  you all!
***
Happy reading,
Kay xxx
PS- please forgive the awful punctuation etc – still dosed on painkillers and not 100% concentrating!