Last year I was lucky enough to be commissioned to write a unique story for 'Karma Tantric' – I thought it was high time to give that story another airing!
***
There are many parts that make up the whole when it comes to erotica. Over the years I've learnt so much about a world that, to be honest, I knew next to nothing about before I had my first story published 12 years ago this very month. (Yes, time really does fly when you're having fun)
One area that I've always been curious about is the world of Tantra or Tantric Massage. A few weeks ago I was asked by the lovely folk at "Karma Tantric" if I'd consider writing an exclusive story for them.
This was a challenge I couldn't resist, and so I set to work. First though, I had to make sure Tantric Massage was what I thought it was! It's easy enough to assume you know what a 'real' erotic massage is like, without actually having a clue!
So- and this is a very basic description- Tantra massage is an ancient healing art which uses sexual energy to achieve a higher state of consciousness. Skilled tantric massage therapists use sensual touches, such as lightly running fingertips along the entire body, to awaken an energy field within the body. The therapist, once having awakened this energy field, can provide lovers with an ecstatic experience. Not only that, but they can allow trapped physical and mental pain to escape from the body.
Breathing techniques, known as pranayamas are sometimes used to allow the client to actively move energy from one part of the body to other parts of the body. Using breathing alongside the tantric massage is intended to enhance the experience and helps the recipient exercise self-discipline and self-control during unanticipated arousal.
In short, Tantric Massage is about about taking the person being massaged to the edge of orgasm and back then repeating until a mind blowing orgasm
You can find out much more about Tantric Massage at Karma Tantric – https://karmatantric.com
Inspired by the idea of tantric massage, I have written a short story called Lower. I am not claiming this is entirely tantric…although the masseur certainly intends it to be…at first!
I'm hoping you'll enjoy this brand new exclusive KJB tale.
 Lower
(copyright Kay Jaybee)
His butt was even more beautiful than she'd dreamed. And Lara had dreamed about Callum Parker's backside a lot.
Toned, but not overworked. It retained a shapely curve that was almost pearly white compared to the tan of his legs.
Lara allowed herself the luxury of just staring at her client's back view for a few moments while deciding where exactly to start the therapy.
Each time Callum had visited her treatment room before, she'd concentrated on loosening his cycle tired calve muscles. Although they flirted constantly, and he'd frequently complained of saddles ores, his rear had remained a potential gift Lara longed to unwrap; a towel guarded point of fantasy.
Today the masseur was determined things would be different.
Operating in her vest and shorts, Lara picked up a tube of cooling cream, and tucked it inside her bra. 'As I said when you booked this appointment, in the interests of reaching and treating every inch of your persistent saddle sores, I'm going to try a tantric technique. For that I'm going to have to sit astride the massage bed.'
Without waiting for a repeat of the approval Callum had given her on the phone, Lara climbed up, trapping his lower legs beneath her.
'Comfortable?'
Callum's muffled reply sounded positive, and smiling widely, Lara began to relax. Their increasingly tantalizing phone calls over the past few months had convinced her that the cyclist was as up for a more tantric method of muscle manipulation than he'd tried before. Something erotically charged, which would genuinely help ease his hobby inflicted discomfort, as well as taking her a step closer to her own fantasies about the man.
Dancing her fingers over the skin which marked the divide between Callum's backside and his legs as if it was a piano, Lara tapped repeatedly while critically regarding the extent of the abrasions on his butt.
Never applying more than the lightest of touches, never pausing in her tender attention, she listened intently. Until she heard what she was waiting for, Lara had no intention of stopping the stroke of her fast moving digits.
Finally, it came.
'Lara, please…'
Resisting the temptation to slip her hands between Callum and the table, so she could discover if he was as hard as she was wet, Lara extracted the bust warmed balm from her cleavage.
Unscrewing the cap, she placed the tip of the nozzle against the top of his buttocks. Then, prising his cheeks apart a little at a time, she gave the tube a squeeze. A thin snake of cream disappeared from sight as Callum's chaffed cheeks closed behind Lara's agile fingers.
Managing to keep the rising pleasure from her businesslike voice, Lara said, 'I'm going to search for the spot where it hurts the most now. I'm going to find where you truly ache. I want you to tell me when I arrive at the point that's the most saddle sore. OK?'
'Yes, Lara.'
The obedient way he said her name sent a shot of power through her system. It was an unexpected extra aphrodisiac, leaving Lara wishing she'd had the nerve to take her shorts off before starting the treatment.
'The aim of a tantric massage is to carefully work your body to a point of pleasure beyond the awareness of sores and strains. To release your own energies to provide a heightened desire that clouds any pain. Are you ready?'
'Uh, huh.'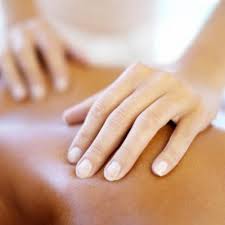 Using her index finger, Lara kneaded the lotion methodically, watching to see where the white flesh had been burnished scarlet the most due to the rub of the bicycle saddle. On reaching his anus Lara paused. She was enjoying the subtle change in the sound of Callum's breathing. Suddenly he was panting as if he was cycling up a hill, rather than lying motionless across a massage bed.
'How sore are you here?' Tracing a second fingernail over his anus, Lara nodded in satisfaction as it puckered under the slight pressure.
'I…' Callum's sentence morphed into a sigh as she dropped a pea sixed portion of ointment directly over his butthole.
Resting a finger in the centre of the newly deposited thick white liquid, Lara rotated it in tiny circular movements, relishing the effect she was having on Callum.  His previously relaxed palms had gone from being flat, to gripping the side of the bed as if he feared he might fall off. She was sure he was already close to coming, and she lessened the weight of her ministrations.
Aware of the steady rise of her own pulse rate as well, Lara took a slow exhalation of air. Then, slipping a hand inside her knickers, she casually announced, 'While I'm attending to your sore areas, I'm also attending to mine.'
'What?'
The husky edge to Callum's voice drove Lara on as she replied, 'Unless you inform me that you have worse sores elsewhere, then the salve I'm stroking over your arse, is going to slip inside you soon. Very soon. Your rear keeps winking at me. It appears hungry for my caress, so I guess it must hurt in there.' Lara paused, deliberately letting Luke's steady climb towards the point of full arousal die back a little before she added, 'And in answer to your question, I'm pleasuring myself too. My clit to be precise. It's all stiff and rather slippery. Your handsome butt is having a very unprofessional effect on me.'
'You're…wet?' Callum's words were so low she could barely hear them.
'Soaking. I may have to take off my shorts and panties. Do you want me to sit astride you while naked?'
He virtually shouted, 'Yes,' before his voice became more beseeching. 'But I don't want you to take your hand from my arse either.'
'Why? Is that where it's the sorest?'
'It is sore there, but that's not where it hurts most.'
Lara eased a little finger just inside his rim, forcing a throaty groan from Callum's lips. 'Ah, so that is where it hurts the most?'
The cyclist gave an audible gulp 'The sorest bit is lower.'
'Lower?' Savouring the texture of his flesh, Lara thrust her digit deeper while bringing her other hand back into service, quietly easing the tension from Callum's lower back. 'Is that where it hurts most?'
'Oh hell…ummm…no…but…'
Withdrawing her finger, Lara was about to plunge it back in when, in a rapid rush of movement, Callum twisted at the waist and grabbed Lara's bare leg tightly. Pulling her until she had no choice but to awkwardly slide off his legs, he grunted, 'You bloody well know where it hurts the most woman!'
His cock stood stiff and eager as he lay face up on the bed.
'I believe that's cheating.' Somehow Lara found the strength to pull away from Callum's enticing grip. 'I hadn't finished releasing your erotic energy.'
'What the hell is that then?' The cyclist pointed to his erection.
Lara smiled, but she didn't reply. Instead she stood, quietly reassessing where to concentrate her therapy now her working angle had been prematurely altered.  Eventually broke the silence. 'Close your eyes and rest your hands by your sides.'
'You have got to be kidding.'
Speaking steadily, Lara said, 'Do you want this massage? Do you want to feel better?'
'Yes, Lara.'
'That's better. Now trust me. Whatever happens, the end result will make you feel good. I promise.'
As Callum struggled to lie still, Lara forced her businesslike approach to continue despite her own growing arousal. 'I can see that the saddle sore has affected more than your rump area. While I sort you out, I want you to concentrate on breathing in and out in time to the movement of my fingertips.'
Sliding each of her palms up the inside of Callum's thighs, tapping each digit gently in turn, Lara smiled as his dick quivered in response to her presence. 'Remember to think about your breathing.'
It took several minutes of soft pummelling before her client began to relax against the bed. Waiting until Callum had lost a little more of the desperate edge which had previously suggested he might climax at any second, Lara abruptly increased the pressure beneath the pads of her fingers.
Changing the angle of her contact, pressing her thumbs either side of his balls, working him harder, she saw Callum raise his head off the bed. 'Breathe! Slowly.'
'And what about you? You're not breathing slowly? I can hear you from here!'
Lara laughed, 'This is a case of do what I say, don't do what I do. Now let me finish, or you won't get the erotic massage you want, where you want it the most.'
Again she eased off the force as her fingers tripped lightly over him, sending a gratifying groan from Callum's throat.
Once the tension beneath her touch had subsided, Lara began to re-edge Callum's body towards a new erotic high by adding a finger to the action of her thumbs.
Instantly, Callum's breathing became ragged as he fought his instincts to reach out for her.
As Lara witnessed a flush of a deep crimson assail his shaft, her breasts made a silent plea of their own from the claustrophobic confines of her bra, prompting her to a decision. The very next time Callum made an illegal move, she'd let him, whether she'd finished or not.
Sliding both her hands from his groin towards his inner thighs, Lara was in the midst of a private battle to close her mind against the urge to engulf his cock in her mouth rather than her palm, when Callum sat bolt upright.
'For fuck's sake woman!' Grabbing her thighs in his large hands, he dragged down her shorts and knickers. 'I think you can declare your erotic massage technique a success.'
Yanking her leg urgently towards him, Callum, said, 'Sit here.' Gesturing towards his face, Lara was quickly crouched astride his head. Her head spun as she made herself adopt the breathing pattern she'd urged him to use.
Breathe in- as his tongue hit her clit.
Breathe out- as his fingers worked her pussy.
Breathe in – as her whole being ached in sympathy with the cyclist.
As Callum massaged her with a combination of his mouth and fingers, Lara began to tremble, and by the fifth swipe of his warm tongue her breathing was as deliciously laboured as his had been.
Drawing away, Callum, carefully copying his masseur's previously professional manner, said, 'Tell me Lara, where are you sore? Where do you ache? Would you like me to massage you were it hurts the most?'…
(This erotic story was inspired by Karma Tantric, an erotic and tantric massage agency in London, UK)
***
I hope that made you smile…or at least tingle a little bit!
I think it's high time I actually tried a tantric massage in real life…
Many thanks to Erica at Karma Tantric for inviting me to write this story for them today.
Happy massaging everyone,
Kay xx