To my delight I was recently approached by Carvaka to review a few of their products. How could a girl refuse?
Today I am reviewing  the Aphrodisia 8 Inch Carved Dildo
So- first things first – here's the official blurb…
The 8 Inch Carved Dildo is a bigger version of the 7 Inch Carved Dildo (also available from Carvaka). It features the same fantastic realistic design but has been moved up a size for greater and deeper penetration! The shaft is covered in bulging veins and has a large glans head. It has an insertable length of 6.5 inches and a girth of 5.8 inches at its widest point. The base features a very strong suction cup which you can attach to walls or tables for some fun hands-free play!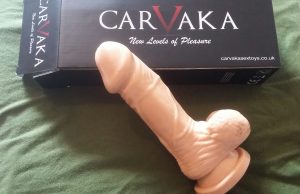 My Review
At 8.8 inches in  length (5.5 of which are insertable), and 5.6 inches wide, this is one hefty beast. The jelly rubber shaft is solid , and feels nice in the hands. However, it is the suction cap on the end of the dido that makes this sex toy such a winner.
Best adhered to flat areas- although it does well on the side of the bath for time- the suction feature allows the user to employ their hands elsewhere, for additional masturbation fun.
Soft, yet hard, (if that makes sense!), it is flexible and very comfortable and satisfying to use. (Obviously if you are allergic to rubber/jelly rubber this is not the toy for you). It is also wide! Lots of lube/ finger play build up required if you are of the smaller persuasion girls and boys.
Although I can't speak from experience on this additional point- I can imagine that it would be a brilliant toy when employed by a couple as well…
The price, only £10.99, makes this dildo a bargain- even if you don't utilises the suction facility. (The suction cap end makes a very good 'holding area' for personal thrusting! You can buy this solid mass of fun here-https://carvakasextoys.co.uk/8-inch-carved-dildo.html 
You can see more details- and a sort YouTube video here.
Happy playing everyone,
Kay xx