Up and down the country- whichever country that may be- men and women are laying down their laptops, putting aside their PC's, closing their diaries, and switching on the answer machines so that they can head out on their 'Work Christmas Do!'
As a self employed writer, if I went on a 'Work Christmas Do' all that would usually happen, would be that I'd have a gingerbread muffin alongside my usual cup of coffee. (Although my Jenny side did actually get two work Christmas meals this year!!)
However, this does not stop me imagining what it might be like to go to a Christmas dinner and dance- a.k.a the office party! The men pulling on a suit and worrying about just how 'festive' their tie should be. The women stare at the contents of their wardrobes for hours as they suddenly hate the outfit they'd got especially for the occasion, and desperately need to pick something else – or is that the sort of thing that only happens to me?
Anyway! The idea of the little black dress as the central point for an erotic story has always attracted me – and then I thought, maybe not black- why not bright red… Once the idea took hold, I just had to write a story called, The Little Red Dress. Here's an extract for you…
"…Deaf to Alice's continued protests, Rachel had marched her friend by the elbow from the office to the only store still open. A single rack of party dresses remained left in stock.
Overriding Alice's claim that the only one left available in her size would make her look like a hooker, with a blunt, 'For heaven's sake Alice, you're thirty-one, not sixty-one! You have a great body—time to show it off a bit.' Rachel picked up the dress and pushed Alice towards the checkout.
Without being allowed to try the startling scarlet dress on, Alice had found herself with a posh carrier bag in her hand, the cautious owner of a garment that was fashioned from about as much material as an oversized T-shirt.
Now, with her eyes still closed, Alice smoothed the red fabric into place. It clung to her body sensually with a curious warmth that caressed her everywhere it touched. Conversely, it also made her feel very naked everywhere it didn't touch.
Its thin shoulder straps were pointless. They certainly weren't required to hold the dress up. It was far too tight-fitting for that. Alice's cleavage, which had always been generous, felt oddly cold and incredibly visible, although the dress supported her bra-free breasts as if by magic.
The hemline only just reached the top of her thighs, and there was no way on earth she could wear either tights or stockings without them ruining the line of the dress, or being disturbingly, if not suggestively, obvious. Alice tried to close her mind to the fact that she had to go commando. She really didn't want to think about that—yet her mind couldn't stop thinking about it. She had never felt so unbelievably sexy in her life—and she hadn't even seen herself in the mirror yet.
With a deep breath, trying to ignore the nerves of anxiety that swam in her stomach, Alice opened her eyes.
She gasped. That wasn't really her—was it?
Her legs seemed longer and slimmer than she remembered. Although Alice had to admit that she didn't actually look at them, or any part of her body, with any level of concentration unless she absolutely had to. Now she had no choice. She was all legs and bust.
Conscious of every inch of her body, Alice sucked her stomach in and gripped the hem of the dress, tugging it south. But the cost of covering an inch more leg was at the expense of exposing a greater depth of cleavage to the point where her nipples only just remained covered.
The thought that she was going out in public with the twin peril of either bending over and exposing her arse, or self-consciously fidgeting in her unaccustomed outfit and flashing her breasts to the world, filled Alice with an excitement and trepidation that prickled at her pussy, and made the skin of her neck behind her long chestnut hair dot with a perspiration which had nothing to do with being too hot. What are you thinking? You can't go out like this! The voice of reason at the back of Alice's head shouted at her reflection.
Alice glanced at her wristwatch. Rachel would arrive to collect her at any moment.
Briefly, she contemplated pretending that she was ill, or simply ignoring the ring of the doorbell when it came, but a new voice—a louder, more determined voice—began to sound in her mind. It was shouting at her. You look good. Sexy, even. Why not show those perfect people at work that you aren't the boring plain old Alice they think you are? Why not do what Rachel says and show Gary what an idiot he was? Why not—just this once?
Alice had the strangest feeling her dress was talking to her.
Slipping the silver glitter-covered high heels she'd borrowed from Rachel onto her feet, Alice pushed her shoulders back and her chest out. Perhaps tonight she could get through the chuckled comments her work colleagues were bound to make about how they'd found the boss's son last year, by pretending to be someone else entirely. Someone who always wore little red dresses…"
****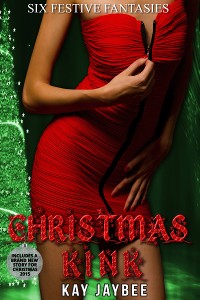 If you want to find out what happened to Alice in her new red dress at her office Christmas party, then you can find the rest of that story- and 5 others, in my Christmas Kink anthology.
***
Happy reading,
Kay xx