Today I'm welcoming the lovely Jilly Boyd to my site to tell us all about her love of cinema, and how that passion formed the basis of the latest anthology she has edited- Flappers, Jazz and Valentino.
Over to you Jilly…
Shut Up and Talk – The dawn of the talkie films
Anyone who knows me well knows that I'm a huge film buff. I write about films on a near-daily basis, and strongly believe that my best birthday present ever was my black Cineworld Unlimited card.
I keep mentioning that one of the reasons I'm so intrigued by the 20s as an era is the rise of cinema. It was an important decade for the silver screen, which at that point was still such a new thing that an evening of going to the pictures was an event in itself. The first bonafide movie stars made themselves known, and Rudolph Valentino became the first major sex symbol (the man for whom the phrase Latin lover was coined, actually). When he died, a mass hysteria erupted among his female fans, which only added to his status as an icon.
But the biggest step forward in cinema came in the mid-to-late 20s, when studios first started taking steps to commercialize sound in films. Experiments with combining sound and film had been going on almost as long as the medium of film itself, but it was with the release of The Jazz Singer in 1927 that it really took off.
Although the use of synchronized sound in The Jazz Singer was limited (you can only hear when Al Jolson's character is singing, plus two instances of him ad-libbing speech) it was enough to convince Hollywood that sound was the way to go. For some actors, it meant a step towards silver screen immortality. For others, it meant a slow fade into the background.
Actress Anny Ondra, raised in Prague, saw herself being overdubbed by Joan Barry when Hitchcock's 1929 film Blackmail was remade with sound. Ondra's career in British films was effectively over, as the studios did not think her thick accent would fly with audiences. Norma Talmadge, despite her diligent work with voice coaches, found the public losing interest in her as she was deemed an old favourite. She left the film business for good.
These are just two examples of actors who saw their career reduced to nothing because of the sound revolution. But, every down has its up, and film continued to thrive – with its new favourites.
There are a couple of films that deal with actors and the transition to sound films – Singin' in the Rain accurately shows the kerfuffles productions had with getting the equipment to behave (Lina trying to speak into her microphone and failing several times in a row is still one of my favourite things ever). The Artist, meanwhile, shows the side which actors like Anny Ondra and Norma Talmadge became all too familiar with: the sound revolution causing them to lose their jobs. Both pretty good insights into those first years of sound.
Film continues to be a fascinating medium; as I said, I write about it pretty much daily and I never bore with gaining insight on its past, its present and its future. And because Rudolph Valentino was such a brief but important and lasting part of its past, the story from which I'm sharing an excerpt with you seemed like a perfect fit for this anthology (which has its name in the title – he was THAT important).
****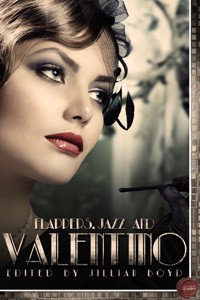 Excerpt from The Argentine Tango by Tabitha Kitten
Devoid of natural light, the shop was dim and it took a little while for my eyes to become accustomed to the dark. Dorothy was alone, standing behind the table. She was a spinster in her mid-thirties; a slender, statuesque woman with olive skin and coal-black eyes. I knew her well, often we had chatted when I had been in my aunt's back yard hanging out washing. And I had seen Dorothy out shopping, always fashionably clothed in her own creations, knee-length, low-waisted dresses that were expertly adorned with beads and tassels, or sashes and bows, or even ostrich and peacock feathers. She had matching cloche hats, wore her black hair in an Eton crop, smoked using a cigarette holder and was forever swinging the beads that were around her neck. So haute couture, at times very theatrical with her speech and manner, she should have been living in London not in a back street in a small, industrial town in the north of England.
"Hello Dorothy," I said quietly as I closed the door behind me.
"Hello Irene." Her voice was almost inaudible, a hushed whisper of a sound.
"It was very sad, the news, about Valentino," I remarked.
Dorothy moved from behind the table to face me. "I grieve for Valentino."
She was wearing a loose-fitting, box-shaped, flapper dress complete with the intricate embroidery that embellished all her clothes. It gave her an almost boyish, straight silhouette. But, the very noticeable feature was that, today, she had greased back her hair in a style popular with men. I had seen her hair like this before. Once, when she had been attending a party, she had dressed in male attire complete with slicked back hair and monocle to be music hall's Burlington Bertie. She had a very commanding presence about her and I had felt quite strange inside when I had seen her dressed like that. She had attracted and intrigued me in a way that I wasn't too sure about – a way that I had never experienced before.
"Valentino was the greatest film star that lived," she declared dramatically. "When I saw him in The Sheik I thought I would faint at his beauty. And in Blood and Sand where he was a bullfighter, falling in love with Rita Hayworth, that charming seductress who cast her spell over him, oh, how I wanted to be Rita Hayworth … What it must have been like to have been loved by Valentino."
"They called him the great Latin Lover," I said simply, whilst staring at Dorothy's masculine coiffure.
"On the silver screen and in real-life," she replied as she stood alongside me. "He was such a lover that he's even been on trial for bigamy. And, so many women fell in love with him when watching his films." She rubbed my bare arm. "Have you read about his death in the newspapers, Irene? The women, they are distraught about the loss of the world's greatest lover."
I nodded. "I read that thousands of his fans lined the streets in New York City. There was an open viewing at the funeral home where people could go to pay their respects. He was laid in state, in a bronze casket on a raised pedestal, and many women fainted or threw themselves on to the coffin. In the streets there was pandemonium and police on horses had to be deployed to keep the calm."
Dorothy ran her hand gently over my wrist and looked earnestly into my face. "Would you ever throw yourself on to the coffin of the man you loved, Irene?"
Before I could answer, Dorothy raised her hand and tucked one of my finger-waved flapper curls behind my ear. It was an innocent gesture but one which I found slightly unnerving because something wasn't quite right; Dorothy seemed in a very strange mood. She continued quickly, "Can you imagine the drama, all of those women in hysterics as they mourned, some of his despondent fans attempting suicide, all because of the death of the greatest lover they had only known on the silver screen, the greatest lover they had never had. How many women made love to Valentino when he was on screen, Irene? How many women wanted to be the one in his arms?"
I knew what Dorothy meant. With his dandyish clothing, rakish looks, virile and masculine demeanour, I, too, had been enamoured by Valentino. I was acutely aware of why women swooned over him in darkened cinemas. And why they thought of him in darkened bedrooms.
Dorothy slid her hand down my back and rested it on the curve of my bottom. She stared deep into my eyes, and I felt a slight flush rise to my cheeks as I looked away.
"Do you know, Irene, I will never forget the first time I saw Valentino on screen, the opening scene of The Four Horsemen of the Apocalypse when he danced the Argentine tango. I looked up at that dark, hot-blooded, handsome star with his smouldering, exotic, good looks and knew that he had stolen my heart. It was etched into my memory for an eternity when he danced the tango. I knew I would never be the same again."
When I looked up at Dorothy I wondered if they were tears that I saw in her sombre, black eyes. But, she smiled, took my hand and kissed it tenderly. It was a beautiful gesture, her cool lips on my warm skin. Then she threw back her head and demanded, "And what are men in comparison … men, huh, they are so tame, so flat. Where is the passion, tell me Irene, men do not know how to make love to women. All women wish to be seduced by Valentino; that is every woman's desire. He is so magical on screen, with a burning ardour when he looks deep into your eyes, his lips pressed firmly against yours." Suddenly, Dorothy pulled me towards her, clutching me tightly. "Imagine me as Sheik Ahmed Ben Hassan and you as Lady Diana. This is how seduction should be. Imagine being kissed by Valentino, Irene. Picture in your mind the way he kisses his leading ladies."
And, she kissed me. Right there, in her shop, Dorothy pressed her lips firmly against mine. When she released me, I gasped. It had lasted only a second but had made my heart race painfully. Seemingly unperturbed, Dorothy lit a cigarette, holding it in the same recognisable manner as Valentino did in his films.
"Have you ever danced the Argentine tango?" she asked me.
****
Blurb
Is it not enough to lead my son into wild ways without teaching my daughter the tango? – Dona Luisa, The Four Horsemen of the Apocalypse
Step back in time to a decade full of glamour, glitz and decadent sin with this collection of erotica set in the Roaring Twenties. With twelve stories, in all shades from romantic and sensual to burning hot, this collection is the perfect appetizer for a night out at the speakeasy. A journalist gets a sexy introduction to the sinful syncopation of jazz music. A three-way tango performance becomes the steamiest ticket in town. The owners of a speakeasy set up a very special audition for their new trumpet boy. All this jazz and more in Flappers, Jazz and Valentino, edited by Jillian Boyd.
Buy links
Bio
Jillian Boyd is an erotica author and blogger, who has been putting dirty words on paper and on her blog for the past three years. She likes taking everyday, seemingly mundane situations and making them sexy and sensual – and when she's not doing that, she lets her imagination fly off into history and distant planets. Where she also tries to find everyday situations and make them sexy and sensual.
She's been published in several House of Erotica anthologies, contributed to Tiffany Reisz's office supply erotica charity anthology Felt Tips and has a story in the Golden Crown Literary Award-winning Best Lesbian Romance 2014, published by Cleis Press. She is currently working on her first novella, a sci-fi erotic thriller called In Another Life.
****
Many thanks Jilly!
Happy reading everyone,
Kay xx