A few weeks ago I was delighted to discover that a handful of my erotic poems had been accepted to appear in an anthology. This in itself was enough to make me smile from ear to ear. However, this collection is very special- not only has it been compiled by the best erotica poet in the business, Ashley Lister, but proceeds from its sale go to a very good cause.
Over to you Ash…
May I share a secret? I love poetry. I go to a lot of open mic events and every one of those events proves to be something special, simply because you never know what you're going to get. Sometimes you find yourself laughing fit to burst. Sometimes you feel close to tears. Sometimes you're moved by the profound insight someone has managed to show using their public words to express your private thoughts. Oftentimes, you can enjoy all three of those responses in the same evening. Sometimes within the same poem. I honestly can't think of anywhere else where you can get an experience like that.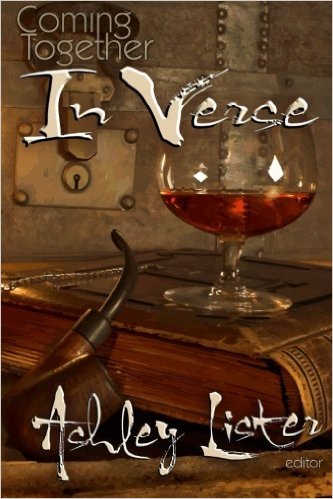 So I go to lots of open mic events and, despite the publicity and promotion these activities get, I know that the pleasure they bestow remains a comparatively well-kept secret because they're often shamefully under-attended.
Coming Together in Verse is the book version of one of those open mic events. More specifically, it's the book version of an open mic event where the focus is on the erotic, the sexy and the risqué. I've collected poems from a range of incredible poets. Some of them will make you laugh. Some of them will make you cry. Some of them will say things that make you see a familiar aspect of the world from a new and unexpected perspective.
Contributors include: myself (Ashley R Lister), Alessia Brio, Victoria Blisse, Rachel Woe, Janine Ashbless, Liz Honeywell, AJ Chilson, Roy Clements, Katy J, Ashe Barker, Lisa Bower, PJ Bayliss, Geneva Rose, Jay Willowbay, Slave Nano, Lily Harlem, Kay Jaybee, KD Grace, Norbert Gora, IG Fredrick, Jade A Waters, Adrea Kore, Bella Settarr, Okami No Koga, Daniel Davis, Joanna Harrington-Cruise, Sophia Sophia, Le Petite Mortimer, Eleanor Meadows, Angell Brooks, L Hollamby, Blacksilk, CA Bell, Ian Jade, Tamsin Flowers, Ruby Red, Colin Davies, Desmond Field, Rachel McGladdery.
You can purchase your copy for the US from here: http://www.amazon.com/Coming-Together-Verse-Ashley-Lister/dp/1518833667/ref=sr_1_1?s=books&ie=UTF8&qid=1447761264&sr=1-1&keywords=ashley+lister
Or you can purchase your UK edition here: http://www.amazon.co.uk/Coming-Together-Verse-Ashley-Lister/dp/1518833667/ref=sr_1_5?ie=UTF8&qid=1447761378&sr=8-5&keywords=ashley+lister
Ordinarily I'd finish a piece like this by saying something clever like: "But please don't tell anyone: we want to keep this a secret." However, because the proceeds from this title are going to benefit an animal charity (Hope for Paws), I'd prefer it if you didn't keep it a secret. I'd prefer it if you bought a copy, savoured every glorious syllable, and then told everyone how much you've enjoyed it.
Ash
***
Many thanks Ash,
Happy reading everyone,
Kay x