I firmly believe that everybody needs a bedtime story.
So within the e-pages of A Kink a Day Book One (to be published on 13th September) I have provided you with one bite sized piece of erotic fantasy for each night of the week…with an extra little something to enjoy during that Saturday morning lie in.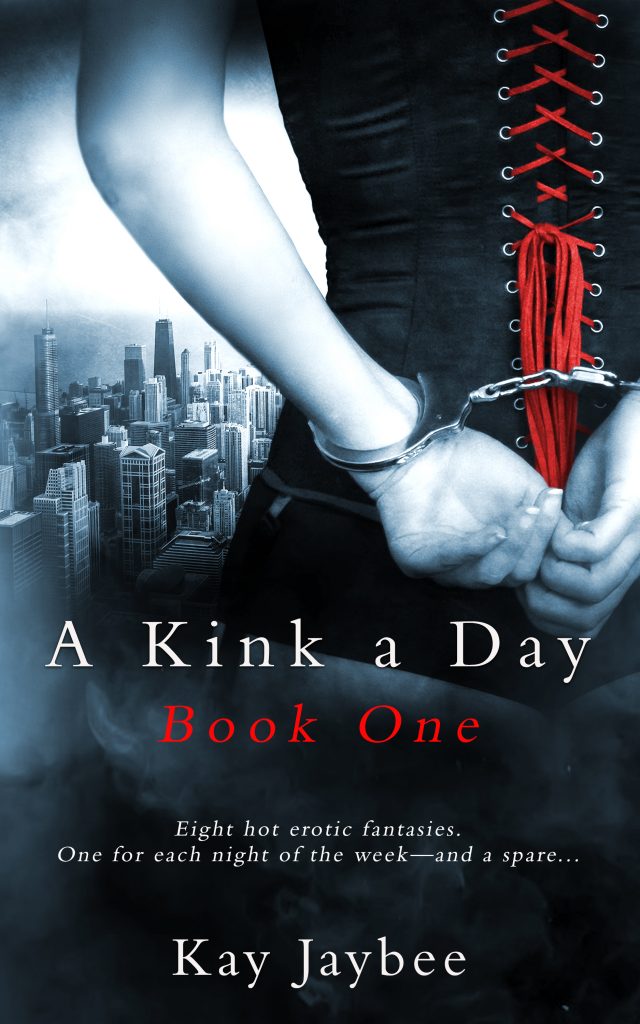 Some of the stories have been released before in my (no longer available) Quick Kink collections. Others are brand new.
A Kink a Day 1 is the first in a  series of 3 anthologies designed to provide  light relief after a hard day at the office- with an extra nibble of sexy story-age at the weekend – and it is OUT NEXT WEEK.
Here's an extract from the very first story to whet your appetite…
A Leading Conversation
'What would you do next?' Faye's voice wavered as she struggled to maintain the air of cool indifference she'd been determined to maintain, 'after you'd stripped me?'
'I'd bend you over and spank you – hard.'
'What with?'
'My belt.'
'Your leather one? About an inch think?' Faye could picture the belt Sean always wore clearly; faded, worn and brown, with a twisted knot pattern inlaid through its length. She shivered at the mere thought of it.
'That's the one.'
'What am I bent over?'
Sean was silent for a while and Faye could faintly hear movement around him. It hadn't occurred to her that this call was being made in public. She broke through his concentration, her tone husky and urgent, 'Where are you anyway?'
'In a deserted waiting room on Banbury Station – and you, for the purposes of a much deserved spanking, are bent over the foot of your bed. Plus, I've just decided I will tie your wrists together in front of you.'
Despite the two mugs of coffee she'd recently downed, Faye's mouth felt dry. She couldn't believe how assertive Sean sounded, particularly as anyone could walk in on him at any moment. She wasn't even sure how this conversation had started. He'd been in an odd mood he'd said, sort of horny with nowhere to go and no one to shag, and for a reason Faye didn't understand, she had asked him what he'd like to do if he could. Sean hadn't even hesitated before blurting out that he'd like to see her naked.
From her oldest friend's rather startling confession only five minutes ago, they'd somehow got to Faye being naked, semi-bound with her arse in the air, awaiting the first stroke of his belt.
Her mind raced; was Sean just messing around to kill time? Would he end this with a laugh, and leave her feeling silly and privately humiliated for taking him literally? Or could he actually be serious? Did he really want to do this to her?
'Faye, are you still there?' Sean's voice interrupted her violently flickering thoughts, simultaneously reassuring her that he was serious, yet making her wonder if he was regretting sharing his fantasy.
'I'm here.' She licked her lips, abandoning any lingering ideas about remaining aloof. 'What happens next?'
'I hit you. The leather makes a fantastic cracking sound as it connects with your skin, and the belt leaves a pretty pink patch on your flesh. I love it, so I do it again.'
For the first time, Faye noticed that Sean's breathing had become shallow and felt further reassured. She began to chew her bottom lip, 'Am I crying out?'
'Yes, but I don't want you to, so I've paused in my work to fetch a gag.'
'A scarf?'
'I have a ball gag.'
Faye's heartbeat quickened at the confession, and she couldn't keep the surprise from her voice, 'You do?'
She was learning an awful lot this morning about a man she thought she'd known so well. This was a new Sean, an attractive stranger who had very grown-up sex toys. She would never have associated him with anything like that before now. 'May I still ask questions – now that I am gagged, so to speak?'
Sean went quiet again and Faye could faintly hear the echoing squeak of a train's arrival being announced over a tannoy. As the noise died away, he said, 'No. I think you should just listen to me for a while.'
Faye almost said 'OK' but stopped herself. After all, Sean had already metaphorically silenced her. Wiping her palms on her jeans, she looked around her while she waited for him to speak again. She tried to take in the view before her; the park, the trees, the ducks on the pond, but all she was conscious of was a desperate need to hear Sean's voice again…
***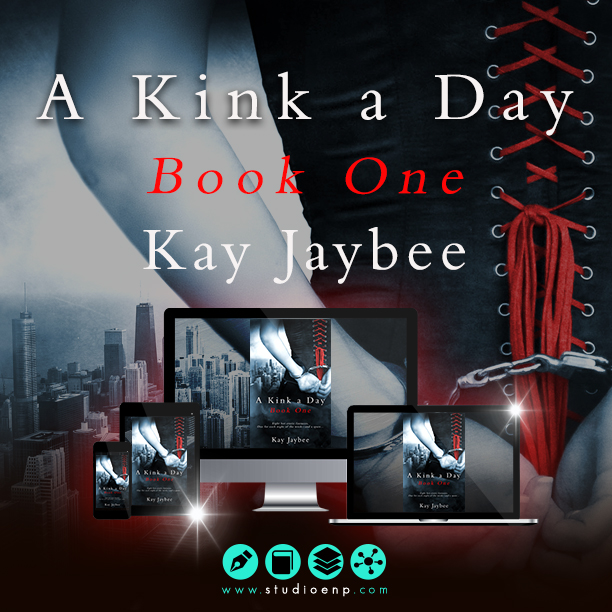 Blurb:
From the spank of a belt, to the unorthodox use of a dictionary; the bizarre obsession of an Egyptologist, to the afterhours indulgences of the staff recreating life in a strictly-run Victorian manor, A Kink a Day Book One provides a bite-sized moment of lust-fuelled distraction for each day of the week—with an additional erotic fantasy to enhance your Saturday morning lie-in.
Coming 13th September 2018 – pre-order now:
Amazon UK
Amazon US
Amazon AU
Amazon CA
Barnes & Noble
iBooks UK
iBooks US
Kobo
Smashwords
***
Happy reading,
Kay xx
Happy reading (and downloading)
Kay xx