This weekend I was lucky enough to be in Manchester for one of the best erotica gigs I have ever attended- Smut Manchester .
Hosted by the always amazing Victoria and Kev Blisse, sponsored by AMAZINGO.co.uk, and located in the Bangkok Bar, Smut Manchester was so packed with things to report that I fear I am bound to miss things out! So let's go for the edited highlights!
Top moment number one (beyond catching up with my fellow Smutters!!) has to be having the opportunity to meet so many of the Brit Babes Street Team. It was no surprise to find that each and every one of them was totally delightful. I'd like to extend a special thanks to all of you for coming- your support is incredible.
Next, I must mention Kink Craft! Who would have thought I'd ever own a flogger (OK, point made) Lets rephrase that- who'd have thought I'd ever make my own? It was so much fun!
I must thank the Kink Craft folk for being so patient teaching me to make my gorgeous little toy- I can do most things with words, but practically I'm a bit hopeless!
Everyone who attended was allowed to make one for free, and so I advise you all to behave in the presence of all Brit Babes now, in case they have a hidden weapon about our persons….
Of course, being a Smut event, there were plenty of erotica readings. The quality of the stories was incredible high, and we all laughed, ooh-ed, aah-ed, squirmed, and shuffled as was appropriate!
There were three workshops, one from the lovely Ashley Lister and Liv Honeywell, who gave us tips on how to read erotica aloud. It's an often neglected subject- and as writers are frequently called upon to read their work at events, with no thought to whether they are comfortable with the idea or not.
The unstoppable Zak Jane Keir presented her workshop on the importance of World Building within your work. The essential skill of making sure that, whichever genre you are writing, you get the back story correct- that you remember that some situations (such as a 22yr old not being able to send an email, not owning a mobile, and being a virgin….) just suspend belief far too much!
There was one more workshop- mine! I have to admit I was nervous. I have helped run workshops before, and I have attended dozens, but this was my very first solo class. I decided to spend my 45 minute lesson reinforcing the importance of keeping erotica within the realms of possibility. Erotica that people can read and think, "Ohhh…I could do that…" is very sexy.
Entitled Everyday Kink, I took everyone on a trip around Kaybury's Supermarket, and asked them to sex up an item off my shopping list. From celery to cling film, and cheese slices, to tins of pears, the possibilities that were dreamt up were wide and various. I was particularly impressed with the ideas of the non-writers. You can tell those folk read a lot of erotica!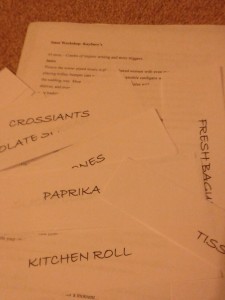 Once everyone had their 'mundane' item kinked up, it was time to introduce an 'unknown' element to their imaginations. Everyone within Kaybury's was sent to the back of the supermarket, where 'something' awaited them. After 10 minutes of writing a passage that combined their ordinary item and 'whatever scenario they walked through the back door into', there was some very impressive story ideas forming. I look forward to reading a few of the finished tales one day.
During the entire event, the Club Lash dungeon was available…for those who dared enter. I popped by after my workshop was over…You can imagine how much my story writing gene went into overdrive can't you!
The day came to an end in spectacular style with a group trip to Dr Sketchy's. Led, Pied Piper style by the gorgeous Jay through the streets of Manchester, we all gathered around the stage in Chapter One (the most amazing bookshop in the world).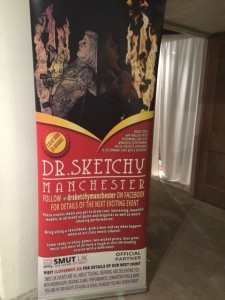 With clipboards and pencils to hand, we then watched two beautiful women entertain us over three incredible acts- and then we drew them! (Badly in my case) I have never been to an experience quite like that before- and I loved every single second.
With the day drawing to an end, it was time to reflect on the event, and what better way to do that, than over dinner with friends.
I've been home from Smut Manchester for a few hours now, and my head is still buzzing with it all. A huge thanks to everyone who made the event possible- it was a wonderful day.
Hugs,
Kay xx