Today I am delighted to be joined by one of the very best erotica writers out there. In fact- one of the best writers out there. Janine Ashbless is simply brilliant- and her latest novel has just hit the world.
Over to you Janine…
***
I'm such a generous author. In my fallen angel trilogy The Book of the Watchers I give my heroine not one but two hunky guys fighting for her love and making her life completely bloody miserable jolly exciting – one angelic and one human; one dark and one blond; one extrovert and one introvert. I make them both as provocative and challenging and complex and horny as I possibly can, in their very different ways.
But a third hottie I wrote for myself.
Uriel is one of the four great archangels in many monotheistic traditions.  His name means "God is my light" and he's often depicted carrying a flame or a sun in his hand. Do you know what other name means "light-bringer"? Lucifer.
In my trilogy, Uriel is Satan, the Adversary – not fallen, and not to be confused with either the Devil or the Tempting Serpent. He is the prosecutor of the Heavenly Court (which is actually how he's depicted in the Old Testament Book of Job). And nobody likes him much, and nobody wants to hang out and talk to him, except for my heroine Milja. He's an ongoing antagonist, always lurking at the margins, interfering to make sure things never go smoothly for our heroes.
He fancies Milja, but he can't admit it to himself because he thinks he's above such earthly lusts. He's lonely too, and he can't admit that.
Uriel really is me indulging myself. He's never a serious contender for Milja's interest … though you might say that they wind each other up erotically. He's not the sort of character that appeals to romance readers either, as far as I know, because although really handsome he looks too old. He's a silver fox, and he's a jerk. A massive arse. He's the Peter Capaldi Doctor on a particularly heartless day. He's Terrance Stamp playing a villain. He's snobby and vain and sarcastic. He's the most white and middle-aged of unfashionable white middle-aged men.
But you know what? I'm white and middle-aged too and I like clever, no-time-for-fools, sarcastic men. Let me have my fun in print! And there's plenty of action going on for everyone in these books, believe me 😉
xxx
Janine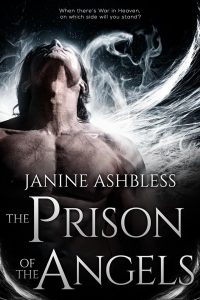 The Prison of the Angels, the final novel in the Book of the Watchers trilogy, and the story of a young woman who releases a fallen angel from centuries of imprisonment, is now available from Sinful Press.
"When there's war in Heaven, on which side will you stand?"
Blurb:
I thought I was a good girl. I thought that no matter what others did for my sake, I could stay innocent. I thought that as long as I acted out of love, I'd be blameless.
I was wrong, wasn't I?
Milja Petak's world has fallen apart.
Her lover, the fallen angel Azazel, has cast her aside in rage and disgust. The other contender for her heart, the Catholic priest Egan Kansky, was surrendered back into the hands of the shadowy Vatican organization, Vidimus, after sustaining life-threatening injuries.
She has killed and she has betrayed. She is alone, homeless, and at the end of her tether – torn apart by guilt and the love she has lost. But neither Heaven nor its terrifying representatives on Earth have finished with Milja. Both of her lovers need her in order to further their very different plans, and both passionately need her, though they may try to deny it.
Milja is once again forced into a series of choices as she uncovers the secrets Heaven has been guarding for centuries. But this time it is not just her heart at stake, or even the fate of a fallen angel.
This time, the choices she make will change everything.
This time it's the End of the World.
***
Excerpt:
I was bootless and naked, almost knee-deep in a drift. I still had my panties in my right hand, but they seemed purposeless so I tossed them away with an uncomprehending laugh, starlight fizzling against my bare flesh. I shook out my hands and lifted my arms to the moon, feeling its glare lap me like a cold tongue. Every particle of my flesh was filled with its glow.
My hair unwound itself from its braid and spread out on the air, a dark cloud.
"Milja?" It was Egan's voice, all resonance flattened by the snow. "Are you okay?"
"I'm just fine! Over here! Look at the aurora!"
He waded into sight between the small trees, looking around himself in confusion; up at the laden branches, down at his hands. "I can see every flake," he said wonderingly. "I could see where you danced in the snow." He finally caught sight of me properly. "Ah."
I came to him through the snow, feeling the squeak of its compression beneath my bare soles. He was muffled up in all his outdoor gear, and I recognized my discarded clothes in his gloved hand.
"You're not cold then?" he said faintly.
"I'm hot," I giggled, pulling the garments out of his hand and dropping them aside, then catching his gloves and drawing them off to discard too. I put his hands on my waist so that he could share my body-heat; they felt cool to me.
"I can count your eyelashes," he whispered. His pupils were hugely dilated, making his eyes look black and empty.
"I'm impressed," I laughed, drawing his hand up to cup my bare breast, where it belonged. "My eyes aren't even down there."
He made a valiant effort to lift his gaze back to my face, but failed. He seemed hypnotized by the sight of my naked body, by the in-curve of my waist and the swell of my breasts. "Oh God. That mead was spiked. There was something in it—I don't know what."
"Angel blood." I quivered as his fingertips found my erect nipple. "It's made with blood."
"What's it doing to us?"
"Don't worry." I stretched up to brush my face against his, and the press of my body forced him to move his hands around to my back and my ass, skin gliding over skin, testing the slopes and curves like they were snow mounds he dare not deface. "Just enjoy."
He made a broken noise in his throat, but his hands were everywhere.
I brushed my cheek against his, teasing his lips with the promise of my own. His frozen breath had formed a crust of rime on his stubbled jaw and I kissed it away.
"Milja." The word was thick with desire. "Don't."
Praise for this series:
Book 1: Cover Him with Darkness
Book 2: In Bonds of the Earth
 "An absolute must-read."
—Rose Caraway, The Sexy Librarian
 "Dan Brown's The Da Vinci Code, only much better written and with much more sexiness involved."
—Clitical
 "Damn, if Dostoevsky wrote smolderingly hot erotica about fallen angels, he'd be Janine Ashbless."
—Samantha MacLeod
"The first two books of this series are smart, sexy, literate, gripping, and moving. I can't wait for the third."
—Jaqueline Brocker
"Oh it's incredible. I love this series and the final book is a masterpiece."
—Anna Sky, Sexy Little Pages
***
Buy Links-
***
Bio:
Janine Ashbless is a writer of fantasy erotica and steamy romantic adventure – and that's "fantasy" in the sense of swords 'n' sandals, contemporary paranormal, fairytale, and stories based on mythology and folklore.  She likes to write about magic and mystery, dangerous power dynamics, borderline terror, and the not-quite-human.
Janine has been seeing her books in print ever since 2000, and her novels and single-author collections now run into double figures. She's also had numerous short stories published by Black Lace, Nexus, Cleis Press, Ravenous Romance, Harlequin Spice, Storm Moon, Xcite, Mischief Books, and Ellora's Cave among others. She is co-editor of the nerd erotica anthology Geek Love.
Her work has been described as: "hardcore and literate" (Madeline Moore) and "vivid and tempestuous and dangerous, and bursting with sacrifice, death and love."   (Portia Da Costa)
www.janineashbless.blogspot.com
***
Thank you so much Janine- great blog!!
I urge you – if you haven't read Janine's work before- buy it now!
Happy reading,
Kay x