The wonderful Justine Elyot is back with us today, talking about Victorian attitudes to sex, along with her brilliant new book, Fallen.
Over to you Justine…
 So Repressed
The words are almost synonymous – repressed and Victorian. We think of tight lacing as a kind of metaphor for the walling up of the female sexual self and as for the men, their neckties and perfectly buffed top hats concealed hypocrites who loved to leer at their daughters' young contemporaries while keeping their own flesh and blood safe indoors.
But was it really like that? I think the answer is yes and no. They might not have been talking much about sex, but the Victorians were certainly having plenty of it, and furthermore, they were reading about it. The trade in erotic literature flourished, even though it was underground and its distributors often found themselves under arrest.
So I wanted to write a book that featured one of this strange breed of men – half political radical and half unapologetic sensualist – and delved into that subterranean world. James Stratton writes smut for his daily bread but he has ambitions to move into the emergent New Journalism. His plans are all thrown up into the air, though, when one of his readers presents him with a proposition…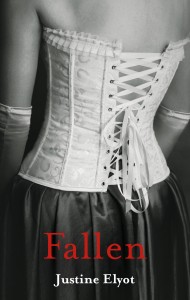 Here's an excerpt:
He ran a hand through luxuriant dark hair, exasperated at how easy it was for her to tempt him off his virtuous path. Truly, the road to hell was paved with good intentions, and he drew ever closer to the fiery void. But she was right. It was too hot and the buzzing of a fly against the grimy window played his nerves like a fiddle.
Besides, he needed a final read through of that latest story before he dispatched it. Annie made a splendid captive audience, always hanging on his every word. Perhaps she could be captive in more than one sense, if he bound her wrists to the bedstead…but no. Much as she pestered him for his latest chapters, she had never shown the slightest sign of sharing his darker proclivities. She was a girl of simple tastes, at heart.
'Oh, all right,' he said, closing up the ranks of upper and lower case letters with a thump. 'But tomorrow we must study in earnest, Annie, and I will accept no excuses. Do you mind me?'
'Of course, sir,' she said, the sweet little word of deference stirring him more than he cared to admit.
'Good. Well, then. Go and sit on the bed and I shall bring it to you.'
She scampered up, her gaudy skirts swishing and climbed up on to the high bed that took up the greater part of the room, plumping up pillows behind her.
James opened a desk drawer and took out a sheaf of papers, all covered in his tightly-packed script, tied with a scarlet ribbon.
'Is it the one about the dairymaid who went to the bad?' asked Annie, unlacing her much-patched boots and throwing them off the end of the bed. 'That's my favourite. Poor girl, though.'
'My clients pay a premium for exquisite distress,' said James, taking his place beside her. 'This unfortunate dairymaid has kept me in shirt linen and port wine for upwards of a year now. Speaking of port wine, would you care for a drop?'
'Oh…maybe afterwards. Come, I want to know what will happen to her. Had she not just been tied to a fence post and whipped by four swells on a spree in the country?'
'Indeed she had.' James released the papers from their ribbon and held them before his face.
Annie laid her head on his shoulder, settling into his chest with a comfortable sigh. He had to put one arm around her so as to have the freedom of its movement.
He cleared his throat and began to read.
'A high-set sun illuminated the meadows and hedgerows, its rays roving over the breathing and the inanimate alike. It bathed cow and sheep, parsley and nettle in its golden warmth, but today, could it but know it, there was a fascinating addition to the bucolic serenity…'
'Never mind that, what about Emma?' said Annie.
'Don't interrupt, or you may find that you share her fate.'
She wriggled delightedly against him and James wondered, not for the first time, why his idle threats excited her so.
'How pitiless that post-noon heat felt to Emma as she tried in vain to extinguish the fire that raged at her rear. Those fellows, all four of whom still stood about her, leering and laughing at her fate, had plied the whip with a most diabolical will and her poor little round bum was all welted and throbbing, as if stung by a swarm of bees.'
'Poor creature,' murmured Annie, but James chose to ignore her this time.
'As if it were not enough that the quartet's insolent eyes roamed at will over her naked body, Emma feared that any moment a cart from one of the neighbouring farms would pass by, its wheels throwing up a cloud of dust, while the men on the box would see her bare, whipped bottom and, should they choose to alter the angle of view, her breasts squashed against the post to boot. Worst of all, the ringleader of that devilish coterie had made her spread her thighs apart, so that he could flick the tip of his whip lazily over the soft flesh located within, thus opening her tender little cunny to the gaze of whomever chose to feast upon the sight. And such a passer-by would see the swollen lips and the fat red bud that nestled inside, all downed with Emma's pale sparse hairs. They would also see that little portal, once so tightly guarded, now the happy resting place of many an eager cockstand while Emma lay on her back or her belly, welcoming all to her glistening quim.'
'Heavens, Jem, how does it all come to you? It's too rich for me. I never thought my ears was delicate, but you make me blush.'
'Should I stop reading?'
'Oh no, go on, do.'
****
If your appetite is whetted, here's the blurb:
A lady of pleasure… In the backstreets of London in 1865, James Stratton makes his living writing saucy stories for anonymous clients. But then he receives an enquiry of a far more personal nature. Lady Augusta Heathcote is blind and has lived a very sheltered life, overseen by her watchful companion Mrs Shaw. But Augusta has a yearning to experience the intimate pleasures of dominance and submission and she makes James an offer he finds impossible to refuse.
****
FALLEN is available now from all good stockists, including Sainsbury's Ebooks: http://www.sainsburysebooks.co.uk/book/Fallen-Justine-Elyot/7452718
A big thank you to Justine for stopping by today- what a brilliant blog!!
You can find out more about Justine's work on her blog page- http://justineelyot.com/
Happy reading,
Kay x