I'm delighted to welcome my lovely friend, Kd Grace, to my site today, to share a little of her latest novel with us. It's brilliant!
Over to you Kd…
It's always such a pleasure to be over at Kay Jaybee's place – especially when the reason I'm there is such a happy one, and one that she has cheered me on in since long before In The Flesh was ever written. And now that it's up for preorder, with a 20th of September launch date, I'm elated to be sharing it at Ms. Jaybee's place.
In the Flesh is a dark and sexy story that has had several incarnations in shorter forms. The story was originally about a very sexy imaginary lover who is not only very dangerous, but – you guessed it — he's also not imaginary. The short story made its rounds in two writing groups and was well received, but never quite worked for me because I felt it needed space to grow. I couldn't think of a better place to let it grow and see what happened than on my blog as a serial. And grow it did! In fact, it took major twists and turns I never would have expected. Not only did it became a full-length novel, but it became book 1 of a series.
In the Flesh is a blend of paranormal erotica and almost, but not quite … okay, quite possibly … horror. What I didn't know when I began to write it as a serial for my blog is that it would become the first novel in my hush, hush, close to my heart, Medusa's Consortium series, for which I'd already written what I thought would be book one. Well, as it turns out that first book, Buried Pleasures is actually book three. The Whole idea for the Medusa's Consortium series was inspired by a short story I wrote several years back for Seducing the Myth, the wonderful book of myth-based erotic tales edited by Lucy Felthouse. I wrote a story called Stones speculating what might happen if Medusa were alive and living a reclusive life in Southern California. I hadn't written the first paragraph before I knew there was SO much more to a tale of Medusa in the modern age than just a short story, and that this Medusa, my Medusa was out for revenge in a big way. I was SO right! The hair-raising ride is just beginning! You see what I did there.
But wait! There's more! As I wrote the In the Flesh, which at the time I reckoned would only be a novella, I discovered, to my surprise, that my vampire, Alonso Darlington from my short novella, Landscapes, and his household would be playing a major role, not only in this novel, but in book two, Blind-Sided, which I didn't even know would be happening until I was nearly finished with In The Flesh. Confused yet?
Oh you won't see much of Medusa/ AKA Magda Gardener's story in In The Flesh, though you will definitely feel her power and the shocking extent of her influence, and you will come to understand why the series, and the Consortium are hers. In the Flesh is Susan and Michael's story, well part of it anyway, and it's a doozy. If you like sexy urban fantasy/paranormal mixed with more than a few chills and thrills and plenty of sizzle and romance, then In the Flesh is the novel for you. AND! If you still prefer to read a print novel, then hold on to your hats, In the Flesh will soon be coming out in print as well!
In The Flesh Blurb:
When Susan Innes visits her friend, Annie Rivers, at Chapel House, the deconsecrated church Annie is renovating into a home, she discovers her outgoing friend has become reclusive, secretive, and completely enthralled by a mysterious lover, whose presence is always felt, but never seen, a lover she claims is God. As her holiday turns into a nightmare, Susan must come to grips with the fact that her friend's lover is neither imaginary nor is he human. Even worse, he's turned his wandering eyes on her, and he won't be denied his prize. But her demon stalker, known only as the Guardian, is not the only non-human who wants Susan, and if she is to be free of the Guardian and save the life of both her best friend, Annie, and the fallen angel, Michael Weller, whom she's grown to love, she might just have to give the demon what he wants – a body of his own. In order to do that she'll need to make a deal with a vampire and bond herself inextricably to a gorgon.
Pre-order In the Flesh:
(Release date: 20th September)
 In The Flesh Excerpt:
By the time I finished my breakfast and was ready to go, Annie was already fast asleep, curled in her nest at the foot of the altar. Outside, the smell of burning rubbish stung my eyes and the back of my throat.
I had little enthusiasm for the handbag sale, nor for lingering at the make-up counter. Instead I found myself in a coffee shop, laptop open researching God's love life, which turned out to be a long history of seducing humans.
Zeus visited Danae in a shower of gold. He seduced Leda in the form of a swan. Eros came to Psyche in the dead of night forbidding her to look upon his face. Hades dragged Persephone down to the Underworld. The Virgin Mary was impregnated by the god of the Bible. In the New Testament, Christ is the bridegroom, and the church his bride. And the list went on and on. Perhaps even the indwelling of the Holy Spirit was just another way for divinity to experience flesh.
I had always loved mythology, and I'd read all these stories before. I'd just never put them together to get the whole picture. And though I was seeing an aspect of divinity that I found rather disturbing, I couldn't help feeling there was still a piece of the puzzle missing.
I suppose I should have felt relieved. Annie wasn't as unusual as I'd thought. God was the ultimate stalker, and he didn't seem to be very faithful to his lovers. Just Annie's type. I tried not to think about the implications of my experience in the bath last night. After all, it was just mythology, and I'd had a lot of wine. And there's never any accounting for my vivid imagination. After all, I was a writer. I made my living as a teller of tales.
"What are you reading?"
I jumped at the sound of Annie's voice and quickly minimized the page. "Didn't expect to see you here."
"I'm feeling better."
"How did you know where to find me?"
She leaned down and whispered next to my ear. "My lover's God, remember? You can't hide from him." I barely had time to register shock before she reached down and restored the page.
"Trying to learn a little bit more about him, are we?"  She smiled at the monitor and nodded knowingly. "None of this does him justice. He's the Hound of Heaven. He's always pursuing those he loves, and there's no escaping. Once he's set his eyes on you, he'll do whatever it takes to make you his own."
I suddenly felt cold.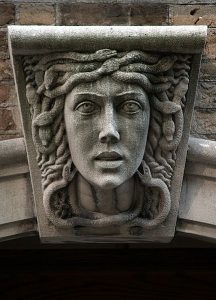 The Medusa's Consortium Series
Contrary to popular belief, Medusa is alive and well and living a quiet life in the English Lake District. But don't let that fool you, ever since she escaped Greece and the Olympians, Medusa/AKA Magda Gardener, has been secretly kicking ass and taking names.
Medusa may be public enemy number one with the Olympians, but in the modern world, Magda Gardener never turns away someone in need. For those she helps, those who are drawn to her, those she seeks out, life will never be the same. Like the Godfather, those who owe Magda Gardener never know when she'll call in the debt, or what will be required of them when she does. Magda is a rescuer of monsters and demons and a thief of all things dear to the Olympians. She is irreverent, powerful, rich and has her own agenda, in which the lines between right and wrong are not always clearly drawn. Even more importantly, she and her consortium are all that stand between the modern world and a new age of Olympian tyranny. Magda Gardener is a female Nick Fury in dark glasses commanding her monsters, gods and demons version of the Avengers.
But what's at the heart of the gorgon? Can she ever really heal from the rape of a god or overcome the curse of a goddess? As her consortium of powerful misfits grows into a cohesive, if rather troubled, family, it becomes more and more difficult to keep her distance from the lives of those who belong to her. Scheming to keep one step ahead of the Olympians and wreak as much havoc upon them as possible, can Medusa find redemption and possibly even love among the monsters? The Medusa's Consortium Series is Magda Gardener's story and the stories of those drawn to her.
***
About K D Grace
Voted ETO Best Erotic Author of 2014, and a proud member of The Brit Babes, K D Grace believes Freud was right. In the end, it really IS all about sex, well sex and love. And nobody's happier about that than she is, otherwise, what would she write about?
When she's not writing, K D is veg gardening. When she's not gardening, she's walking. She walks her stories, and she's serious about it. She and her husband have walked Coast to Coast across England, along with several other long-distance routes. For her, inspiration is directly proportionate to how quickly she wears out a pair of walking boots. She also enjoys martial arts, reading, watching the birds and anything that gets her outdoors.
KD has erotica published with SourceBooks, Xcite Books, Harper Collins Mischief Books, Mammoth, Cleis Press, Black Lace,Sweetmeats Press and others.
K D's critically acclaimed erotic romance novels include, The Initiation of Ms Holly, Fulfilling the Contract, To Rome with Lust, and The Pet Shop. Her paranormal erotic novel, Body Temperature and Rising, the first book of her Lakeland Witches trilogy, was listed as honorable mention on Violet Blue's Top 12 Sex Books for 2011. Books two and three, Riding the Ether, and Elemental Fire, are now also available.
K D Grace also writes hot romance as Grace Marshall. An Executive Decision, Identity Crisis, The Exhibition, Interviewing Wade are all available.
Find K D Here:                                                                  
Websites: http://kdgrace.co.uk/
Facebook: http://www.facebook.com/KDGraceAuthor
Twitter: https://twitter.com/KD_Grace
***
Many thanks for another wonderful blog, Kd.
Happy reading everyone,
Kay x