Out Now – Something Different by Nia Farrell #erotica #menage #mfm #bdsm
SOMETHING DIFFERENT (The Three Graces Book Two) is a standalone MFM ménage BDSM rock star erotic romance by Nia Farrell.  Only $2.99 for a potty mouthed gamer girl and triple platinum indie artists who are about to rock her world.
REVIEWERS:
"Sexy and sultry"  "Fun and hot…This ménage à trois, featuring two sexy rock star brothers and a talented musician, will leave you breathless and wanting for more." "Nia Farrell did not disappoint. Although Something Different is a heavier BDSM read than its predecessor, it was well written and flowed well. I cannot wait for more in this series."
BLURB:
Singer/songwriter Anna James is getting desperate.  Even with a day job, money's tight, and she's wound tighter yet, having sworn off sex to reconcile with her mother who's in chemo and her father who disowned her for her wild, wicked ways.  No sooner than her psychic best friend predicts an end to Anna's self-imposed drought, rock stars Jackson and Jacob Thomason come to town, with the dream of an indie album co-written with local American Indian flutist Nico White and his songwriting partner, Anna's alter ego AJ McPherson.  From the first, it's clear that the triple-platinum indie rock stars want more than her music, but does Anna dare submit to the part-Comanche twin brothers who perform as No Mercy?
Buy links to Something Different:
Amazon US http://www.amazon.com/gp/product/B015Y9JEHG/ref=as_li_tl?ie=UTF8&camp=1789&creative=390957&creativeASIN=B015Y9JEHG&linkCode=as2&tag=lucyfelt-20&linkId=H7MX7FTPU3VJ5PJD
Amazon UK http://www.amazon.co.uk/gp/product/B015Y9JEHG/ref=as_li_tl?ie=UTF8&camp=1634&creative=19450&creativeASIN=B015Y9JEHG&linkCode=as2&tag=lucyfelthouse-21
Barnes and Noble   http://www.barnesandnoble.com/w/something-different-nia-farrell/1122718107?ean=2940150808072
Allromance  https://www.allromanceebooks.com/product-somethingdifferent-1897500-147.html?referrer=6bdb1f9160564c0525b41f36e51861a0
BookStrand  http://www.bookstrand.com/something-different-0
Smashwords  https://www.smashwords.com/books/view/581142?ref=cw1985
Dark Hollows Press  http://www.darkhollowspress.com/#!something-different/c13v4
Goodreads  https://www.goodreads.com/book/show/26369686-something-different
The Three Graces Series by Nia Farrell
SOMETHING ELSE August 25, 2015
SOMETHING DIFFERENT September 29, 2015
SOMETHING MORE October 15, 2015
from Dark Hollows Press
Excerpt:
They're staring now, trying to reconcile reality with my stage name and with how I look in the cheesy publicity photo I use, shot four years ago when I turned eighteen and my mother wanted the whole glamour thing captured for posterity. She's never forgiven me for refusing to let them tease and torture my hair. In the shot, I'm looking over my shoulder like I'm caught in a fucking daydream, while my thick, straight hair drapes my back like a black silk curtain.
I wear my hair shorter now, streaked with red and purple. Those splashes of color and my asymmetrical cut keep it well this side of boring.
My eyes, on the other hand, are the same. Unlike my hair, they wouldn't improve with the enhancement of colored contacts. They're purple. Fucking Liz Taylor purple–one of those anomalies of nature that my mother can't explain. Hell, I've caught my dad looking at me sideways, like I might be the spawn of an incubus, 'cause there's no way that I belong to the Chinese-born mail man. I guess my wild ways haven't given him any peace of mind, either. Shit, when I met Grace, she didn't screw, didn't swear. Now she goes to bed with two strapping men every night and has a mouth that could make a biker blush. As far as I'm concerned, my corruption of her is complete.
Right now, she's staying blessedly silent. The Thomason twins are, too.
When the intensity of their stares shifts from kind of rude to downright disconcerting, I'm tempted to stick out my tongue and tease them with the surgical steel ball I've sported since I turned twenty-one last year. Right now Jacob's looking at the diamond stud adorning my left nostril, and Jackson's staring at my C-cup breasts, his own nostrils flaring as my responsive nipples tighten to hardened nubs.
Enough of this shit.
"Guys." I drop my voice to a husky whisper that could earn six figures at a 900 number. "I might use an outdated picture to throw people off, but my eyes–they're fucking purple, for Christ's sake."
Yep, the eyes have it. Recognizing them, both men sit straighter and exchange a look that makes excitement thrum in my veins. They're here to see Nico, but why? I remind myself to breathe, tell myself to slow down before my imagination runs too wild. They wouldn't be the first major artists wanting to lay tracks with the American Indian artist and his native flutes.
"So…AJ–Anna James." Jackson says it likes he's tasting my name, tasting me.
I swear my pussy's gushing. Okay, so they might not have come looking for me, but they know my work. They're big fish in my small pond, and their recognition means everything to someone like me.
"Yes, but please, guys, call me Anna. Jax. Jake."
Recognizing them as individuals, and not just as No Mercy, earns me a brownie point. I rack up more for not going all fangirl on them.
"You work with Nico White. Motherfucker." Jackson eyes his brother, then turns back to Grace. "Nico's expecting us at eight. I suppose we'll see you both then?"
Eight? Shit. That's–
"You'll see more of Anna," Grace tells them. "I make myself scarce on music writing night. The energy's too intense for me."
I've suspected as much, but the lake where she lives with her lovers is really conducive to creativity. So, rather than meet at the apartment I rent above a vintage storefront on Main Street or somewhere else, Nico and I have our songwriting sessions at their house. Grace, bless her, doesn't complain, since it means she gets to have some alone-time with J.T., the half-Puerto Rican member of their threesome.
While Grace starts a review of local businesses that would make a Chamber of Commerce proud, I'm thinking of tonight. I might be working with these two men, writing for them. Fuck, maybe we'll be writing with them. The possibility makes me wet. I know how Nico and I work. Our collaborations are so natural, so organic. We're comfortable with each other.
These two make me anything but.
AUTHOR BIO: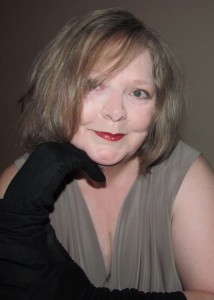 Nia Farrell has been writing for pleasure since junior high. Now that she writes about pleasure, she can share the fantasy worlds she visits and introduce readers to characters who remain with her long after their tales are told. When crafting a story, Nia draws upon a rich diversity of life experiences, which include singer/songwriter, prize winning needle artist, private pilot, Reiki Master/Teacher, crystal healer, psychic fair reader, jewelry maker, physician's assistant, factory worker, waitress, genealogist, period reenactor, and children's author. If this life isn't enough, there are plenty of others to choose from. Otherwise, she devotes hours of research to subjects outside her realm, determined that her stories ring true. Nia lives on a farm in Southern Illinois (far, far from Chicago, in the heart of "Little Egypt"). A seventh generation Illinoisan, she is descended from Mayflower Pilgrims, American soldiers from the Revolutionary War to World War II, and Scottish nobility. She enjoys playing in the past and visits Ren fairs and historical reenactments in period attire, sharing her love of history and her passion for music. While her husband and two grown daughters may only read her nonfiction work, she appreciates their support in pursuing her dreams, one of which is being published in erotic romance.
Nia Farrell's Facebook page https://www.facebook.com/?q=#/pages/Author-Nia-Farrell/1678898589004941?ref=bookmarks
Nia Farrell's Tumblr page http://authorniafarrell.tumblr.com/
Nia Farrell's Twitter page https://twitter.com/AuthrNiaFarrell
Nia Farrell's Amazon page http://www.amazon.com/Nia-Farrell/e/B014HAAWLK/ref=sr_tc_2_0?qid=1441506277&sr=1-2-ent
Nia Farrell's Author page at Dark Hollows Press http://www.darkhollowspress.com/#!nia-farrell/c1mop