I have one of the best new kids on the block on my blog today. It's the lovely and most talented, Ms Rebecca Black…
Hello!
Thanks for having me today so I can give my new book Let's Ride a shout out.
I don't know about you, but sometimes I really love a good, quick read. Busy lives often don't leave as much time as we'd like for reading, do they? I'm not always so bothered about the back story, I just want to live vicariously for a moment through the characters as they experience that first rush of lust and desire in a new relationship – I want to get a little hot and tingly 😉
Well Evernight's Romance on the Go range is all about fulfilling this reading need and my new release Let's Ride is a part of that.
Let's Ride started life as an erotic short that I wrote for Masturbation Monday (a meme that I write for most weeks). I saw a black and white photograph of this gorgeous, androgynous woman sat on a kick ass motorbike in just a pair of knickers and this piece of flash fiction just fired out of me. Talk about inspiration!
She looked like she wouldn't take any crap and she looked very capable of sweeping someone off their feet. It got a lot of great feedback so I decided to extend it and lucky for me, Evernight liked it too.
I've read some great books with well written dominant male characters, both straight and gay, but I really wanted to write a recognisable archetype with a twist. There isn't one good reason on this earth why the hero has to be male. Let's Ride completely rejects that assumption. Jo is confident, self-assured and has a dominant streak a mile wide, but she's also a beautiful woman, inside and out. She rides into town and sweeps Mary-Beth right off her feet and into her bed. I love her (I know I'm not supposed to say that because I wrote her, but I really do!) and I hope you do too.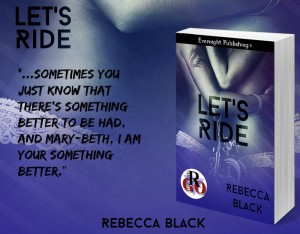 So here's the blurb:
"I would do just about anything to be on the back of that bike when she leaves this place."
Trapped in a small town life, Mary-Beth always knew there was something better out there. Then Jo rides into town and walks straight into the diner where she works. Sexy, dominant and self-assured, Jo is everything Mary-Beth wishes she could be. Their hot, intense meeting crashes through Mary-Beth's small world and offers her the promise of a new start.
Will Mary-Beth leave everything behind and ride with Jo towards the chance of a new life?
Excerpt:
Standing by the window, I'm trying to take a lunch time customer's order but my attention is caught by a bike riding into the gas pump out front.
I hold my breath. She is pretty much everything that I wish I could be. Tall and lean. Enough fuck you attitude to tame a horde of marauding Vikings. She straddles that bike like she was born to it, like she never rode a trike. Like she just stepped right onto all that horsepower and with a flick of her wrists rode off into the sunset, giving everyone the finger as she went.
I would do just about anything to be on the back of that bike when she leaves this place.
She kicks the stand and moves the bike smoothly into its stationary position, slinging her long leg over the back wheel.
I jump a little when our eyes meet through the window. I'm supposed to be taking this guy's order but I got distracted, seriously distracted. She smirks when her eyes roam over the redness in my cheeks.
Heat has suffused my body; a fine sweat has broken out on my skin and I know I'm in trouble. So much trouble.
I manage to scramble my brain sufficiently to take his order and drop it off at the kitchen. Moving around the bar, I grab the coffee pot to do refills. I can't stop looking at the door.
Will she come in? Or has she just come for gas?
Please let her come in.
I want to see her up close—I want to see her eyes—that flawless skin. I want to run my fingers over the black shaved hair on the sides of her head, run them through the longer top that she has greased back. I want to watch her eyes close with the pleasure of it.
I hold my nerve when I hear the bell ring over the door. I'm pouring coffee—it really wouldn't do to spill it and burn a customer. I'm bent over slightly to reach the cup, and my skirt brushes against the back of my legs when she walks past me.
I smile distractedly as the customer thanks me, turning my head to see she has taken a seat at the bar.
Walking over on shaky legs, I smooth my damp palms down the front of my uniform apron.
She sits tall, resting her elbows on the counter. Her legs are open, one heel of her heavy black boots hooked higher on the stool than the other. Her jeans are tight, riding low on slim hips, well worn with a small rip over one knee. A tight white t-shirt stops a few inches from the waistband of her jeans, showing smooth lightly tanned skin that I desperately want to touch.
Her knowing gaze follows me as I move around the bar to face her. I can almost feel a pressure on my skin where it touches me.
"What can I get for you?"
"What have you got?" she asks in a low, husky voice. Her eyes lock on mine. Her eyebrows are like a raven's wings, perfectly shaped, drawing my attention across her arresting face.
"Pretty much anything, as long as it's deep fried and unhealthy," I say wryly.
She laughs. The sound is low and rough and strokes over my nipples.
"Always tastes good, though, don't it?" she replies. That smirk plays across her mouth again as her gaze drops to my lips. "I'll just take a coffee for now. Think I'll get something sweet in a little while…"
Thanks for reading!
Purchase links:
Evernight | Amazon | All Romance | Bookstrand
Author Bio:
Rebecca Black is a Yorkshire girl born and bred. She is first and foremost a voracious reader and lately an author of erotica and erotic romance. She believes that the hottest sex scenes are the ones where emotions are involved (plus lots of dirty talk, lots of spanking, licking and sucking and well… you get the idea). She is the author of A Taste For Three (m/m/f) from Evernight and has several short stories due to be released in erotic anthologies. Rebecca is a regular contributor to the fantastic Cliterati magazine.
Find Rebecca here:
Twitter | Facebook | Facebook Author Page | Tumblr | Goodreads |
All Links-
http://www.evernightpublishing.com/lets-ride-by-rebecca-black/
Universal Amazon link: myBook.to/LetsRide
https://www.allromanceebooks.com/product-let039sride-1904426-149.html
http://www.bookstrand.com/lets-ride-ff
https://twitter.com/Northerngirl76?lang=en-gb
https://www.facebook.com/profile.php?id=100008596128363
https://www.facebook.com/rebeccablackerotica
http://rebeccablackwords.tumblr.com/
https://www.goodreads.com/author/show/14254391.Rebecca_Black
***
Thanks Rebecca! That sounds great.
Happy reading,
Kay xx